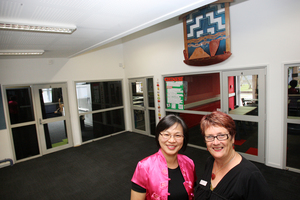 A Mandarin class for business will be launched at the beginning of next year by Tauranga Girls' College, which has been running the successful after-school Chinese Community School (CCS) since February 2012.
"Since the CCS was established we have had inquiries from the business community about offering something that would be appropriate for a business setting, making us aware of a need in the community," said TGC principal Pauline Cowens.
"Some adults in the present adult class are either involved in business with China already or are planning to be so in the future. There has also been dialogue with some specific businesses, exploring concepts that might fit with their needs."
China, Japan, the Republic of Korea and Taiwan are respectively New Zealand's second, fourth, fifth and eighth largest trading partners, according to Ministry of Foreign Affairs and Trade data. Together with Hong Kong, they account for 23 per cent of New Zealand's merchandise exports ($10.7 billion) and 27 per cent of imports ($12.25 billion).
China is a key market, as reflected in the fact that it recently became New Zealand's biggest global export market by volume for lamb.
Vivien Ting, director of the CCS, who will run the new business course, said her current adult students were among the most enthusiastic and engaged at the classes and a number were interested for business reasons. "They are very keen, not just on learning the language, but on learning the customs and culture," she said.
Ms Cowens said, having been made aware of the need, they expected a good response from the first course, which will run for 10 weeks on Thursday evenings. "Some businesses have also expressed an interest in an in-house Mandarin course which caters for them specifically, and this is also in the scope of our planning," she said.
The CCS itself provides Mandarin lessons after school hours for many different levels from primary on Saturday afternoons to NCEA Level 3 and adult classes at two levels.
Priority One was instrumental in helping with establishment funding. As well as charging a fee, the school is now sponsored by China's Hanban, an education branch of the Chinese Government, through the Confucius Institute at Victoria University.
The business class will be both user-pays (for individuals) and self-funded by TGC, which expected that business may sponsor enrolment as part of corporate professional development.
Time learning Mandarin pays off in long run
Many companies would like to source goods from offshore, but the risks can be great if not conducted correctly.
David Reid, Real Media One of a number of local businessmen who have seen significant benefits from studying Mandarin is David Reid, director of Real Media.
The company provides printing services for a range of clients and 90 per cent of the business is with New Zealand companies. But for the bigger work, facing squeezed client budgets, Mr Reid said he had been forced to look offshore to China, where savings of up to 60 per cent were possible.
"Many companies would like to source goods from offshore, but the risks can be great if not conducted correctly," he said. "To understand the market takes considerable time."
Mr Reid spent two years doing due diligence on Chinese printing companies before signing an agreement with a supplier last year.
"How you speak and how you conduct yourself is very different from New Zealand. It is very much a case of understanding the culture as well as the language." He said the Chinese Community School course had been extremely helpful. "I now Skype and talk to China most days and I put into action what I am learning."
Mr Reid stressed he was by no means fluent, but that his Chinese supplier appreciated him making the effort. "But if you don't use it with the culture you will lose it very quickly."
That point was echoed by Pat English, executive director of the New Zealand China Council. "It doesn't work so well to learn a language in isolation. You must have a skill set that goes with it so the language complements what you are doing."
Hugh Signal, general manager of Lowe Products, which manufactures deer-based ingredients used in foods and dietary supplements, is also doing the Mandarin course. "I have a lot of interaction with Chinese-speaking people in my business, so I was motivated to become a part of the conversation, rather than an interested bystander.
And I have a strong belief that consumption-wise Asia is becoming the focus. In terms of languages, Mandarin was the obvious choice."
Pauline Cowens, principal of Tauranga Girls' College, said: "Knowing the culture and customs of China is a courtesy, a source of competitive edge and a cementer of relationships."