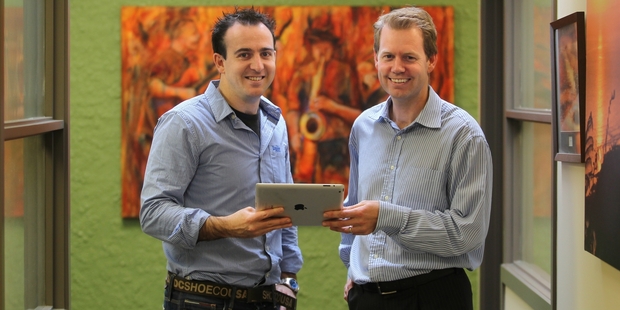 Tauranga tech companies are exploiting time-zone differences to provide 24-hour service and extremely fast turnaround to their international clients.
The following-the-sun business model sees Tauranga workers take over the workflow from their European colleagues in the morning and hand it back to them in the evening, providing a seamless 24-hour service for their clients around the world.
For the past seven years, Phil Waylen, business development manager with Right Aligned, has been working while his colleagues in Europe sleep.
The company provides an outsourced service to businesses wanting high-quality presentations and design work done quickly. Preparing top-class Powerpoint presentations is the company's bread and butter. However, graphic design and web design services have recently been added to the mix.
The service is typically used by executive search companies in the UK and US which require flashy presentations but do not have the time or expertise to prepare them themselves.
Mr Waylen and his New Zealand staff take over from their European-based colleagues at 6am, giving them a couple of hours before the workflow peaks at 9-10am as Americans on the eastern seaboard start filing their jobs before they go home.
The same people often came back online for a brief period after dinner to check the presentations or ask for amendments, Mr Waylen said.
At 3pm, Right Aligned's New Zealand arm hands over to a South African arm, which handles most of the Dubai-based work before handing over to the company's European workers.
As well as offering a round-the-clock, fast turnaround service to their clients, the model works because staff do not have to work late at night and can enjoy a normal lifestyle.
In addition, the model allows Mr Waylen to target a niche market in the global business scene and live in a lifestyle-rich location such as Tauranga at the same time.
Sam Kidd, who runs the New Zealand arm of project management service Teamwork PM, shares an office with Mr Waylen and also operates on a follow-the-sun model.
Working regular office hours, Mr Kidd services his company's American clients while his Irish colleagues sleep.
"I go to a lot of go-to meetings where I walk the client through the product, and that was impossible before from Ireland because the [US] West Coasters were coming online as we were heading home."
The speed of Teamwork PM's response to service inquiries was a major comfort for clients, especially those who had just started using the service, Mr Kidd said.
Tauranga-based Hayley McIsaac also works while her UK clients are sleeping. Ms McIsaac transcribes medical notes for English doctors, who upload their audio dictation files before they leave the office at night.
By the time they return to their office in the morning, the notes have been transcribed and are ready to be sent out.