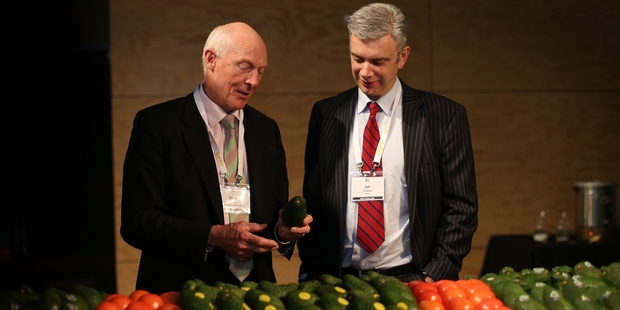 The New Zealand avocado industry needs to find creative solutions to its challenges in order to take hold of opportunities, visiting experts say.
Russell Ballard, independent chairman of the Plant Market Access Council, and Ian Proudfoot, KPMG global sector leader for agribusiness, were in Tauranga this week speaking at the New Zealand and Australian Avocado Growers conference.
Dr Ballard said New Zealand's food and beverages manufacturers needed to triple their export returns to meet the Government's goal of increasing exports to 40 per cent of GDP.
Production capacity issues such as the biannual bearing tendency of New Zealand avocados and the wide range of productivity levels among growers could be solved, Dr Ballard said, however the real challenge would come in trying to move the export market away from its traditional Australian dependence to other countries.
"There's two types of markets. There's the real affluent markets like Japan and Singapore where you can really go after trying to get premium prices for your products, and then there's the emerging markets with large and developing middle classes like Indonesia, Thailand and, of course, China," he said.
"You probably won't get the premiums but you'll certainly get the volumes in there and, if you do your brand and marketing well, you'll probably get sufficient margins on it to make it worthwhile."
Mr Proudfoot said New Zealand's food production was small in the global scale and exporters needed to focus on lucrative niches.
"We don't want to be thinking about the whole global agri-food system, we want to be thinking about those people who have the biggest chequebooks and my view is we should be trying to provide about 10 per cent of the protein diet to about 400 million people, which is approximately those people who have the most spending power."
The avocado industry needed to make sure it kept its competitive advantage or the whole industry became questionable, Mr Proudfoot said.
"In some cases, [with] some products we produce we don't have a natural competitive advantage to produce those, and we have to question if that is the right product to produce and whether we should look at some other alternative.
"I would have avocado from New Zealand's perspective in that grey area in the middle. I'm not completely certain that we have a huge natural competitive advantage in avocado and, if we can't refine what that is and resolve issues like the production volatility we have, then the industry needs to be very certain about where it positions itself to get that niche price."