A policeman was caught on camera knocking on the door of Number 10 so Chief Mouser to the Cabinet Office Larry could be let inside.
Larry the cat was seen patiently waiting outside the front door of 10 Downing Street during a live Sky News broadcast on Tuesday.
The 12-year-old tabby, who was rescued from Battersea Dogs and Cats home, sat on the doorstep as Tom Rayner continued his segment on Brexit.
At one point, the moggy turned to glance at the television cameras, before settling back on the step facing the door.
But before long, a policeman came to his rescue, knocking on the door to help the mouser get back inside.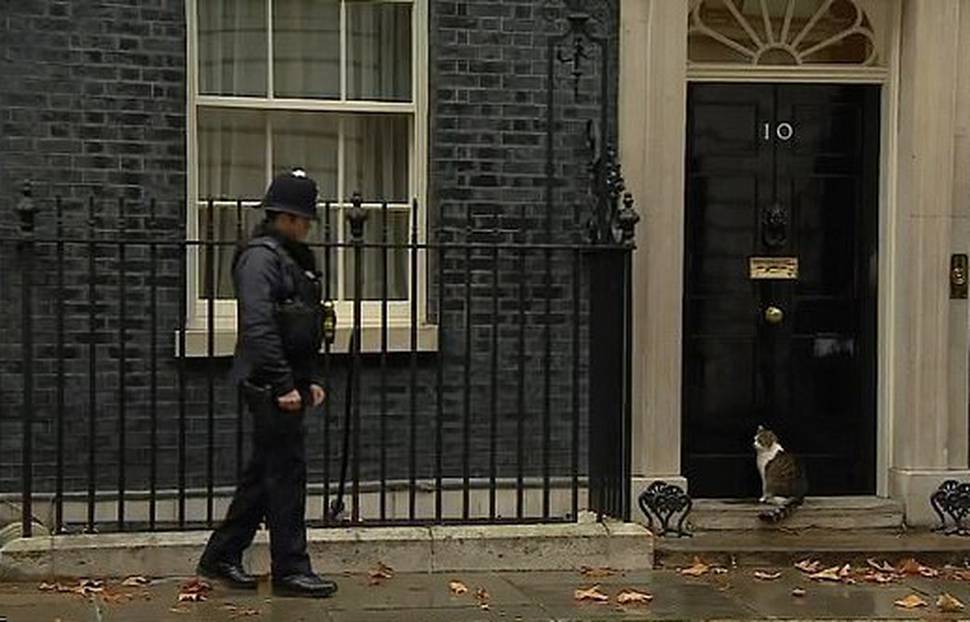 Larry, who was also caught on camera by ITV News, jumped at the opportunity as soon as the door opened a crack, quickly trotting inside Number 10.
The clip, posted to Twitter by Lauren Franklin, has since been shared more than 1,500 times.
She said: "Is there anything more British than this policeman knocking on Number 10 to let the cat in?"
Rachel Cunliffe commented: "Brexit cat! It thought it wanted to be out, but on actually experiencing out it decided it very much wanted to be in."
Alistair Coleman said: "Apparently there's no way of opening the door from the outside, probably because cats wised up to door handles."
Larry has been a common sight in and around Number 10 since February 2011, when he became the first cat at the address to be given the title Chief Mouser.
The Downing Street website describes his day-to-day role as "greeting guests at the door", "inspecting security defences", and "testing antique furniture for napping quality".
He is also responsible for "contemplating a solution to the mouse occupancy of the house".