For all the Western leaders condemning the Saudi authorities over their alleged role in the murder of a prominent journalist, one is going notably soft on them.
President Donald Trump has refused to endorse the growing evidence suggesting Crown Prince Mohammed bin Salman played a key role in the disappearance of Jamal Khashoggi, a Saudi national and US citizen who vanished on October 2.
Over the past few days, he's maintained an "innocent until proven guilty" line, suggested "rogue killers" were behind the journalist's disappearance, and compared it to the Brett Kavanaugh sexual assault hearing.
Why is he doing it?
Trump downplays evidence in Khashoggi case
Turkish officials have said they believe Washington Post columnist Jamal Khashoggi was murdered at the Saudi consulate in Istanbul and his body removed.
They claimed to have harrowing audio evidence of the murder, which appeared to show him being tortured by Saudi officials.
His last column for the Post was published today where he bemoaned the lack of free expression in the Arab world, leaving the majority of its population "unable to adequately address, much less publicly discuss, matters that affect the region and their day-to-day lives."
And he ominously warned: "Arab world is facing its own version of an Iron Curtain, imposed not by external actors but through domestic forces vying for power."
Last weekend, Trump said there would be "severe punishment" if the Saudis were found to be responsible, but now, he's changed tack.
At a White House press conference earlier, said he would wait for a full report on the journalist's disappearance.
Asked if the US was seeking audio or video evidence that Turkey is reportedly in possession of, he said: "We have asked for it, if it exists."
He said it would be the "first question" he asks.
Trump denied he was trying to give cover to Saudi Arabia's leaders, saying: "I just want to find out what's happening."
He endorsed an implausible "rogue killers" theory as a possible explanation for the disappearance — a suggestion which drew widespread scorn and ridicule, according to Politico.
Trump went as far as to compare the incident to the sexual assault allegations against Supreme Court Justice Brett Kavanaugh.
"You know, here we go again with, you know, you're guilty until proven innocent. I don't like that," he told Associated Press. "We just went through that with Justice Kavanaugh. And he was innocent all the way. So I was unconcerned.
"So we have to find out what happened and they are doing a very major investigation. So is Turkey. Plus, they're putting themselves together and doing it. And hopefully they'll get to an answer as to what happened. But I will say they were very strong in their denial about themselves knowing."
It puts him at odds — not just with the leaders of France, Germany and the UK — but with members of his own administration.
Senator Lindsey Graham, one of the conservative kingdom's most vocal defenders in Congress and a close ally of President Donald Trump, said the Crown Prince has "got to go".
Senator Graham vowed never to return to the country as long as the young leader remains in power.
"This guy is a wrecking ball. He had this guy murdered in a consulate in Turkey, and to expect me to ignore it — I feel used and abused," he said in a Fox & Friends interview earlier this week.
He said bin Salman was "toxic" and "can never be a world leader on the world stage".
Evidently, Trump disagrees.
Why is Donald Trump going soft on Saudis?
Donald Trump has expressed his concerns about damaging the United States' relationship with Saudi Arabia.
He's stressed the kingdom's huge investment in weaponry, and his fears they could move to China or Russia for arms imports, should tensions be stoked with the US.
The US also depends on Saudi Arabia for oil stability, and commentators within the kingdom have warned America that it will be "stabbing its economy to death" if it tries to impose sanctions.
Trump also warned against losing a key partner in countering Iran's rising influence in the region.
It's been noted in the media that the billionaire president has business ties to the Saudis. While Trump has claimed he has "no financial interests in Saudi Arabia", Fox News Research has published a history of Trump's business dealings with the kingdom dating back almost 30 years:
Trump has also noted that — despite the fact that Khashoggi was a US citizen who lived in Virginia — he was a Saudi national, as if to suggest he was not America's problem.
Some critics have argued Trump only believes denials when it's convenient for him, and that he has a pattern of only taking the word of authoritarian leaders and dictators.
Speaking of Saudi Arabian King Salman bin Albdulaziz's denial of the murder, he said: "His denial to me could not have been stronger. (It) was not only a denial, it was a very firm denial."
Getting deja vu? That may be because, in a face-to-face meeting with Russian leader Vladimir Putin in Helsinki earlier this year, he said: "So I have great confidence in my intelligence people, but I will tell you that President Putin was extremely strong and powerful in his denial today."
Or because when questions were raised about whether North Korean leader Kim Jong-un was giving up his nuclear arsenal, Trump has said we should give him the benefit of the doubt, despite numerous reports and satellite images calling his denuclearisation promise into question.
Even in the case of Kavanaugh, he noted the then-Supreme Court nominee's denials in themselves as proof the allegations were false, calling them "one of the most unfair, unjust things to happen to a candidate for anything".
Yet in other cases, Trump is quick to be sceptical. In a recent 60 Minutes interview, Trump said he wasn't so sure about climate scientists' argument that global warming was created by humans.
Adam Schiff, the top Democrat on the House intelligence Committee, may have summed it up best in this now-viral tweet:
And most importantly, the US midterm elections are coming up in less than a month.
With the odds already favouring a Democratic takeover of the House of Representatives, the last thing Trump will want is a high oil price.
With supply set to fall as the US imposes sanctions on Iran next month, the Trump administration will need help from other oil producers — particularly Saudi Arabia — to curb rising prices.
Earlier this week, prominent Saudi journalist Turki Aldakhil warned the US it would "stab its own economy to death" if it tried to retaliate with sanctions.
In a furious opinion piece, Aldakhil warned such actions would cause oil prices to rise as high as $200 a barrel, drive the Middle East towards Iran and lead Riyadh to permit a Russian military base in the city of Tabuk.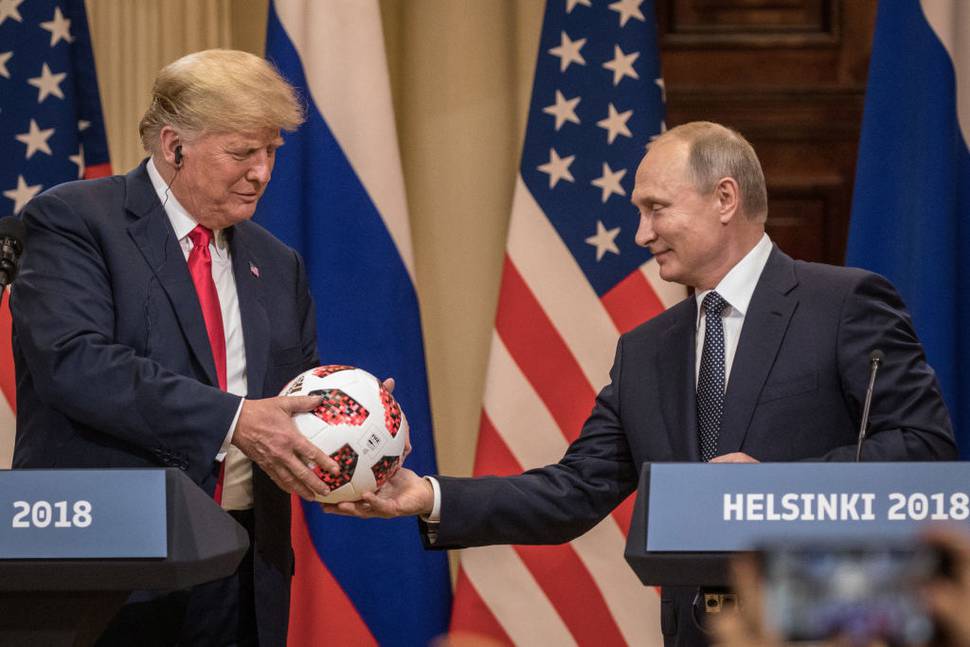 "The information circulating within decision-making circles within the kingdom have gone beyond the rosy language used in the statement," Aldakhil wrote for the Saudi-owned Al-Arabiya news channel.
"There are simple procedures, that are part of over 30 others, that Riyadh will implement directly, without flinching an eye if sanctions are imposed," he said.
"If US sanctions are imposed on Saudi Arabia, we will be facing an economic disaster that would rock the entire world."
Aldakhil added: "If the price of oil reaching $80 angered President Trump, no one should rule out the price jumping to $100, or $200, or even double that figure."
Trump is no doubt listening.