Elizabeth Smart said in an interview that Wanda Barzee would encourage her husband to rape the then-teenager and force her to drink alcohol.
In an interview with CBS This Morning, Smart said that Barzee was just as evil as Brian David Mitchell, her husband who had abducted Smart from her bedroom in the middle of the night when she was just 14, before making her his "wife."
"I know just how bad she really can be. She would encourage him to rape me. She would sit right next to me like the side of her body would be touching me," said Smart to host Gayle King, according to the Daily Mail.
When King then interjected to ask if Smart was in fact saying that Barzee would be physically touching her during these daily sexual assaults, Smart confirmed the claim, stating: "While he was raping me. I mean, she was right there. So I mean, there were no secrets. She knew what was going on."
Smart went on to say: "She was the kind of woman that - she was just evil and twisted."
Smart revealed this one day before Barzee is set to walk free from prison in a decision that does not sit well with Smart.
"I remember when they used to force me to drink alcohol. One time they had me drink so much, I was a 14-year-old girl, had never touched alcohol in my life. That I ended up throwing up and then passing out in it," said Smart.
"And both of them just let me lie there all night. And when I woke up the next morning, I mean, my face and my hair were completely crusted to the ground. And they both laughed. She laughed. She laughed just as much as he did if not more."
The Utah native said during the interview that Barzee should be kept behind bars and not freed five years early.
Smart said the woman remains a danger to "any person who's vulnerable out there," while also attacking Barzee as a parent, saying that while she may have given birth to six children, "she is no mother".
During their conversation, Smart opened up about the "rollercoaster of emotions, of worry" that she has suffered since learning that Barzee will be freed on September 19.
Smart was previously told that Barzee could not leave jail until at least 2024, but that was overturned after parole officers agreed to count seven years she spent in jail awaiting trial as part of her sentence.
That news came as a "pretty big shock", Smart admitted.
She added that prison sources have told her that Barzee still carries around a "book of revelations" that Mitchell wrote while posing as a Christ-like religious figure.
"Hearing that she's still carrying that around and still holding onto me – holding onto that, I find that very discomforting," she said.
"I think that she is a danger because, clearly, she hasn't let it go.
"She is still a big threat, and not just to me but to the public in general, I mean, to any person who's vulnerable out there."
While Barzee has apparently failed to move on from the past, Smart has tried to rebuild her life since being kidnapped in 2002, aged 14.
Now 30 and a mother of two children, with a third on the way, Smart says she is refusing to allow Barzee and Mitchell to take any more time away from her.
"I think at the end of it, what I've just come to, the conclusion that I've made is that I really have spent the last 15 years of my life trying to move forward," she said.
"I try to follow my mum's advice that she gave me the day after I was rescued, in not allowing these people to steal any more of my life away from me.
"The best punishment I could give them is to be happy, is to move on with my life."
Speaking about Barzee as a mother, she added: "From everything that I learned through the trial and everything that I learned being around her, I don't think she deserves that mark of respect to have the title of mother."
Smart was taken at knifepoint from her parents' home in Salt Lake City in 2002 by Mitchell after he climbed in through the window.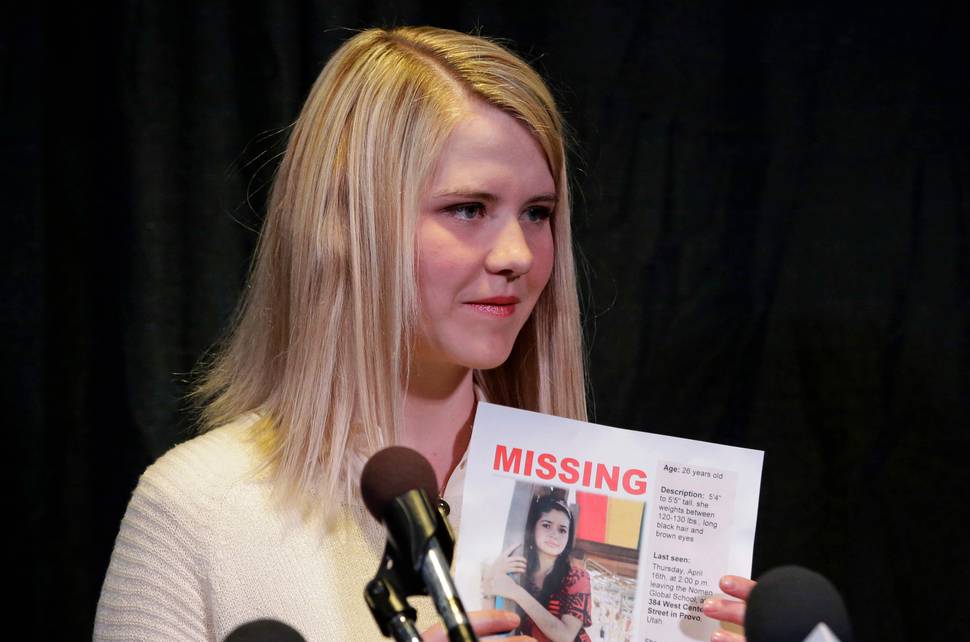 He then took her to a camp in the woods alongside Barzee, a divorced mother-of-six whom he married in 1984, where she was held for nine months.
During her time in the camp, Smart was subjected her to near-daily rapes.
Smart, who is now an advocate for abducted people and sex crime victims, said Barzee watched the attacks and even encouraged Mitchell to do it.
She added that Barzee treated her "like a handmaiden" and "never hesitated to let her displeasure with me be known."
During her time in captivity, Smart was made to go out in public with the pair but people failed to recognize her despite her case making national news.
Eventually somebody did recognize Mitchell and Barzee and called the police. The pair were arrested and Smart was rescued.
Mitchell was jailed for life for abducting Smart and multiple counts of rape, while Barzee received 15 years for her part in the crime.