The searchers rummage through the abandoned trailer, flipping over a battered couch, unfurling a stained sheet, looking for clues. It's blistering hot and a grizzly bear lurking in the brush unleashes a menacing growl. But they can't stop.
Not when a loved one is still missing.
The group moves outside into knee-deep weeds, checking out a rusted garbage can, an old washing machine — and a surprise: bones.
Ashley HeavyRunner Loring, a 20-year-old member of the Blackfeet Nation, was last heard from around June 8, 2017.
Since then her older sister, Kimberly, has been looking for her.
She has logged about 40 searches, with family from afar sometimes using Google Earth to guide her around closed roads. She's hiked in mountains, shouting her sister's name. She's trekked through fields, gingerly stepping around snakes. She's trudged through snow, rain and mud, but she can't cover the entire 1.5 million-acre reservation, an expanse larger than Delaware.
"I'm the older sister. I need to do this," says 24-year-old Kimberly, swatting away bugs, her hair matted from the heat. "I don't want to search until I'm 80. But if I have to, I will."
Ashley's disappearance is one small chapter in the unsettling story of missing and murdered Native American women and girls. No one knows precisely how many there are because some cases go unreported, others aren't documented thoroughly and there isn't a specific government database tracking these cases. But one US senator with victims in her home state calls this an epidemic, a long- standing problem linked to inadequate resources, outright indifference and a confusing jurisdictional maze.
Now, in the era of #MeToo, this issue is gaining political traction as an expanding activist movement focuses on Native women, a population known to experience some of the nation's highest rates of murder, sexual violence and domestic abuse.
"Just the fact we're making policymakers acknowledge this is an issue that requires government response, that's progress in itself," says Annita Lucchesi, a cartographer and member of the Southern Cheyenne Tribe who is building a database of missing and murdered indigenous women in the US and Canada — a list of some 2700 names so far.
As her endless hunt goes on, Ashley's sister is joined on this day by a cousin, Lissa, and four others, including a family friend armed with a rifle and pistols. They scour the trailer where two "no trespassing" signs are posted and a broken telescope looks out the kitchen window. One of Ashley's cousins lived here, and there are reports it's among the last places she was seen. "We're following every rumour there is, even if it sounds ridiculous," Lissa Loring says.
This search is motivated, in part, by the family's disappointment with the reservation police force — a common sentiment for many relatives of missing Native Americans.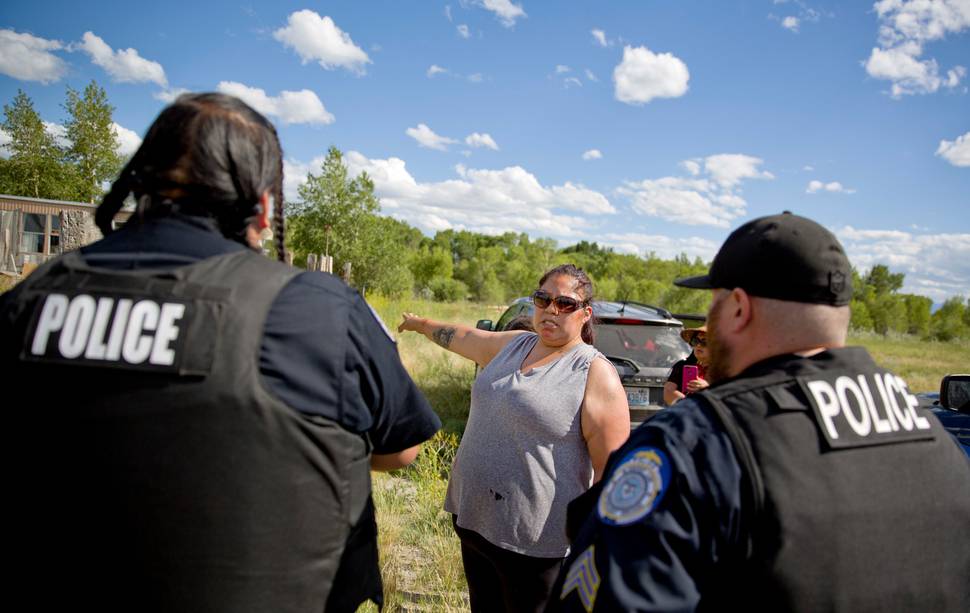 Outside, the group stumbles upon something intriguing: the bones, one small and straight, the other larger and shaped like a saddle. It's enough to alert police, who respond in five squad cars, rumbling across the ragged field, kicking up clouds of dust. After studying the bones, one officer breaks the news: They're much too large for a human; they could belong to a deer. There will be no breakthrough today. Tomorrow the searchers head to the mountains.
For many in Native American communities across the nation, the problem of missing and murdered women is deeply personal.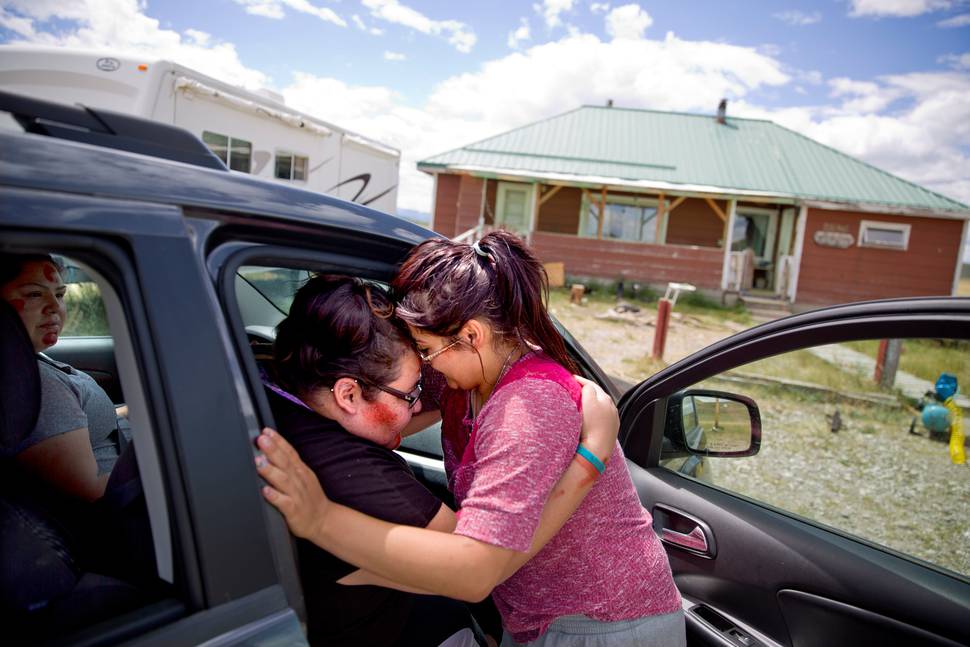 "I can't think of a single person that I know … who doesn't have some sort of experience," says Ivan MacDonald, a member of the Blackfeet Nation and a filmmaker. "These women aren't just statistics. These are grandma, these are mum. This is an aunt, this is a daughter. This is someone who was loved … and didn't get the justice that they so desperately needed." MacDonald and his sister, Ivy, recently produced a documentary on Native American women in Montana who vanished or were killed. One story hits particularly close to home. Their 7-year-old cousin, Monica, disappeared from a reservation school in 1979. Her body was found frozen on a mountain 32km away. No one has ever been arrested.
There are many similar mysteries that follow a pattern: A woman or girl goes missing, there's a community outcry, a search is launched, a reward may be offered. There may be a quick resolution. But often, there's frustration with tribal police and federal authorities, and a feeling many cases aren't handled urgently or thoroughly.
So why does this happen? MacDonald offers his own harsh assessment. "It boils down to racism," he argues. "You could sort of tie it into poverty or drug use or some of those factors … (but) the federal government doesn't really give a crap at the end of the day." Tribal police and investigators from the federal Bureau of Indian Affairs serve as law enforcement on reservations, which are sovereign nations. But the FBI investigates certain offences and, if there's ample evidence, the US Department of Justice prosecutes major felonies such as murder, kidnapping and rape if they happen on tribal lands.
Former North Dakota federal prosecutor Tim Purdon calls it a "jurisdictional thicket" of overlapping authority and different laws depending on the crime, where it occurred (on a reservation or not) and whether a tribal member is the victim or perpetrator. Missing person cases on reservations can be especially tricky. Some people run away, but if a crime is suspected, it's difficult to know how to get help.
"Where do I go to file a missing person's report?" Purdon asks. "Do I go to the tribal police? … In some places they're underfunded and undertrained. The Bureau of Indian Affairs? The FBI? They might want to help, but a missing person case without more is not a crime, so they may not be able to open an investigation. … Do I go to one of the county sheriffs? … If that sounds like a horribly complicated mishmash of law enforcement jurisdictions that would tremendously complicate how I would try to find help, it's because that's what it is."
Sarah Deer, a University of Kansas professor, author of a book on sexual violence in Indian Country and member of the Muscogee (Creek) Nation, offers another explanation for the missing and murdered: Native women, she says, have long been considered invisible and disposable in society, and those vulnerabilities attract predators.
"It's made us more of a target, particularly for the women who have addiction issues, PTSD and other kinds of maladies," she says. "You have a very marginalised group, and the legal system doesn't seem to take proactive attempts to protect Native women in some cases." Those attitudes permeate reservations where tribal police are frequently stretched thin and lack training and families complain officers don't take reports of missing women seriously, delaying searches in the first critical hours.
"They almost shame the people that are reporting, (and say), 'Well, she's out drinking. Well, she probably took up with some man,"' says Carmen O'Leary, director of the Native Women's Society of the Great Plains. "A lot of times families internalise that kind of shame, (thinking) that it's her fault somehow." The result: Some families spearhead their own investigations. Matthew Lone Bear spent nine months looking for his older sister, Olivia — using drones and four-wheelers, fending off snakes and crisscrossing nearly a million acres, often on foot. The 32-year-old mother of five had last been seen driving a Chevy Silverado on October 25, 2017, in downtown New Town, on the oil-rich terrain of North Dakota's Fort Berthold Reservation.
On July 31, volunteers using sonar found the truck with Olivia inside submerged in a lake less than 2km from her home. It's a body of water that had been searched before, her brother says, but "obviously not as thoroughly, or they would have found it a long time ago." Lone Bear says authorities were slow in launching their search — it took days to get underway — and didn't get boats in the water until December, despite his frequent pleas. He's working to develop a protocol for missing person cases for North Dakota's tribes "that gets the red tape and bureaucracy out of the way," he says.
The FBI is investigating Olivia's death. "She's home," her brother adds, "but how did she get there? We don't have any of those answers." Other families have been waiting for decades.
Carolyn DeFord's mother, Leona LeClair Kinsey, a member of the Puyallup Tribe, vanished nearly 20 years ago in La Grande, Oregon. "There was no search party. There was no, 'Let's tear her house apart and find a clue,"' DeFord says. "I just felt hopeless and helpless." She ended up creating her own missing person's poster.
"There's no way to process the kind of loss that doesn't stop," says DeFord, who lives outside Tacoma, Washington. "Somebody asked me awhile back, 'What would you do if you found her? What would that mean?' … It would mean she can come home. She's a human being who deserves to be honoured and have her children and her grandchildren get to remember her and celebrate her life." It's another Native American woman whose name is attached to a federal bill aimed at addressing this issue. Savanna LaFontaine-Greywind, 22, was murdered in 2017 while eight months pregnant. Her body was found in a river, wrapped in plastic and duct tape. A neighbour in Fargo, North Dakota, cut her baby girl from her womb. The child survived and lives with her father. The neighbour, who pleaded guilty, was sentenced to life without parole; her boyfriend's trial is set to start in September.
In a speech on the Senate floor last fall, North Dakota Democrat Heidi Heitkamp told the stories of four other Native American women from her state whose deaths were unsolved. Displaying a giant board featuring their photos, she decried disproportionate incidences of violence that go "unnoticed, unreported or underreported."
Her bill, "Savanna's Act," aims to improve tribal access to federal crime information databases. It would also require the Department of Justice to develop a protocol to respond to cases of missing and murdered Native Americans and the federal government to provide an annual report on the numbers. At the end of 2017, Native Americans and Alaska Natives made up 1.8 per cent of ongoing missing cases in the FBI's National Crime Information Center database, even though they represent 0.8 per cent of the US population.
These cases include those lingering and open from year to year, but experts say the figure is low, given that many tribes don't have access to the database. Native women accounted for more than 0.7 per cent of the missing cases — 633 in all — though they represent about 0.4 per cent of the US population.
"Violence against Native American women has not been prosecuted," Heitkamp said in an interview. "We have not really seen the urgency in closing cold cases. We haven't seen the urgency when someone goes missing. … We don't have the clear lines of authority that need to be established to prevent these tragedies."
Despite some high-profile cases in the US, many more get scant attention. "For every Ashley, there are 200 more."
- AP