The British woman who plunged from a cruise liner into the Adriatic Sea on Saturday night before surviving a 10-hour ordeal in the water may have jumped, a crew member claimed yesterday.
Daniel Punch, who works aboard the Norwegian Star ship, said Kay Longstaff was unlikely to have fallen into the sea by accident.
The air hostess, 46, plunged from the seventh deck of the 92,000-ton Norwegian Star 100km off the Croatian coast as it headed towards Venice on Saturday before being rescued 10 hours later - having sung to keep up her spirits.
Punch said in a Facebook exchange: "She didn't fall, she jumped. It was on my ship. I spoke [to her] throughout the whole week. She was arguing with her fella the whole time."
Police are believed to be working on the theory that Longstaff jumped and believe no foul play was involved, and Italian source told The Sun.
The source spoke out as Longstaff was released from hospital though declined to say anything about her fall.
The source said: "Footage has been viewed and you can clearly see she was there on her own when she fell. She was not pushed. The theory we are working on is that she most likely jumped."
Police have spoken to boyfriend Craig Rayment who confirmed the pair had been drinking and arguing before the plunge, the source added.
After the fight he went back to their cabin before the crew informed him that Longstaff was missing and they had found her bags and belongings, it is reported.
It comes after a friend of Longstaff said that she had a "troubled past". The 46-year-old, who does not wish to be named, said that he was "very worried" about the Briton.
Passengers have claimed Longstaff, who lives in Benalmádena on Spain's Costa del Sol, had argued with friends before going overboard. MailOnline had earlier revealed how she plunged into the water after spending the evening drinking and left her handbag and passport on board.
Longstaff posted Facebook pictures of herself during the cruise including when the vessel docked off the Greek island of Santorini. She also posted a picture of a man named as Craig Rayment, believed to be her partner, showing off a birthday cake.
She was rescued after 10 hours in the sea with crew saying she managed to survive the terrifying ordeal by "singing" and her "yoga fitness" in the 25C water.
Longstaff says she "fell off" the back of the ship. Her disappearance at about midnight local time triggered a frantic search by the crew after the alarm was raised.
The ship doubled back to the sea area where she was thought to be and carried out at least four passes in its search for the missing woman, before a coastguard cutter and Pilatus PC-9 spotter plane joined the hunt and found her at about 9.45am on Sunday.
Longstaff, pictured smiling with her rescuers after being hauled from the sea, revealed: "I fell off the back of the Norwegian Star, and was in the water for ten hours. Then these wonderful guys rescued me."
Cruise ship safety railings are designed to prevent people from falling overboard while decks are routinely monitored by CCTV cameras.
The rescue ship's captain, Lovro Oreskovic, said that the Briton was exhausted and staff were "extremely happy for saving a human life".
Irena Hrstic, a spokeswoman for the hospital in Pula, confirmed that Longstaff was "assessed for stress" but was "physically fine".
"She is excitedly waiting for her boyfriend to come and take her home," Hrstic said.
The British tourist used to work as cabin crew for Virgin Atlantic and now works on private planes.
A friend wrote on her Facebook page: "So pleased you're OK and your strength got you through that horrid ordeal. Bless you... so pleased you are OK darling."
Another said: "OMG Kay! So glad you're OK, I couldn't believe my eyes."
Longstaff told Croatian television she was "lucky to be alive" and it is not yet known how she managed to survive all night in the water or if she had help staying afloat from a life ring. Other passengers who were on the liner said the incident had been captured on the 17-year-old ship's CCTV system.
Norwegian Star had been heading back to Venice at the end of a seven-night eastern Mediterranean voyage taking in Kotor, Montenegro and the Greek islands when the drama unfolded.
A Derbyshire businessman who was on board told the Daily Mail as passengers waited to disembark yesterday: "We heard she was in a cabin on her own but had been travelling with family and friends. They raised the alarm when they realised she was missing."
The passenger, who asked not to be named, said ship staff had used metal barriers to seal off the area where she is said to have fallen.
"We were told she had left her handbag, which contained her passport, on the deck before falling, and that the incident was captured on CCTV," he added. "Apparently she had been drinking."
Another passenger told the Sun that Longstaff had been involved in arguments throughout the day.
"When getting off the boat, seven hours late, a number of passengers were saying there had been a midnight dispute amongst the Longstaff party," the passenger said.
Others spoke of chaos as the liner ran into delays - and hit out at Norwegian Cruise Line for failing to help international passengers with their onward travel once the ship had eventually docked at about 2.30pm.
One, called Bethany, told MailOnline: "The cruise line was very unhelpful with helping us rebook travel plans. The only thing they gave us was 15 minutes of free WiFi to try and rebook travel arrangements. They also started a number system to get to the very few phones they did have available to use - they handed out numbers 1 (to about) 16 but only got up to number 6 while my family was number 13.
"Disembarkation was also a mess because they did not give any information regarding when we were getting off the ship. We had to sit around for hours just waiting for vague instructions."
Commenting on the railing around the ship, Bethany said it would be "rather difficult to get over" adding: "I am 5ft 5ins and the railing went to about my chest."
The ship should have berthed in Venice at 8am but did not arrive until the afternoon, by which point Longstaff had returned by sea to Pula, northern Croatia, and had been taken to hospital.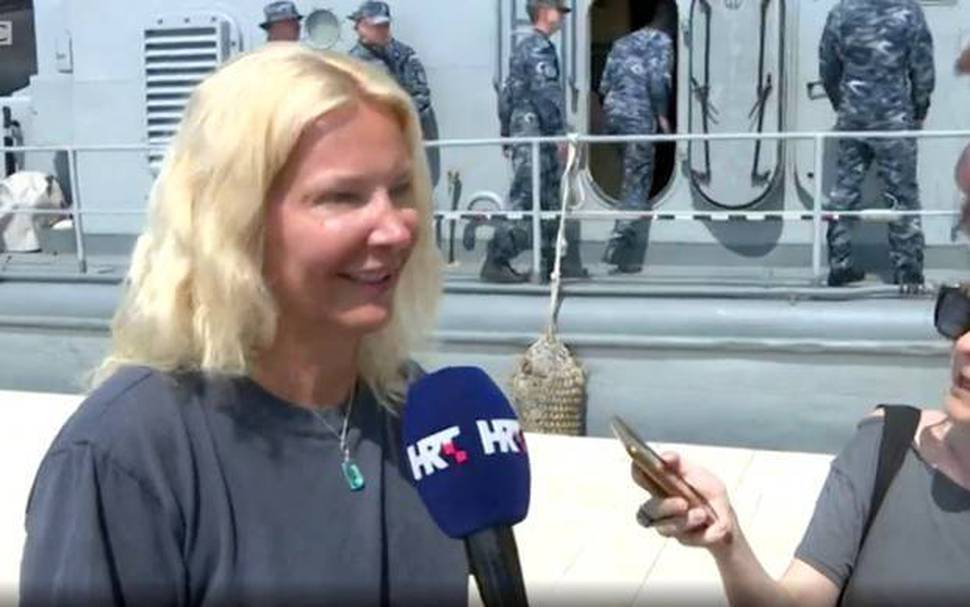 David Radas, from the Croatian ministry of maritime affairs, said Longstaff was "extremely fortunate to be alive".
"The Crew on board the cruise liner originally had doubts that she would survive but she was picked up alive.
"She was waving her arms in the air and calling out when the coastguard first reached her. She was very relived to be saved.'
Earlier, he told the Daily Telegraph that Longstaff was "not injured, just exhausted, hypothermic and in shock".
According to survival expert Mike Tipton, the water was warm and calm on the night Longstaff went overbaord - factors that would have been in her favour. He said it was possible to survive in 20C water for up to about 25 hours.
"The problem is keeping your airway clear of the water. In this particular case there was a fair amount of swimming being done, but because there was a female involved, they have higher levels of body fat and are more able to float," he told BBC Radio 4.
According to the Cruise Lines International Association, man overboard cases are not common - but there are no official statistics on the annual number.
Its report said last year: "Without exception, when investigations of MOB incidents are successfully concluded it is found that they were the result of an intentional or reckless act."
Last month, a Norwegian Cruise worker was "miraculously" rescued after 22 hours in the Atlantic without a life-jacket.
Francis Rakochi Santiago, a Filipino cleaner on the Norwegian Getaway, was plucked out of the Atlantic Ocean after spending 22 hours in the water without a safety device before a Carnival Cruise Line ship found him.