The final moments of a YouTuber's life before he was shot dead by his girlfriend in an ill-advised stunt have been revealed.
Prosecutors in Norman County, Minnesota on Friday released video and transcripts from the fateful final video of Pedro Ruiz, 22, and his then-pregnant girlfriend Monalisa Perez, 20.
"I can't do it, babe. I'm so scared," Perez told her boyfriend in the transcript from the June 2017 video, as she wielded a .50-caliber Desert Eagle - one of the most powerful handguns in the world, reports Daily Mail.
"As long as you hit the book, you'll be fine. Come on," Ruiz responded, holding a hardcover encyclopedia to his chest.
While cameras were rolling, she fired and the bullet went through the book, killing Ruiz.
"Babe, if I kill you what's gonna happen to my life. Like, no this isn't okay," the transcript reads.
Perez, of Redfield, South Dakota, was sentenced earlier this year to 180 days in jail for second-degree manslaughter.
Perez, was pregnant with her second child at the time of Ruiz's death and their son was born in September.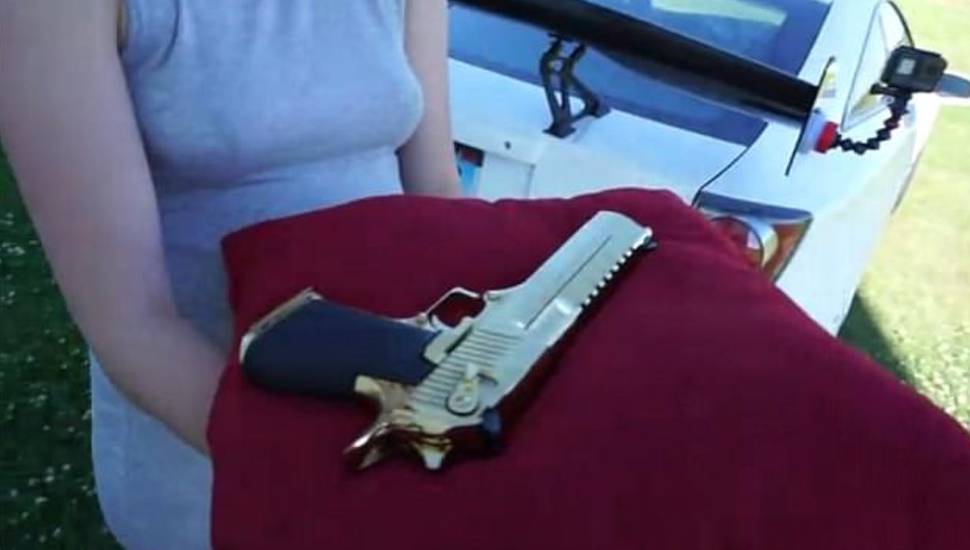 In the released portion of the video from the stunt, Ruiz addresses the camera and says: "So if I'm going to die, I'm pretty much ready to go to heaven right now. If I die, I'll be ready for Jesus.
"He probably won't accept me into the pearly gates because of how stupid this is, but I have confidence that my girlfriend will hit the book and not me."
The mother-of-two took a plea deal in December that will allow her to serve out half of her jail term in increments of 30 days per year for the next three years.
She is also banned from ever possessing firearms.
After the shooting, Perez told police on a 911 call that Ruiz had asked her to fire a bullet from a pistol into an encyclopedia as he held it against his body.
But the projectile penetrated the volume and fatally wounded the young father.
The fatal shooting was captured on two cameras that had been set up to record the stunt.
Their three-year-old daughter, Aaliyah, was present when the shooting occurred.
"We were doing a YouTube video and it went wrong. Please hurry up," Perez told the 911 dispatcher in June 2017.
Prior to the shooting, Perez had tweeted: "Me and Pedro are probably going to shoot one of the most dangerous videos ever. HIS idea not MINE".
If the 20-year-old had gone to trial and was found guilty, she could have been looking at up to 10 years behind bars.
The prosecutor handling Perez's case said Ruiz's family members signed off on the plea deal.
The couple's YouTube channel had 218 subscribers at the time and included pranks like Perez feeding Ruiz donuts covered in baby powder.
In their last video together, the family go to a fairground and Perez says: "Imagine when we have 300,000 subscribers."