The mother of failure-to-launch millennial Michael Rotondo's 8-year-old son fears the decision to kick his father out of his parents' home will send him off the rails, she told DailyMail.com in an exclusive interview.
Rotondo's mental condition could deteriorate when he has to fend for himself, she predicted.
"He was kind of safe with his parents but a lot has changed for him and this will be another big change. I don't think he will be able to cope with it,' the 33-year-old mom said.
The woman, who works in the beauty business, agreed to speak exclusively to DailyMail.com on condition we did not reveal her name or show any pictures of her.
"I am scared,' she said during the late-night interview.
"He's not going to be able to live by himself," the mother of his son said. "His parents are throwing him out there basically saying they don't care if he is a danger to himself."
"Nobody here knows that Michael is the father of my son," she added.
Rotondo's case has gained worldwide attention since his parents Mark and Christina Rotondo took him to court this week to have him evicted from their four-bedroom house in Camillus, New York, a quiet commuter town just west of Syracuse.
Both the woman and her lawyer said that despite Rotondo's claim that he is barred from seeing his son, he has the right to supervised visits with a medical professional.
"But he has chosen not to exercise that right," claims the attorney, Dana Grillo. "Despite what he says, he has not attempted to see his son for eight months."
Both the attorney and the mom said details of Rotondo's mental health were revealed during protracted court battles over their son.
"I only found out then; it was always kept from me," the mother said.
Rotondo, 30, admitted to DailyMail.com that he has had mental health problems in the past.
He claimed that those problems have been dragged up now as a way to prevent him from seeing his son, claiming that he is being victimized for his habits of running his hands through his hair and pacing up and down.
"Anyone with long hair would tell you that is the way to get the knots out," he said of the first point. "And I pace - yes, I pace."
The court papers are confidential, as are all issues before New York State's Family Court system.
The mother said she is even more worried now because Rotondo has weapons.
He admitted to Syracuse.com that he owns both a compound bow for hunting and a lever action 30.30 rifle which he keeps for protection.
"Any responsible American should own a firearm," he said.
DailyMail.com has learned that Rotondo was arrested in 2009 for stalking and menacing a woman in New Hartford, New York. He ended up pleading guilty to lesser charges of trespass and harassment and was fined a total of $1,501. At the time he gave an address in Syracuse.
The mother of his son said she had pleaded with police to take the rifle from him, but they have told her there is no cause.
"How do people know someone is mentally ill until they do something?" she asked. "By then it will be too late.
"Of course I want them to take his rifle from him, but why can they? How do people know he has a mental health issue if it is kept confidential?"
Both Rotondo and the child's mother say they never had a relationship.
"It would be wrong to call me an ex-girlfriend," she said. She refused to give any details of the events leading up to the boy's conception.
In an interview with DailyMail.com on the driveway of the family home, Rotondo said his problems with his parents really began when he lost contact with his son. The last time he saw him was September 26 last year, both sides agree.
"It's very hard to describe what that's like. I saw him three days a week and in the summer time it would be all day, 11-8.30," he said. "He was my whole world. My life was characterized by the days I saw him."
He said he cannot get a job because he needs to focus his entire energy on getting his son back.
He represented himself in the eviction case as he has done in child custody matters and in a federal 2015 suit against his former employer, Best Buy, who he sued for $360,361.
He claimed the electronics retailer discriminated against him because of his sex.
The company had wanted him to work on Saturdays but he refused, saying he needed to see his son on that day.
He said a woman with similar childcare issues was allowed to take off her day of choice. He lost the case.
The mother of Rotondo's son said she believes the decision to oust him from the family home was taken by his father, Mark, 60.
"The mother would never have done this to her child," she said
But she said Christina Rotondo, 61, was also frustrated with her son.
"She once said to me: "How do you think I feel that we are going to have him live with us for the rest of our lives?"' she said.
The woman said she no longer has a relationship with either parent.
She said the past two years of her life have been a nightmare as Rotondo has constantly dragged her into court over matters concerning their son.
"Every little parenting decision I make that he disagrees with, he just goes to the court," said the mother. "He has tormented me - absolutely tormented me - with the number of filings and court appearances and his insistence on representing himself."
But both she and attorney Grillo said the judges in the case have made matters worse.
"They have enabled his behavior by allowing him to come back time after time after time," said the mom.
"When he doesn't show they just give him another court date. I think the child support judge thinks it's fun, the custody judge isn't quite so bad."
She said the court cases have cost her thousands of dollars in lost earnings and attorney's fees.
"He has a free lawyer, I don't," she said.
Grillo said that Rotondo was originally ordered to pay just $27-a-month in child support, but that was increased to $61-a-week last year.
"He has paid some little amounts here and there, but nothing like $61 a week," claims the mother.
Rotondo's parents took him to Supreme Court in Syracuse this week, and succeeded in getting Judge Donald Greenwood to allow them to evict him, saying he needed to get out and find work.
The couple want him to get a job and health insurance. They even offered to pay for the insurance, but he said he had to refuse because it would deny him the ability to file court motions as a poor person without paying court fees.
Michael Rotondo believes his mother and father are being unreasonable.
"I would say it is not a significant burden on my parents because they never really gave me money," he told DailyMail.com. 'It was just food and housing.
"But they weren't paying for anything else - except for electricity and hot water and things like that.
"I wouldn't describe it as burdensome that they have to provide hot water and electricity and food because their son is trying to be the father to his child.
"My mother even wanted me to pay her for my cellular service. I refused to do that."
The senior Rotondos have resisted all attempts to be interviewed by the media.
When DailyMail.com called their home the person that answered put the phone down.
Their attorney, Anthony Adorante, did not immediately return a call for comment.
Their only other child, Michael's younger sister Maria Britton, 27, also declined to comment.
"This is something that should be a private family matter," she told DailyMail.com at the single-story home she shares with her husband in Syracuse.
The parents wrote five typed notes to their son, starting on February 2, telling him he had to leave.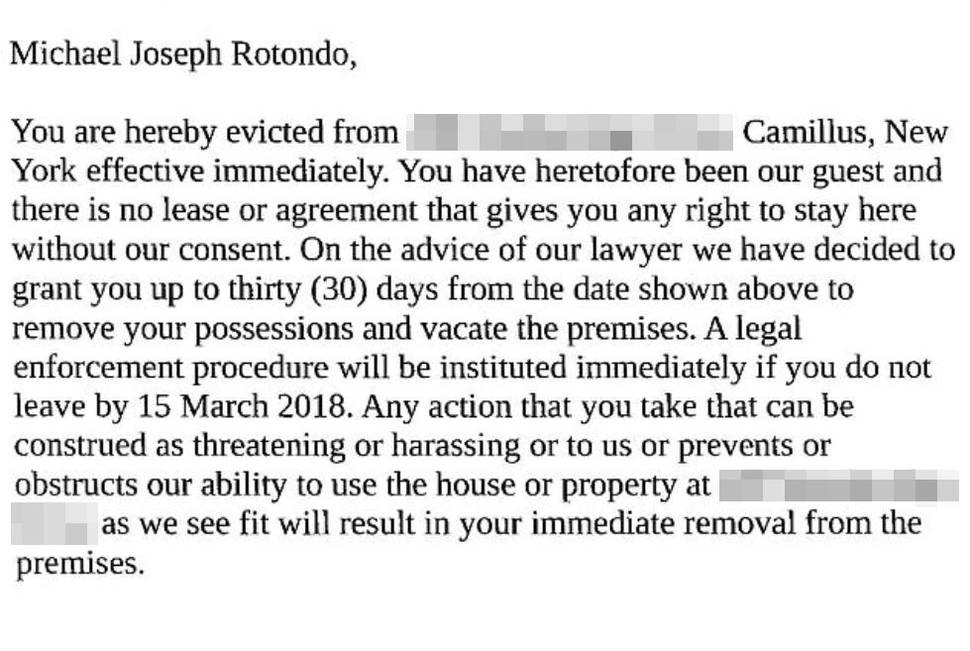 In the first they told him: "You have 14 days to vacate. You will not be allowed to return. We will take whatever actions are necessary to enforce this decision."
Eleven days later they sent him a second saying: "You are hereby evicted… You have heretofore been out guest and there is no lease or agreement that gives you any right to stay here without our consent."
This time they gave him 30 days to get out.
Five days later they send a third note along with $1,200 "so you can find a place to stay", and gave him advice on how he should make money by selling off his possessions - including "any weapons you may have" - and getting a job.
On March 5, they said they would have to throw out his property if he did not remove it within 11 days.
The final note, dated March 30, ordered him to get his Volkswagen Passat out of their driveway.
But now, nearly two months later he and his car are still there.
Michael told DailyMail.com he and his parents are like people who don't speak the same language.
"We just kind of stand in places. But I have got to do what I've got to do," he said.
He said they are on different schedules so they rarely bump into each other inside the house.
"I get up later, my mother gets up earlier, my father gets up much earlier. The only real conflict is that dinner time for them is like 4-6 so I go down before and eat something and afterwards I will prepare my dinner," he said.
He said he is not trying to sway public opinion by his constant media interviews.
"People will think what they will think," Michael said. "I am not going to try to convince them or plead my case to them as if that matters. I am just trying to explain to people what is going on.
"If people think I am an entitled millennial then that's fine. Or they may think I have some significant merits to what I am trying to get - and that is just reasonable treatment."