The woman who opened fire on three people before killing herself at YouTube's California headquarters has been identified as a frequent user of the site who was furious with the company for their "dictatorial" new policies.
Nasim Aghdam, 39, reportedly shot a man and two women with a handgun when she stormed YouTube's headquarters in San Bruno today, the Daily Mail reports.
Aghdam, whose identity was first confirmed by NBC, was a prolific YouTuber who had recently ranted online against the company's new policies and for "censoring her videos and not paying her".
A source told the LA Times a police investigation is looking into a connection between Aghdam and complaints about YouTube stifling traffic and suppressing videos posted to a website by someone with a similar name.
The source stressed that the investigation was in its preliminary stages.
Law enforcement officials initially said the shooting was being investigated as a domestic dispute after early indications suggested she had shot her boyfriend.
Aghdam, who was a self-described Persian animal rights activist and "vegan bodybuilder" from Southern California, had a significant online presence with multiple YouTube channels and social media pages.
In a video that Aghdam posted back in January 2017, she vented about her content being "discriminated and filtered".
She also said that her YouTube channel, which had more than 5000 subscribers, used to get many views but claimed she started getting less when the company started "filtering" her videos.
She specifically mentioned a video of her doing ab exercises that YouTube apparently put an age restriction on.
Aghdam's YouTube channels were removed in the hours after the shooting.
Before they were taken down, the description read: "Nasim the Persian Azeri female vegan bodybuilder, also animal rights activist promoting healthy and humane living."
Officers and federal agents swarmed the company's headquarters complex just before 1pm Tuesday local time after dozens of panicked employees called 911 to report gunfire.
Witnesses say the shooter was wearing glasses and a scarf when she opened fire.
Upon arrival, police found the woman dead inside the campus with self-inflicted gunshot wounds.
San Bruno Police Chief Ed Barberini said three people were taken to hospitals in San Francisco with gunshot wounds.
A 36-year-old man was in critical condition, a 32-year-old woman was in serious condition and a 27-year-old woman was in fair condition following the shooting.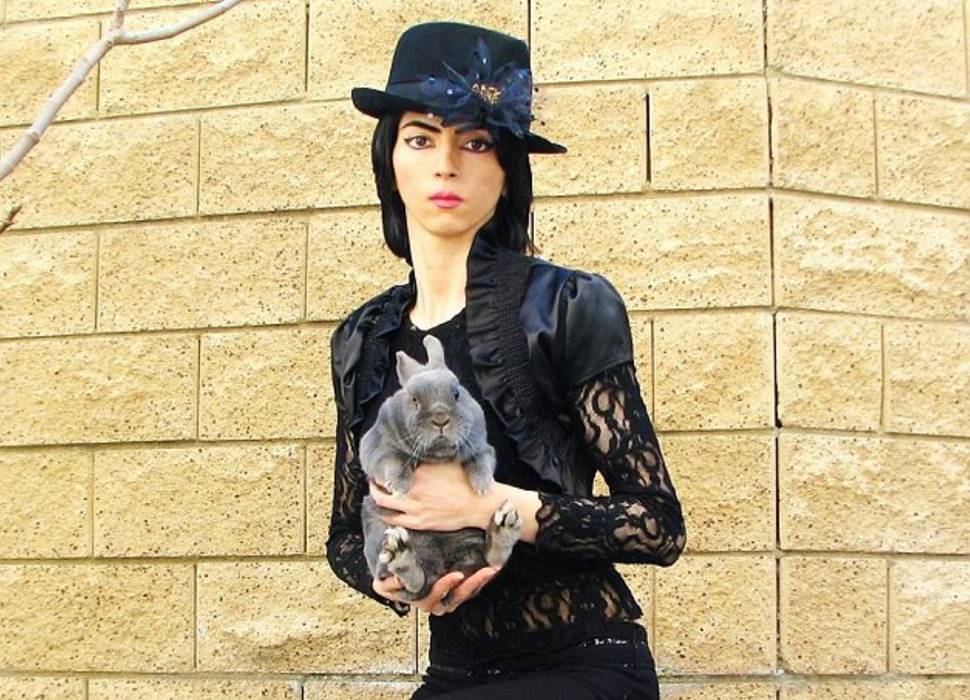 Television news footage showed terrified employees leaving the building in a line, holding their arms in the air for police to inspect as they were leaving the building. Officers patted down people to make sure none had weapons as police vehicles surrounded the area.
Senior software engineer Zach Vorhies said a fire alarm had gone off in the building and workers were calmly evacuating before they realised it was an active shooting.
Vorhies said as they were leaving he saw the shooter in a courtyard yelling: "Come at me, or come get me."
He said he froze and then noticed a victim on his back with what looked like a gunshot wound to his stomach. Vorhies said an officer with an assault rifle then came through a security door.
YouTube HQ shooter reportedly identified as Nasim Aghdam.
Another employee, Dianna Arnspiger, said she was on the building's second floor when she heard gun shots, ran to a window and saw the shooter on a patio outside.
She said the woman wore glasses and a scarf and was using a "big huge pistol".
"It was a woman and she was firing her gun. I just said, 'Shooter,' and everybody started running," Arnspiger said. "It was terrifying."
The police chief said at a press conference that officers discovered one victim with a gunshot wound when they arrived and then found the shooter with what appeared to be a self-inflicted gunshot wound several minutes later.
He said two additional gunshot victims were later located at an adjacent business and that a fourth injured person suffered an ankle injury.
The adjacent business was a Carl's Jr on the same plaza where two women fled after being shot.
Police did not release any further information on the suspect or comment on her possible motives for the shooting rampage.
The shooting had no known connection to terrorism, US government security officials said.
Disturbing live accounts were given by YouTube employees who took to Twitter as the shooting unfolded.
In a flurry of tweets, project manager Todd Sherman said: "We were sitting in a meeting and then we heard people running because it was rumbling the floor. First thought was earthquake.
"After existing (sic) the room we still didn't know what was going on but more people were running. Seemed serious and not like a drill.
"We headed towards the exit and then saw more people and someone said that there was a person with a gun. S***.
"At that point every new person I saw was a potential shooter. Someone else said that the person shot out the back doors and then shot themselves.
"I looked down and saw blood drips on the floor and stairs. Peaked (sic) around for threats and then we headed downstairs and out the front."
Employee Vadim Lavrusik was one of the first to report the shooting, tweeting at around 1pm on Tuesday: "Active shooter at YouTube HQ. Heard shots and saw people running while at my desk. Now barricaded inside a room with coworkers."
Soon after, he tweeted: "Safe. Got evacuated. Outside now."
A worker from Carl's Jr. next door to the campus said one woman was shot in the parking lot and was brought into the restaurant to be cleaned up.
Another witness reported seeing one woman being shot in the courtyard outside YouTube.
"It did not stop. There was no mercy," the witness told Fox News.
One woman who lives next door said she heard rapid fire shots.
"I was in my backyard and I just heard a series of gunshots. It was boom boom boom boom boom and it went on for quite a few seconds.
"I don't know the difference between a handgun but it was rapid fire it was one after another. I heard it get more quiet like he was going away," she said.
Google CEO Sundar Pichai called the shooting a "horrific act of violence".
He said the parent company of YouTube was doing everything it can to support the victims and their families.
Pichai also said the company "will continue to provide support to help everyone in our Google family heal from this unimaginable tragedy".
The YouTube headquarters has more than 1000 engineers and other employees in several buildings on its 200,000 sq ft campus.
President Donald Trump offered his "thoughts and prayers" after being briefed on the shooting.
"Our thoughts and prayers are with everybody involved. Thank you to our phenomenal Law Enforcement Officers and First Responders that are currently on the scene," he tweeted on Tuesday afternoon.

Last month, YouTube announced it would ban content promoting the sale of guns and gun accessories as well as videos that teach how to make guns.
Female mass shooters are rare.
A recent Washington Post analysis shows only three out of 150 US shootings with more than four victims since 1966 were done by women.
In 2015, a husband and wife killed 14 people in San Bernardino, California.