Warning: Graphic content!
A nanny charged with the stabbing murder of two young children in her care has looked away as gruesome photos of the crime scene were presented in court.
The trial of New York City nanny Yoselyn Ortega, 55, continued on Tuesday, when jurors were shown horrific photos of the Upper West Side apartment where Leo Krim, two and Lucia Krim, six, were slain in October 2012.
Ortega has pleaded not guilty by reason of insanity, and stared straight ahead throughout the presentation without looking at the photos, the New York Post reported.
The photos showed blood smearing the walls, floor and toilet of the bathroom where the bodies of Leo and Lucia were found with their eyes open. The bottom of the tub was almost entirely red, according to the Daily Mail.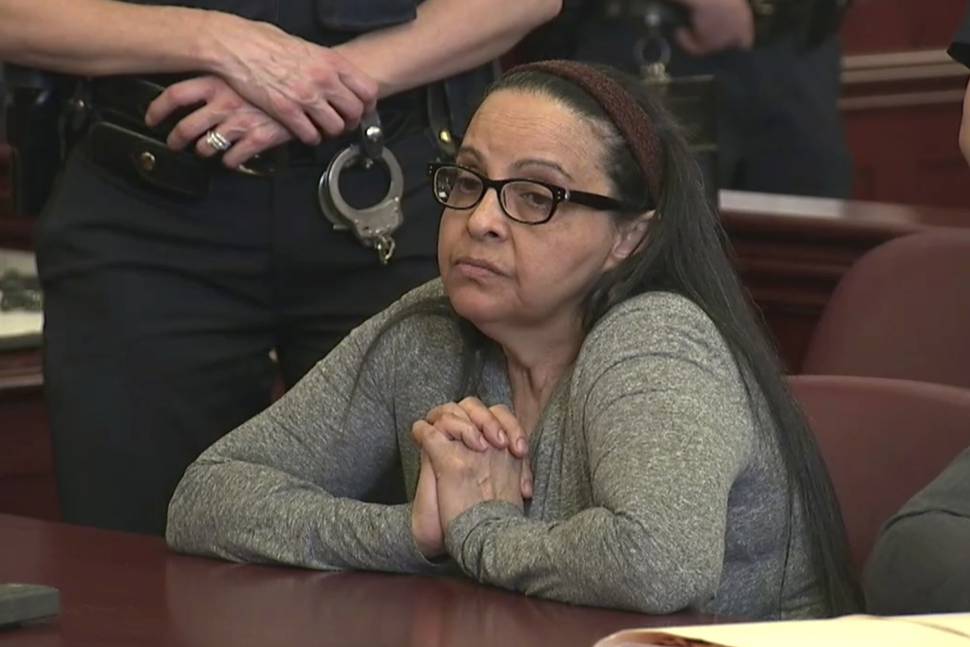 One bloody knife sat in the sink, inches away from a pink child's toothbrush.
Another sat wrapped in a towel atop a toy refrigerator in the hallway.
At least two jurors wiped away tears as they beheld the horror images, as others gasped and held their faces. By the afternoon, one juror told the judge that he could no longer be fair and impartial and was excused from the case, the New York Times reported.
The photos were taken roughly seven hours after mother Marina Krim found the children mortally wounded and saw Ortega stabbing herself in the neck.
Leo was stabbed five times, and Lucia, who fought back, was stabbed 30 times, according to prosecutors.
Also on Tuesday, several more first responders were called to testify.
"That's the worst crime scene I've ever seen, other than September 11," said paramedic Eugene Nicholas.
"I saw blood everywhere," said Kevin Orr, a second paramedic.
"Mrs Krim was stunned and hysterical, saying, how am I going to get this out of my head?" said paramedic Reuben Shelton.
Another EMT said that Marina Krim, who was with her three-year-old daughter Nessie when she discovered the gruesome scene, pleaded with paramedics to shield her from photographers as they left the building.
Nessie was spared from seeing the horror scene and didn't seem to understand what had happened, the court heard.
Earlier in the week, building superintendent Michael Minihan offered a chilling account of Ortega's eyes bulging out as she gasped for air and bled from a self-inflicted knife wound in her neck.
Minihan lived directly below the Krim family, whose kids Ortega nannied, and remembered rushing to the apartment in October 2012 after hearing mom Marina Krim's blood-curdling cries.
Krim was on the mezzanine "holding her middle child, Nessie, screaming incoherently," Minihan said.
When Minihan entered the apartment, he said he first saw Ortega, "staring ... the eyes of the devil in my face," he said. "Her eyes were bulging."
Ortega had attempted suicide after killing the two young children.
Minihan told the court that he avoided looking in the direction of the bathroom where the mutilated bodies of Lulu and Leo were lying.
"I could see the tub and I could see a body or something. I tried as best as I could not to take my eyes off Ms Ortega but I could see there was a mess," he said, fighting back tears. "I just saw red, I just saw red."
Prosecutors say Ortega grabbed two kitchen knives and butchered the two children while their mother was blocks away at the dance studio where Lulu was supposed to be.
They added that Ortega waited until Marina Krim found the children dead in the bathroom before plunging a knife into her own neck so that she could relish in the devastated woman's pain and horror
Prosecutors suggested that Ortega was jealous of Krim because she was financially stable and had a good relationship with her children.
Allegedly, Ortega felt she deserved to work less and be paid more, but they have said there isn't a clear motive for the crime.
Ortega said she was angry that the Krims had asked her to clean the house in addition to looking after the children.
The nanny's attorney, Valerie Van Leer-Greenberg, said Ortega heard voices and saw hallucinations in unchecked disorders.
But New York has a high bar for the insanity defence, and it is rarely successful. To win, Ortega's lawyers will have to prove she didn't understand the consequences of her actions and didn't know right from wrong at the time.
On Friday (local time), in court, Marina Krim stormed out of the courtroom, screaming at Ortega following a harrowing six hours of testifying over two days.
"You're evil and you love this! You like this!" she screamed, wailing: "Get me out of here. Please, get me out of here. Get me out!" as she was escorted out of the courtroom by court officers for a short break.
The judge told jurors to disregard the outburst.
Jurors on Friday watched on surveillance footage as mom Krim stood in the lobby of a dance studio discovering her six-year-old daughter, Lulu, was not at class.
Krim was at a swimming class with their then 3-year-old daughter, Nessie. They had gone to pick up Lulu from dance class, but she wasn't there. After she found them in the home, she ran outside with Nessie and called for help after finding her kids, and then started screaming.
"It's like a horror movie," she said Thursday, testifying in the murder trial of the caretaker, Yoselyn Ortega. "I go down, I walk down the hall and I see the light on under the back of the door, and I'm like, 'Oh God it's so quiet in here, oh God. Why is it so ... quiet?'"
"And I open the door ... And I open the door, oh God!" she wept.
"It was a scream you can't imagine is even inside of you," she said. "I don't even know where it came from. I just thought: I'm never going to be able to talk to them ever again. They are dead. I just saw my kids dead.'"
The central mystery of the trial isn't whether Ortega killed the children, but why she did it — and whether she was too mentally ill to be held responsible.
Krim said she saw Lucia first, and knew instantly that she was dead, because her eyes were fixed.
"And I look next to her and I see Leo, and he has blood on him ... blood all over Lulu's little dress ..." Krim said.
Prosecutors said Lucia had fought back and was slashed and stabbed about 30 times. Leo suffered five wounds. Their throats were cut so severely it appeared at first they'd been decapitated, Assistant District Attorney Courtney Groves said in her opening statement.
"There was no way to save them," Groves said. "The devastation the defendant had inflicted on their little bodies was too much."
Krim testified that Ortega had just been kicked out of her Bronx apartment at the time of the murders, according to the New York Post.
"I would say she was distracted. She was more arrogant ... She had that smug look to her, like she has right now. It's disgusting," she recalled, leading up to her children's brutal murders.
Ortega's defence attorney asked Krim if she ever considered firing Ortega.
"There was nothing to fire her about at that point," Krim testified. "I was aware of her strange behaviours but nothing to fire her over."
Krim finished her heart-wrenching testimony after about six hours between Thursday and Friday on the stand in the murder trial.
Jurors also saw a booklet of photos Marina Krim made for Ortega after a trip they all took to see Ortega's family in the Dominican Republic.
The three children are beaming. In one photo, Ortega holds them, smiling.
Jurors also heard a doorman place a 911 call, and Krim's anguished screams in the background.
Ortega faces a minimum of 20 years imprisonment if she is convicted and could be jailed for life without parole.
Krim's husband, Kevin, was a CNBC executive at the time of the murders and now works at a startup.
The Krims use a Facebook page to post updates on how they are doing, writing about the arrival of two new children, Felix born in 2013 and Linus in 2016.
The couple started the Lulu and Leo Fund, which aims to support innovative art programmes for children.
They recently posted a video message on Facebook asking that people mention the fund as their case becomes news again.
- additional reporting, AP

WHERE TO GET HELP:
If you are worried about your or someone else's mental health, the best place to get help is your GP or local mental health provider. However, if you or someone else is in danger or endangering others, call police immediately on 111.

OR IF YOU NEED TO TALK TO SOMEONE ELSE:

• LIFELINE: 0800 543 354 (available 24/7)
• SUICIDE CRISIS HELPLINE: 0508 828 865 (0508 TAUTOKO) (available 24/7)
• YOUTHLINE: 0800 376 633
• NEED TO TALK? Free call or text 1737 (available 24/7)
• KIDSLINE: 0800 543 754 (available 24/7)
• WHATSUP: 0800 942 8787 (1pm to 11pm)
• DEPRESSION HELPLINE: 0800 111 757