The grieving mother of a brave Florida high student who held the door open so his classmates could flee the gunman has buried her son as more funerals are held for the victims of the shooting massacre.
Peter Wang, 15, was among the 17 shot dead at Marjory Stoneman Douglas High School last week.
The hero student was last seen alive wearing his ROTC uniform as he held the door open so other students could seek safety from the gunfire, the Daily Mail reports.
Peter's sobbing mother Hui Wang was overcome with grief at his funeral in Coral Springs on Tuesday and had to be helped into a car following the service.
"I watched you walking to school on February 14," Wang had said earlier at his funeral.
"Now my body is bleeding in unbearable pain. Baby, am I in a nightmare? This is unbearable. Baby, hold my hand, reach me. Baby, I'm stuck in this nightmare. Lead the way out."
Peter was buried in his ROTC uniform and was honoured with an Army Medal of Heroism.
His family were given a second medal as a keepsake.
His coffin was draped in a US flag and white doves were released at the end of the service.
The teenager had planned on attending the United States Military Academy at West Point after high school.
Peter was posthumously admitted to the academy's class of 2025 following his tragic death.
"One of USMA's priorities is to develop leaders of character who are committed to the values of Duty, Honor and Country," the academy said.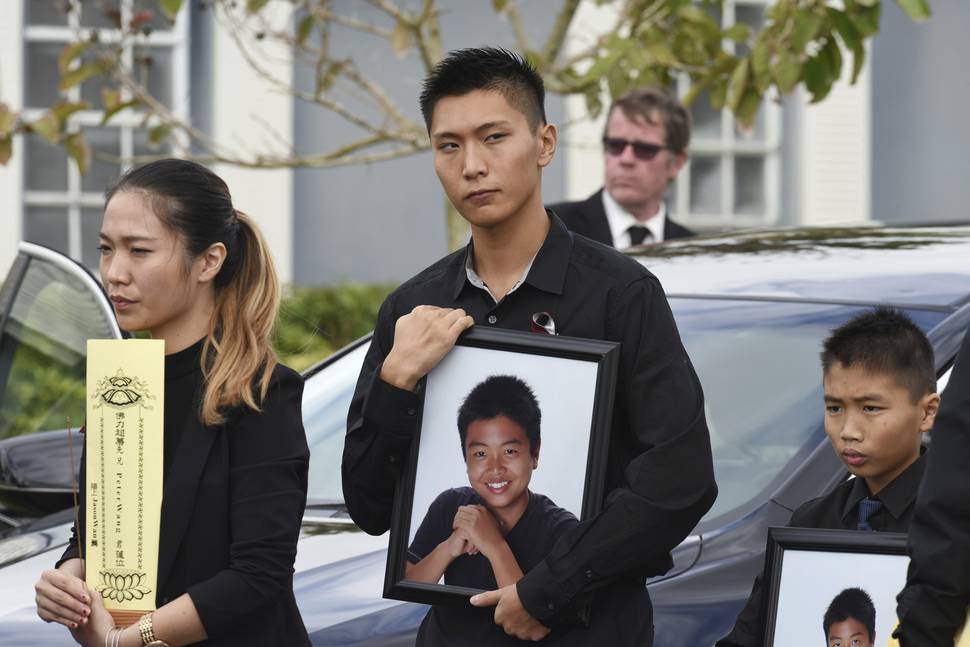 "Peter Wang's actions on February 14 are an example of those principles and the academy honours his dream of being a West Point cadet with a 2025 letter of acceptance.v
Governor Rick Scott also directed the Florida National Guard to honor Peter - as well as two other ROTC students - at their funerals this week.
Members of the guard, dressed in full uniform, were among those to pay their respects on Tuesday.
Hundreds of mourners also attended Carmen Schentrup's funeral in a nearby Catholic Church on Tuesday.
She was buried the day before her 17th birthday.
"We should not be here at all," Reverend Mark Sims said.
"The family has been set adrift... in a storm of heartbreak and emptiness. We are all left standing, stooped over, doubled up in pain and disbelief."
Three white doves were released into the sky following her funeral service.
Cara Loughran and Gina Montalto were also buried on Tuesday.
The funeral services for the victims of the high school massacre continue to take place a week on from the tragedy.
Many of the young mourners are attending more friends' funerals in a span of days than many middle-aged people have in their lifetimes. +
Services for 14 Stoneman Douglas students, the athletic director, a coach and a geography teacher began on Friday - just two days after the shooting and will end in the next few days.
The funerals have taken place in churches and synagogues, funeral homes and conference centers, all packed, sometimes with crowds topping 2,000.
The last-arriving mourners have often been forced outside into the Florida heat, where they stand respectfully for an hour, straining to hear a snippet of the service.