A packed commuter train derailed near Milan on Thursday morning killing at least two people, seriously injuring 10, and leaving more than 100 with minor wounds.
The train was on its way from Cremona to the Garibaldi Port station in Milan when it derailed between Segrate and Pioltello around 7am, according to local media.
A fire brigade official at the city's control room said at least three people had died.
"There are between three and five dead in the accident from what we know at the moment," the fire official told Reuters.
However Carabinieri police confirmed at least two people were killed, 10 were seriously injured and dozens more slightly injured.
Television footage showed fire brigades trying to free people trapped inside the wagons of the train, which were bent by the impact.
At least six people are still stuck inside one of the carriages, Rai Radio1 reports, though emergency services have not ruled out there could be more.
Images show emergency crews climbing inside crumpled carriages which appear to be spattered with blood.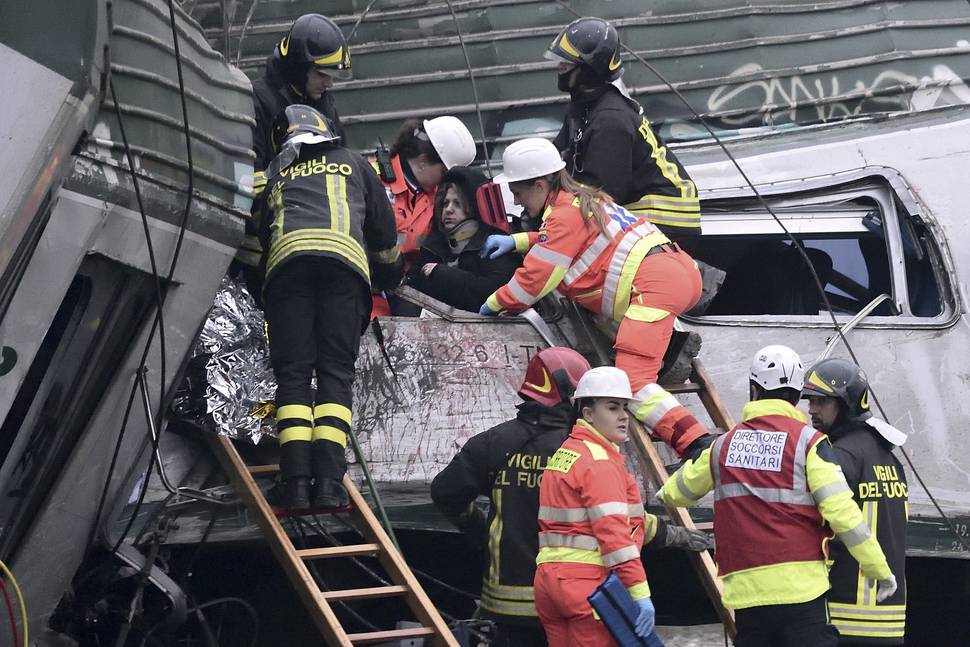 An aerial image of the scene, released by fire crews, shows one carriage has bent almost in half after coming off the tracks, while the carriage behind has also derailed and been damaged.
One man on board the train, who spoke anonymously to Il Sole 24ore, said: "Everything was fine, suddenly the train began to shake, then there was a roar and the carriages came out of the tracks."
It is not clear what caused the train, operated by Trenord, to come off the track.
The company said via Twitter that the train had suffered a 'technical problem'.
A spokesman for Ferrovie dello Stato, the state-owned company which manages Italy's railway infrastructure, confirmed that an accident had occurred in Pioltello, some 40 kilometres from Milan, without giving details.
The train left Cremona at 5.32am headed for Milano Porta Garibaldi, where it was scheduled to arrive at 7.24am.
There would have been hundreds of commuters on board at the time of the accident, Il Sole 24ore reports.
Train circulation between Milan and the nearby city of Brescia was halted after the accident, Ferrovie dello Stato said.
- With AAP