The parents accused of torturing their children for years in a California house of horrors pleaded not guilty to 75 charges during a brief court appearance.
David, 57, and Louise Turpin, 49, denied the charges not long after they were announced by the Riverside County District Attorney. The couple's next court appearance was set for February 23.
The pair were brought into court via a tunnel from the nearby Robert Presley Detention Centre where they have been held since being transferred from Perris, the Daily Mail reports.
Dressed in black outfits from their civilian wardrobes, both Turpins were shackled for the 20-minute appearance, with David also wearing ankle restraints.
The Turpins, who are being held separately, spoke only to answer "yes" when asked by Judge Michael Donner if they understood proceedings.
Louise Turpin faces 37 charges while her husband faces 38. They are both charged with the 12 counts of torture, 12 counts of false imprisonment, 7 charges of abusing a dependent adult and six counts of child abuse.
David is also charged with one count of a lewd act against a child under the age of 14. The alleged victim was one of his daughters.
Their bail was set at US$13million each - US$1million for every child they are accused of torturing.
The couple are being represented separately: David by David Macher of the Public Defender's Office and Louise by Jeff Moore of local law firm Blumenthal Law Office's.
Speaking to DailyMail.com, Moore said his client seemed "Okay" but said he had not had time to speak with her.
He said: "I don't know [what she is like] - I haven't had a chance to talk to her yet. She seems okay."
Moore added: "Just like in any other case, we will look at the evidence and proceed accordingly."
Outside court, Macher refused to answer questions about his client's wellbeing and his response to the charges, saying he could not comment.
He did say he would do "all that is necessary" to defend the case but refused to say whether he would order a mental evaluation.
Macher added: "Our clients are presumed to be not guilty. We are going to provide a vigorous defence. The case will be tried in court, not in the media."
The couple are next due in court in February, with Judge Donner requesting a hearing for the 23rd at 1.30pm.
Speaking to DailyMail.com outside court, Jeff Zimel, the Riverside County Public Defender, said the couple would remain in separate cells at the Robert Presley Detention Center unless the Sheriff decides otherwise.
Describing the arraignment as a "standard, uniform hearing", Zimel said the case would be a difficult one to defend because of the horrific nature of the Turpins' alleged crimes.
He said: "I imagine, sure it will be. But as a lawyer taking the emotion out of it and analysing it in terms of what would the law say, there's steps: what happened? Is it a crime? What does the law say?
"So this is one of those cases where you have to attack it in that sort of non-emotional way."
Zimel also said his office had yet to see all the evidence against the Turpins beyond a 10-page report and said their trial could last a year or more.
"We don't know what all the evidence is yet - we've got maybe 10 pages of reports", he said. "But the prosecutor told us today there's much more.
"It could take a while just to do even the initial review but it's not uncommon for these cases to go on for a year or more."
Hours earlier, harrowing new details of how they tortured their 13 children were described at a press conference by DA Michael Hestrin.
He told how they kept the children up all night and slept during the day in a suspected attempt to avoid any outsiders witnessing the abuse.
They were regularly beaten and occasionally strangled, Hestrin alleged.
The only activity the children - who said they were chained up for months at a time - were allowed was to write journals.
Hundreds were recovered from the home and they are likely to be used as evidence against the parents.
Before Sunday's dramatic rescue, the children had been plotting an escape for two years, he said.
When the 17-year-old escaped on Sunday, she at first had another sibling with her but that daughter got frightened and turned back.
None of the children have ever seen a dentist and none have seen a doctor for four years, Hestrin said.
District Attorney Michael Hestrin said all of the children are in hospital and are "relieved".
Among the most shocking claims of abuse were;
• The children were made to stay awake all night and sleep all day, often going to bed at between 4am and 5am
• Their only permitted activity was to keep journals - hundreds of which were recovered and will likely be used as evidence
• David Turpin is accused of a lewd act against one child - one of his daughters, under the age of 14
• The children had been planning to escape for two years before Sunday, when they were rescued
• The 17-year-old daughter who raised the alarm left the house with another sibling but that child became frightened and turned back
• The parents began using chains and padlocks to tie the children to their beds after one escaped with rope. They would sometimes be chained up for months
• One of the older boys was allowed out of the home to attend college classes but Louise accompanied him there, waited for him until it finished then accompanied him home
• The couple's youngest child, a two-year-old, was the only one they did not starve
• The 29-year-old woman who was rescued weighed just 37kg.
• The children were tied up or beaten if they washed their hands "above the wrist" because the parents said it amounted to them "playing in the water"
• The Turpins kept toys that were still in their boxes at the house but never gave any to the children
Some of the children did not know what a police officer was when they were rescued and many are mentally impaired as a result of what prosecutors called "severe, prolonged and pervasive abuse".
While the children starved, the parents bought food including pumpkin and apple pie and kept it out on worktops for them to look at and desire, Hestrin said.
According to Hestrin, the abuse began in 2010 and has intensified ever since.
When they lived in Texas, the children at one stage lived alone and were held hostage in a property which their parents allegedly visited only to occasionally drop off food.
The only child who was safe from their torture was their two-year-old, according to prosecutors.
She showed no signs of malnutrition. Hestrin said that the abuse began in 2010.
At the time, the parents would tie the children up with rope as punishment, he said.
One child recalled being "hogtied".
When they managed to escape, they moved on to using chains and padlocked.
Prosecutors did not elaborate on the physical condition of each child other than to say that they were severely malnourished and some have suffered mental impairment.
A 12-year-old inside the home is the average weight of a 7-year-old.
It was also claimed that the couple had three children tied up when police first knocked on the door.
As they waited to be allowed in, Louise and David untied two of the children from furniture.
When they entered the home, the only child who remained shackled was a 22-year-old, according to the responding deputies.
Children plotting escape for two years before rescue
By the time they were found on Sunday, the children, including the 17-year-old who crawled through a window to call 911, had been planning an escape for two years.
Details of their plot, or what prompted them to suddenly make a break for it, were not revealed on Thursday.
Hestrin did however reveal that the 17-year-old girl who fled was not alone - she had another sibling with her at first but that child became frightened and turned back after crawling through the window.
"The 17-year-old victim that escaped had been working on a plan with her siblings to escape this abuse for more than two years.
"She escaped through a window and took one of her siblings with her. That sibling became frightened and turned back," he said.
Hestrin said he did not know precisely what triggered the escape but that something prompted it.
"Probably there was a trigger, at this time we don't know what that was."
'Forced to stare at pumpkin pies, toys and punished for washing their hands'
Hestrin described how the abuse allegedly intensified over the last eight years, explaining how the Turpins went from tying the children up with ropes to using padlocks and chains to keep them in one place.
"The victims report that as a punishment, starting many years ago, they began to be tied up first with ropes, one victim at one point was tied up and hogtied and then what that victim was able to escape the ropes, the defendants began using chains and padlocks to chain the victims to their beds," he said.
They were beaten and strangled for reasons as trivial as washing their hands "above the wrist", he alleged.
"One of the reason for these punishments of being chained up, and by the way, the punishments included frequent beatings and even strangulation, were the children were found to wash their hands above the wrist and were accused of playing in the water."
They were all fed on a particular schedule and, as a punishment, were made to look at foods their parents left out purposefully to torment them, it was claimed.
"The parents would apparently buy food for themselves and not allow the children to eat it.
"Apple pies, pumpkin pies, and leave it on the counter to let the children look at it but not eat it," he said.
The 'relieved' children's injuries
All 13 of the children are in hospital and are being treated by teams of specialists.
Hestrin would not give specifics of each child's physical or mental condition but he said all, except from the two-year-old, had been severely malnourished.
"All of the victims have now been examined by doctors and medical specialists. All were and are severely malnourished, specifically caloric malnutrition associated with muscle wastage.
"One of the children at age 12 is the weight of an average seven-year-old.
"The 29-year-old female victim weighs just 82lbs. Several have cognitive impairment and neuropathology which is the result of extreme and prolonged physical abuse.
"None have seen a doctor in more than 4 years, none have ever seen a dentist.
"We are not charging torture on the two-year-old. The two-year-old, we don't know why, but was getting enough to eat," he said.
When doctors asked the children if they had ever taken medication or pills, none knew what medication was.
They had limited exposure to the outside world and many did not know what a police officer was, he said.
"The children are relieved. They are in good hands and are being cared for," he said.
"They were supposedly home schooled but they lack a basic knowledge of life. Many didn't know what a police officer was." It remains to be seen who will look after them once they are released from hospital.
The hospital caring for the children has launched an online fund for strangers to donate to. It can be found here.
"Our phones started ringing almost immediately with calls from private individuals and organisations wanting to know how they can help," said Erin Phillips, executive director of RUHS Foundation said in a statement on Thursday.
"We recognise financial gifts will not eliminate their trauma, but these additional resources will be extremely important in helping these victims address their long term educational and physical needs," she said.
What police found at the house
On Sunday, police went to the house after the escaped daughter called 911.
Before they gained entry, they believe Louise and David untied two children who had been chained to their beds.
They did not have time to untie a third, a 22-year-old who police found shackled to a piece of furniture.
"The evidence is that three victims were chained up at the time the police first knocked on the door on the home in Perris.
"The defendants were able to get two unchained before the officers gained entry to the home.
"An 11-year-old and a 14-year-old were unchained [while the officers were] at door while the 22-year-old remained chained when police entered. "
Officers previously said that the children were all covered in faeces and urine. What was not known, and what was revealed on Thursday, was that hundreds of journals kept by the children over several years were also discovered.
"The only thing they were allowed to do is to write journals. We now have recovered them, hundreds of them, and are combing through them.
"I think they will be very significant. Those journals are part of the strong evidence of what occurred in that house," Hestrin said.
Toys that were still in their boxes were also discovered, but none of the children owned any themselves.
Abuse 'began in Texas where the parents lived apart from the children'
In his press conference on Thursday, Hestrin appealed to Texan officials and residents to assist with the investigation by coming forward with any information they may have on the family.
The alleged abuse began when they were living in Texas, he said, in 2010.
In two homes in the Lone Star state, the Turpins are said to have abused their children.
Photographs of those houses which showed scratch marks on the walls and dirt-caked carpets emerged on Wednesday.
In Fort Worth, the couple kept the children in one property and they themselves lived in another, he said.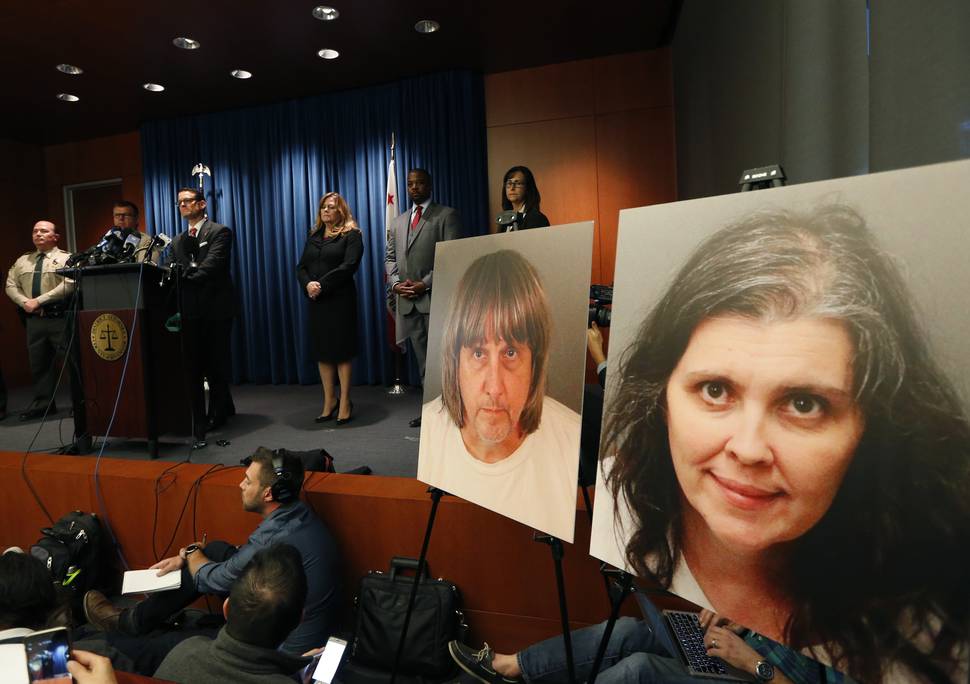 "It began in Fort Worth, with the parents living apart from most of the children and dropping off food from time to time," he said.
David Turpin accused of a lewd act against one of his daughters
Among the charges filed is one count of a lewd act against a child under the age of 14 by force or fear.
Hestrin would not give the age of the victim.
It was the only sexual abuse charge filed but the district attorney suggested more could come as inquiries continue.
"David Turpin touched one of the victims in a lewd way by using force.
"Right now, we are charging one count of a lewd act.
"This is an ongoing investigation. If our investigation uncovers more crime, we will charge more offenses."
Hestrin said the entire case amounted to "human depravity" which had "haunted" him.
"As a prosecutor, there are cases that stick with you, haunt you, and sometimes in this business we are faced with looking at human depravity and that's what we're looking at here.
"We're looking at kids being chained to their beds," he said.
Son was allowed to attend college classes under mom's supervision
One of the couple's older sons was allowed out of the home to attend college classes but his mother accompanied him there, waited for him during the lessons, and then took him home, it was claimed.
"I don't know about a full college experience. What we know so far is that Louise Turpin would accompany him, wait outside the classroom when he was finished with class, then she would take him home," Hestrin said.
The others were "home schooled" but there is no evidence any were ever educated.