Police tonight released two photographs of men they believe started the Oxford Street stampede after an altercation broke out.
Witnesses said the two men "bumped" into each other before "several punches" were thrown on the westbound platform at Oxford Circus tube station.
Passengers then reported hearing "shots fired" at around 4.40pm, prompting police to storm the station and evacuate it, reports Daily Mail.
Minutes later, pop star Olly Murs tweeted that he had heard "gun shots" inside department store Selfridges - half a mile from the tube station - and encouraged people to flee.
The presenter, 33, told his 7.8million followers: "F*** everyone get out of Selfridges now gun shots!! I'm inside."
Armed police triggered their protocol for terrorist attacks and descended on Britain's most famous shopping street on one of its busiest days of the year.
As terrified shoppers bolted from the area, several were injured and nine taken to hospital, including one with leg injuries.
Terrified shoppers who ran from the area were told to take cover and sought refuge in Topshop, the Nike store, Zara and John Lewis.
Some shop assistants closed the shops and locked the shutters while others sent people down to the basements for safety.
Boots pharmacist Alyssa Puddle, 25, originally from Cwmbran, South Wales, said: "There were hundreds of people standing with their Black Friday shopping waiting to get home, and some people were not in the best mood.
"I saw a group of 20 lads walking down the westbound platform in one direction, and two other men coming the other way.
"My view was blocked, so I'm not sure what started the fight, but the next second a woman was screaming as if something terrible had happened. They must have bumped into each other and started it from there.
"Because it was so busy people were just being sucked into the fight and shoved around. I got forced up against a wall as the brawl got bigger.
"More people were screaming and shouting and I saw several punches fly.
"Eventually the larger group grabbed one of the other men by the scruff of the neck and dragged him to the edge of the platform.
"There was a train coming and it looked like he would be pushed onto the tracks. It was horrifying.
"Everyone panicked and started shouting to get the guy away from the platform edge.
"When the train came up to the platform the fight stopped and the group moved off.
"I jumped on the train to get away, and that's when they made the announcement to evacuate the station.
"All I could see before it pulled away was a herd of people surging towards to the stairs to escape.
"As I got on the tube the comms speaker announced the station as being evacuated and for everyone to leave.
"As the tube doors shut police officers had arrived.
"As the speakers went off I saw everyone run from the platform. People panicked because it looked very sinister."
Regan Warner wrote on Twitter she saw a man bumping into another man on the "overcrowded platform" at 4.35pm.
She said: "They exchanged words, then a punch to the gut, then a full-out fight," she added.
"People were trying to break it up, there was lots of yelling. People were running away, a woman fainted, children were scared and crying.
"The emergency button was pressed. The fight was broken up and the parties walked in opposite directions.
"The fight was broken up and the parties walked in opposite directions. Then there was an announcement to evacuate the station. I jumped on a train."
MailOnline journalist Keiligh Baker, who was walking towards Carnaby Street from when the incident unfolded, said: "Lots of armed police arrived and stormed Oxford Street. They were shouting 'move, move, move!".
"Then the uniformed officers started shouting 'go, go, go'. People were sprinting and screaming."
Ms Baker added: "We ran along Oxford Street and there were lots of shops with people in them, some were locked, some were still letting people in."
Another witness Ryan Smith who was working in a building on the corner of Great Titchfield Street and Oxford Street, said: "It seemed as if there were thousands of people running past the building. One girl who ran into the building said she heard several bangs, she was very shook up."
"It was just like a stampede – there were thousands of people running down the street. They started flocking into the building.
"And then I have come up and I have gone to the window and then it was calm for a second. Then people started running into shops."
Greg Bird told MailOnline he was sat outside a coffee shop near Oxford Circus station when he saw "about 50 people sprinting around the corner and screaming".
Around 90 minutes after responding, police said there was no evidence of any shots, casualties or suspects, and stood down the operation just after 6pm.
A large section of Oxford Street was locked down at the height of the scare, but Oxford Circus Tube and Bond Street stations have now reopened, while cordons have been removed and the area has returned to normal.
British Transport Police have confirmed the mass evacuation was caused by an "altercation" between two men and have urged the men in the CCTV images to come forward.
In a statement, they said: "[Officers] would now like to speak to these two people in the CCTV images, who they believe may have information about the incident and the circumstances around the incident.
"They would also like to speak to anyone who was at the station or in the area at the time and saw or heard anything that would have caused mass evacuation."
Chief Superintendent Martin Fry said: "Thank you to everyone for bearing with us this evening and also to colleagues from all the emergency services who helped carry out a swift response.
"Our officers, alongside those from the MPS, reacted quickly and responded professionally in line with our well prepared plans."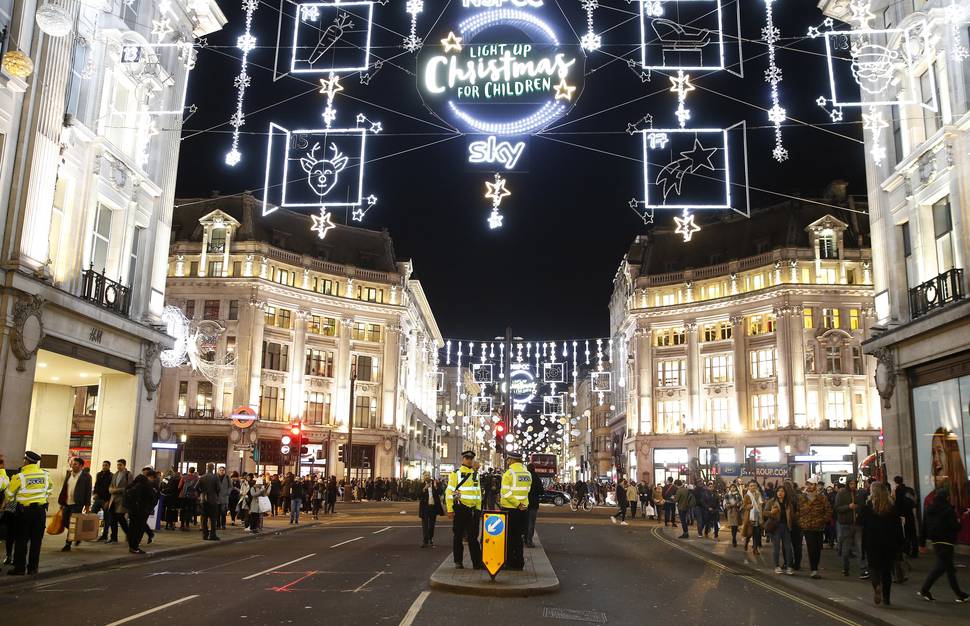 "I know incidents like these can cause concern, but our officers are highly visible around the network and across the country so if you ever need us please call us on 0800 40 50 40 or text 61016."
A police statement released at 5:40pm stated: "To date police have not located any trace of any suspects, evidence of shots fired or causalities. Officers continue to work with colleagues from British Transport Police in the area of Oxford Circus.
"Updates will be provided as soon as we have them.
"If you are in building stay in a building, if you are on the street in Oxford Street leave the area. Officers are continuing to search the area."
At 6.08pm, Scotland Yard put out another statement saying: "The Met response on Oxford Street has now been stood down.
"If you sought shelter in a building please now leave and follow the direction of police officers on the ground if you need assistance.
"At 16:38hrs on Friday, 24 November police started to receive numerous 999 calls within a short space of time reporting shots fired in a number of locations on Oxford Street and at Oxford Circus underground station.
"Given the nature of the information received, the Met responded in line with our existing operation as if the incident was terrorism, including the deployment of armed officers.
"Officers working with colleagues from British Transport Police carried out an urgent search of the area. No causalities, evidence of any shots fired or any suspects were located by police."
The BTP spokesman added: "A full and methodical search of the station and Oxford Street was conducted by officers.
"At this stage, we are examining the circumstances of the incident which resulted in the station being evacuated.
"During the station evacuation, one woman is believed to have sustained a minor injury.
"We continue to work with the Metropolitan Police Service and are working to reopen Oxford Circus and Bond Street Tube stations."
A Kensington Palace spokesman confirmed that despite the incident, the Duke and Duchess of Cambridge attended the Royal Variety Performance at the nearby London Palladium.