Jennifer Appel and Tasha Fuiaba set off on their boat from Hawaii to Taihiti earlier this year, only to have their engine and then mast broke during the trip.
The women and their dogs survived shark attacks and spent five terrifying months lost at sea before being rescued by the US Navy on Wednesday.
The women luckily survived on a water purifier and a year's supply of food they had onboard.
They are now aboard a US Navy ship on their way to a port of call to then fly home.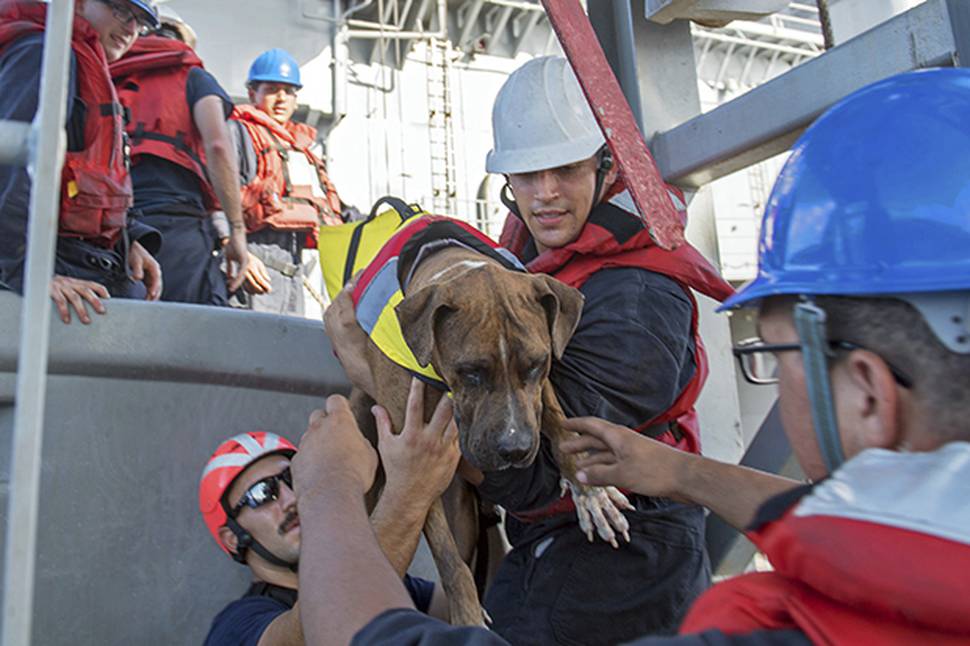 They initially lost their engine due to bad weather, back in May, but thought they could complete their 2700-mile journey with their sails. However, their mast broke and they were left drifting in the middle of the ocean, the Guardian reports.
"They saved our lives," said Appel through the Navy release. "The pride and smiles we had when we saw (U.S. Navy) on the horizon was pure relief."
In a phone call with news media from the Ashland, Appel said they sent out distress calls 98 days in a row but never heard anything back. They were too far from any vessels or any land to be heard.
"It was very depressing and very hopeless, but it's the only thing you can do, so you do what you can do."
She also said the ordeal was life-changing, Hawaii News Now reported: "There is a true humility to wondering if today is your last day, if tonight is your last night."
One night, they were attacked by a group of sharks and one of the sharks returned the following day.
"Both of them, we actually thought it was lights out, and they were horrific. We were just incredibly lucky that our hull was strong enough to withstand the onslaught," Appel said.
A Taiwanese fishing vessel spotted the boat 900 miles southeast of Japan and alerted the US coast guard. They were rescued a day later, by USS Ashland.
Appel's mother told The Associated Press Thursday that she never gave up hope that her resourceful daughter would be found.
Joyce Appel, 75, who lives in Houston, said she got a call from her daughter early Thursday morning more than 5 months after they had last spoke.
She answered the phone as she always does, wondering who wanted to sell her something, when she heard her daughter's voice on the other end of the line.
"She said, 'Mom?' and I said, 'Jennifer!?' because I hadn't heard from in like five months," she said. "And she said 'yes mom,' and that was really exciting."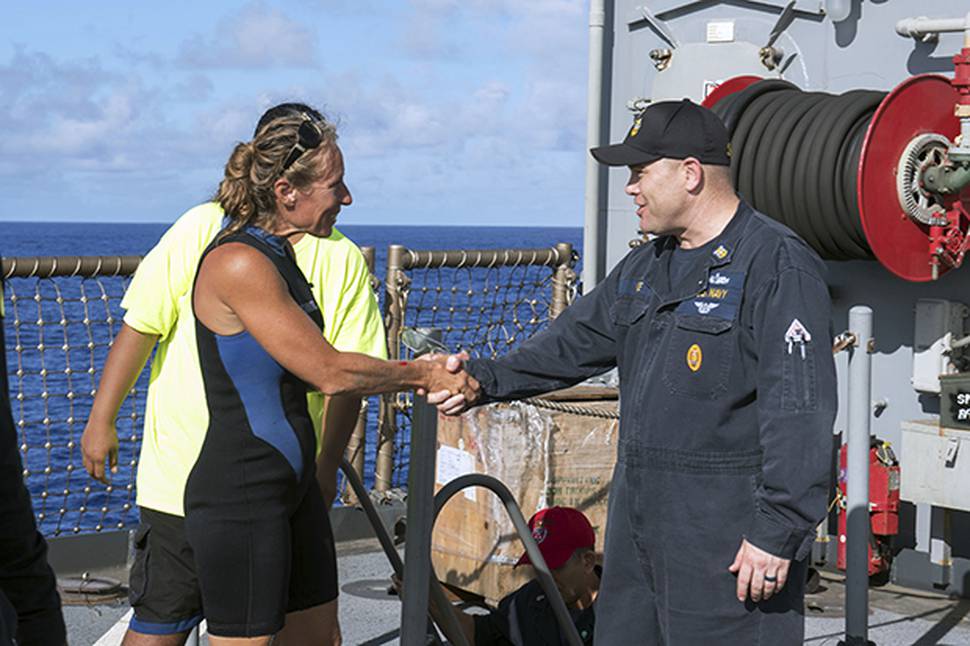 Jennifer Appel departed on May 3, her mother said, but her phone was lost overboard the first day she was at sea, and she hadn't heard from her daughter since.
"Various things on her boat broke, the mast broke and the engine wouldn't start when she needed power. So she had several problems that caused her to end up drifting in the ocean," the elder Appel said.
"I had hope all along, she is very resourceful and she's curious and as things break she tries to repair them, she doesn't sit and wait for the repairman to get there, so I knew the same thing would be true of the boat."
The mother said the pair's water purifier had stopped working and they were down to their last gallon of water when Jennifer got it fixed.
They told the Navy that they survived because they had packed in a water purifier and enough food for a year, mostly dried goods like oatmeal and pasta.
A photo provided by the Navy shows Fuiava smiling as a Navy sailor greets her dog, Zeus aboard the USS Ashland.
Appel and Fuiaba also credit their survival to their dogs, who they say kept their spirits alive.
The women received a medical assessment, food and beds aboard the Navy ship, where they will remain until the next port of call, the Navy said.
"The U.S. Navy is postured to assist any distressed mariner of any nationality during any type of situation," said Cmdr. Steven Wasson, the commanding officer of the USS Ashland.
- additional reporting AP