The number of Rohingya refugees fleeing a military crackdown in Myanmar has now topped 370,000, a crisis that the United Nations human rights chief called "a textbook example of ethnic cleansing."
Hundreds of thousands of the long-persecuted ethnic minority continued to stream via land and rickety boats into Bangladesh this week, arriving exhausted, dehydrated and recounting tales of nightmarish horrors at the hands of the Myanmar military, including friends and neighbours shot dead and homes torched before their eyes.
"It seems they wanted us to leave the country," said Nurjahan, an elderly Rohingya woman who escaped her burning village 10 days ago and ended up camped by the side of the road, unsure of where to go.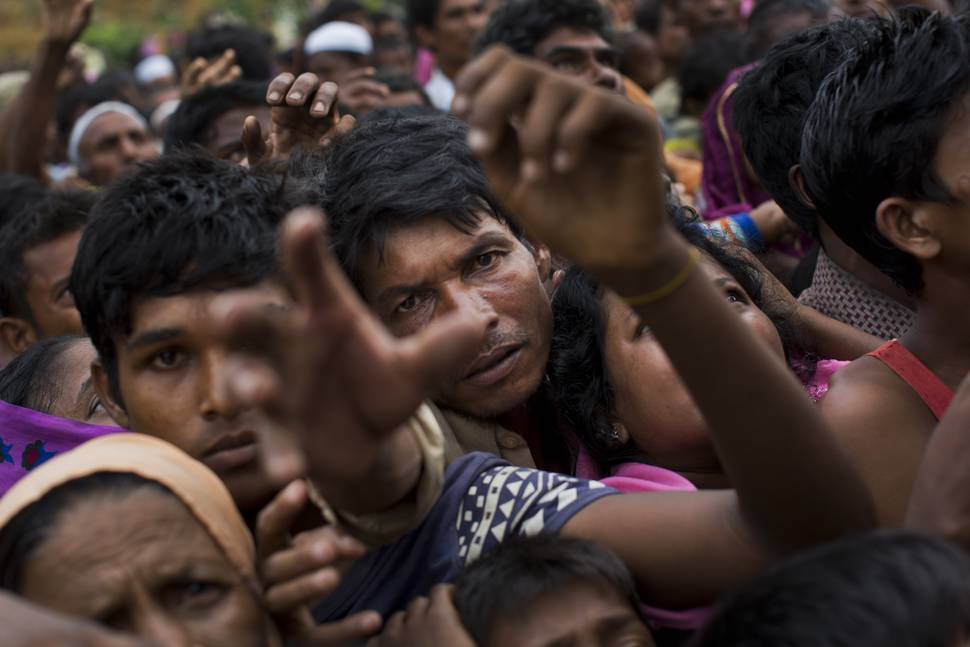 Speaking in Geneva on Tuesday, the International Organization for Migration put the number fleeing Myanmar, also known as Burma, at 370,000 but admitted that it could go much higher.
"Clearly the estimates have been bypassed several times over," said spokesman Leonard Doyle. "I'm reluctant to give a number but obviously people fear that it could go much higher."
As the refugees continue to inundate the area, ferry operators are charging about $122 for a river crossing - far out of the reach of many of them.
Relief efforts have been rapidly overwhelmed, with stocks of food, temporary shelter kits and other supplies running low. Prices of vegetables, bamboo and plastic sheeting used to makes shelter are soaring.
With camps full, many of the Rohingya refugees like Nurjahan have simply sat down on the roadside.
On Tuesday, Bangladesh's prime minister, Sheikh Hasina, visited the camps in the Cox's Bazar area of the country, which has sheltered thousands of the stateless Rohingya refugees since an earlier exodus in the 1990s. Her foreign minister has accused Myanmar of committing "genocide."
She said Myanmar would have to take back its Rohingya, since they "created this problem, and they will have to solve it."
International condemnation of Myanmar's leader, Aung San Suu Kyi, has intensified, along with repeated calls for her Nobel Peace Prize, which she won in 1991 as a result for her long fight democracy in Myanmar, to be rescinded - something the Nobel committee has said will not happen.
On Monday, the White House issued a statement condemning the attacks and the ensuing violence, saying that it was "deeply troubled" by the ongoing crisis and "alarmed" by "allegations of human rights abuses, including extrajudicial killings, burning of villages, massacres, and rape, by security forces and by civilians acting with these forces' consent."
Matthew Smith, the chief executive officer of Fortify Rights, a human rights group, said that the investigators from the group spent nine days at the border documenting those atrocities.
Suu Kyi has long had strong supporters in Congress and in the Obama administration, who saw her as the one leader who could bridge the country's tentative transition from military junta to a civilian government.
But with Suu Kyi's continued reluctance to speak out on the Rohingya's plight and the ensuing human rights crisis, her star has begun to dim. Her supporters say that the episode has demonstrated how limited her powers are, as the military still controls 25 percent of the seats in the parliament as well as the security forces.
Myanmar's more than 1 million Rohingya Muslims are essentially stateless and the government considers them illegal immigrants from Bangladesh.
The minority group has endured decades of discrimination and neglect, which worsened in 2012 after Rohingyas clashed with Buddhists in Myanmars western Rakhine State. More than 100,000 were then confined to camps where their movement, access to jobs and education was severely restricted.
A mother of two, Khadiza, 35, said that they were used to living with violence but this latest episode was different: "Both the army and the Buddhists attacked us this time."
At first, her husband convinced her things would improve, but when a neighboring village burned they decided to leave. As they were fleeing overland, their group came under fire and was separated, she said. She has not seen her husband since.
"I have no idea where he is now," she said. "I only came to save my two children."
The exodus began Aug. 25 after an insurgent group of Rohingya militants called the Arakan Rohingya Salvation Army (ARSA) attacked dozens of police outposts as well as an army camp, killing 12 and igniting days of violent retribution.
In addition to torching hundreds of villages and killing civilians, Amnesty International and other human rights groups have accused the Myanmar military of planting land mines at the border, based on the wounds suffered by some of those escaping.
United Nations High Commissioner for Human Rights Zeid Ra'ad al-Hussein, on Monday pointed to satellite imagery and reports of "security forces and local militia burning Rohingya villages."
"The Myanmar government should stop pretending that the Rohingyas are setting fire to their own homes and laying waste to their own villages," he added, a swipe at Suu Kyi's government, which has accused the Rohingya of doing the torching themselves. He called it a "complete denial of reality."
Since the emergence of armed Rohingya rebels, Suu Kyi's government has shifted its position, framing it as a matter of national security rather than a humanitarian crisis. On Monday, her government spokesman, Zaw Htay reiterated that position, saying in a statement that the government shares the concern of the international community over the "violence ignited by the acts of terrorism."