By Charis Chang
His photo was shared widely on social media in the wake of the Charlottesville protests.
Now the young white nationalist pictured shouting by torchlight at a neo-Nazi rally in Virginia has spoken out in his own defence, insisting he's not a racist, just concerned about the protection of white culture.
Peter Cvjetanovic - dubbed the "Angry torch guy" on Twitter - is a 20-year-old university student studying history and political science and he's been labelled a bigot after his photo was widely shared on social media while attending the "Unite the Right" rally, a protest over Charlottesville's ordered removal of a statue of Robert E. Lee, a top general in the Confederacy.
"As a white nationalist, I care for all people. We all deserve a future for our children and for our culture. White nationalists aren't all hateful; we just want to preserve what we have," he told Channel 2 News.
"I came to this march for the message that white European culture has a right to be here just like every other culture," Cvjetanovic said.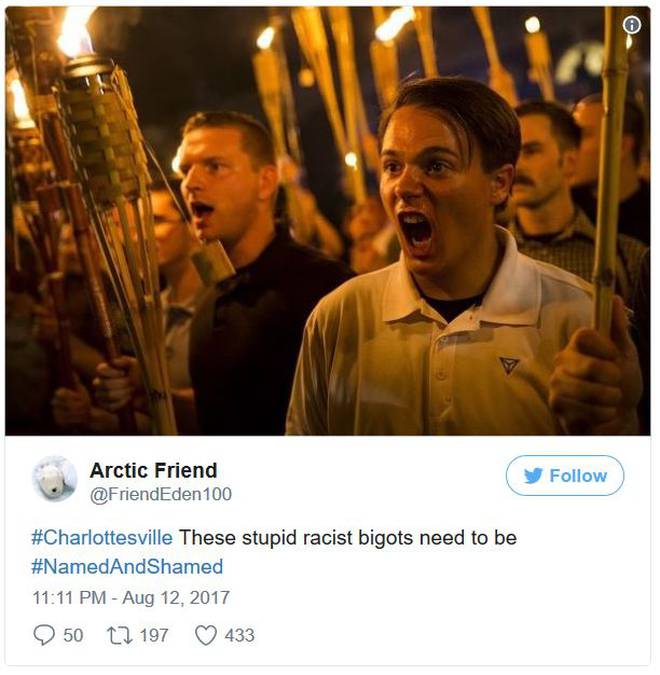 "It is not perfect; there are flaws to it, of course. However, I do believe that the replacement of the statue will be the slow replacement of white heritage within the United States and the people who fought and defended and built their homeland. Robert E Lee is a great example of that. He wasn't a perfect man, but I want to honour and respect what he stood for during his time."
There were calls on social media for Cvjetanovic and other protesters to be "named and shamed" after supporting a rally on Friday ahead of a deadly protest on Saturday where a car rammed into a crowd of counter-protesters opposed to the group's nationalist views.
Meanwhile the maker of TIKI Brand torches has sought to distance itself from the protesters. It released a statement on Facebook saying the torches were designed for use in "backyard gatherings".
"TIKI Brand is not associated in any way with the events that took place in Charlottesville and are deeply saddened and disappointed," the post said.
"We do not support their message or the use of our products in this way. Our products are designed to enhance backyard gatherings and to help family and friends connect with each other at home in their yard."