By Cleve Wootson
Police have not disclosed the full details of Capotorto Vitantonio's final video message to his wife, but they said one part of the experienced sky diver's cryptic recording sent her rushing to a nearby airfield.
Vitantonio told her that he was going to jump out of a plane but was "not going to pull the cord and that he was going somewhere wonderful," according to a DeLand, Florida, police report obtained by the Orlando Sentinel.
After receiving the message, Vitantonio's wife, Costansa Litellini, rushed to Skydive DeLand on Flightline Boulevard. She told employees there to radio the plane Vitantonio was in, about 13,500 feet in the air, and get the pilots to stop him from jumping.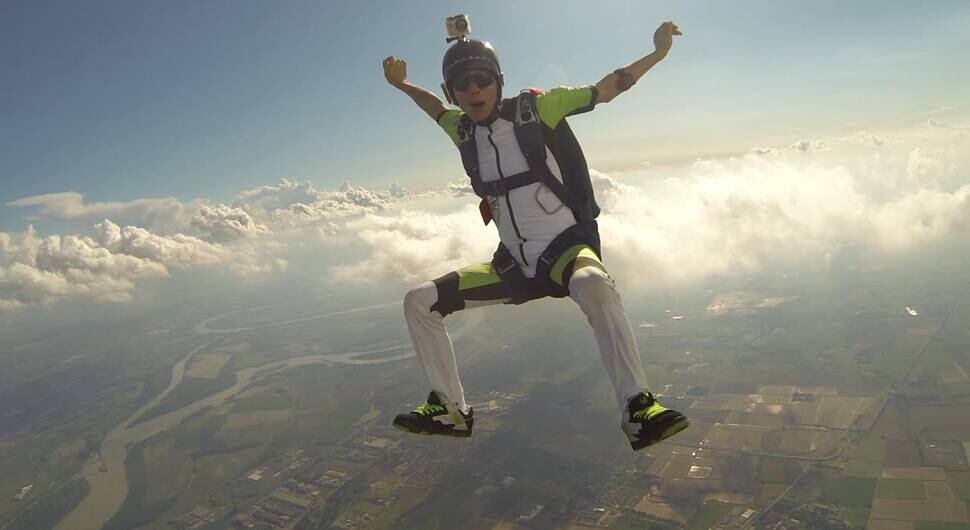 They radioed, the Sentinel reported, but it was too late.
Vitantonio, 27, an Italian national who lived and worked in DeLand, was found dead around 10am, facedown near the town's municipal airport.
Investigators initially believed it was a skydiving accident. But police learned during the investigation that it was a suicide.
A man who answered the phone for Skydive DeLand declined to give many details about Vitantonio or the death but offered the following statement: "We express our deepest sympathy for his family and his friends."
He said Vitantonio was not affiliated with Skydive DeLand or an instructor at its school. He was a licensed skydiver with the appropriate training to jump alone and had paid for his spot on the plane on Tuesday.
It was the fifth death in four years at Skydive DeLand, one of the nation's busiest skydiving facilities, according to Time magazine. The center attracts skydivers of all levels, from beginners signing up for a first tandem jump to experienced groups of skydivers who want to jump out of multiple planes.
"Skydive DeLand offers something for everyone," its Facebook page says. "For beginners there is the tandem skydive and the Accelerated Freefall Program, for intermediate jumpers we offer coaching in all disciplines, and for advanced jumpers there are organizers and multi-plane formations."
Vitantonio's Facebook page was full of photos of himself skydiving - either with someone else strapped to his back during a tandem dive or accompanied only by a GoPro camera and the curvature of Earth. It said his employer was United Parachute Technologies, which is also based in DeLand, according to Time. No one answered a Saturday afternoon phone call at the company seeking comment.
Last year, 3.2 million people jumped out of planes with parachutes on their backs, according to the United States Parachute Association. Of that number, the USPA recorded 16 fatalities.
According to the Daytona Beach News-Journal, Skydive DeLand had 10 skydiving fatalities between 2005 and April 2015. It is also one of the more popular drop zones, flying out 75,000 to 110,000 jumpers every year because of its year-round nice weather and proximity to the beach.
WHERE TO GET HELP:
If you are worried about your or someone else's mental health, the best place to get help is your GP or local mental health provider. However, if you or someone else is in danger or endangering others, call 111.
If you need to talk to someone, the following free helplines operate 24/7:
DEPRESSION HELPLINE: 0800 111 757
LIFELINE: 0800 543 354
NEED TO TALK? Call or text 1737
SAMARITANS: 0800 726 666
YOUTHLINE: 0800 376 633 or text 234
There are lots of places to get support. For others, click here.