Wildfires continued to barrel across the baking landscape of the western US and Canada, destroying several homes and forcing thousands to flee from areas of British Columbia, California and Wyoming.
As the fires continued to blaze across the west, evacuation orders were lifted in areas of Montana and Colorado where wildfires had burned previously.
In Northern California, a Butte County wildfire swept through grassy foothills and destroyed 10 structures, including homes, and led to several minor injuries.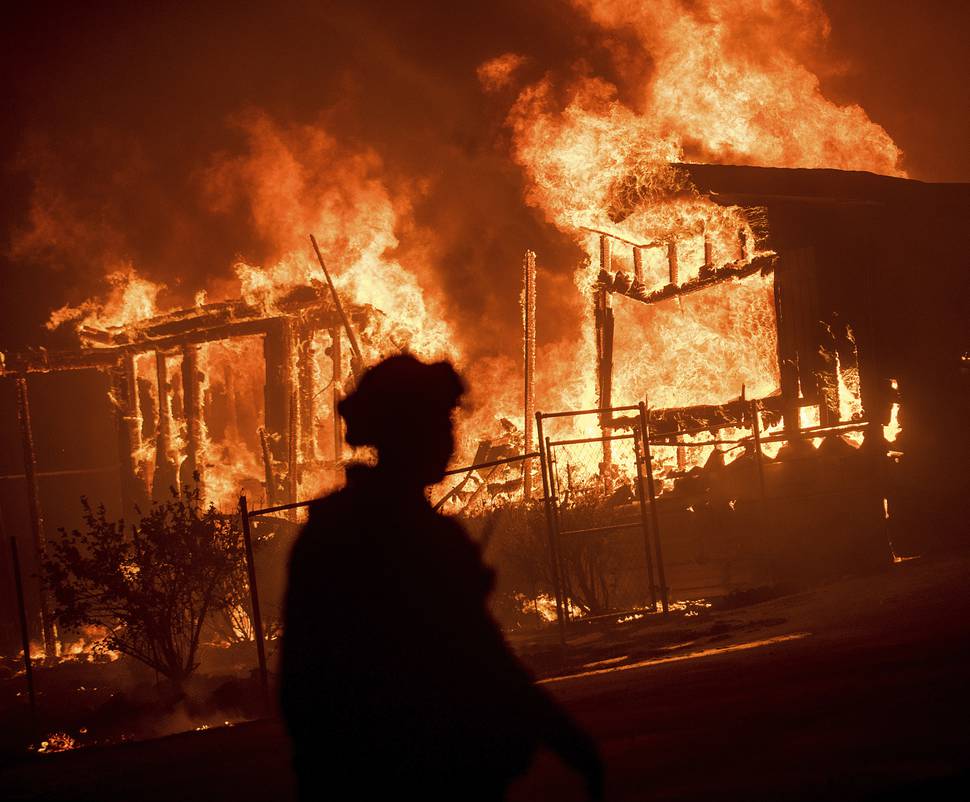 Burned-out pickup trucks were left in ashes, surrounded by charred, leafless trees. The metal frame of a mobile home and a vintage stove were left standing in scorched debris at one site.
The blaze about 100km north of Sacramento grew rapidly to more than 18 square km and was 20 per cent contained, according to the California Department of Forestry and Fire Protection.
The area burning was about 16km south of Oroville, where spillways in the nation's tallest dam began crumbling from heavy rains this winter and led to temporary evacuation orders for 200,000 residents downstream.
On Saturday, authorities issued an evacuation for about 250 homes threatened by the fire.
After five years of severe drought, California got a big break with record rainfall and snowpack in parts of the state this year that has delayed the start of fire season in some places, but has also led to explosive vegetation growth that could fuel future fires.
Some 180 wildfires raged over a massive section of Western Canada's British Columbia on Saturday, prompting the evacuation of 3000 households and the province's first state of emergency in 14 years.
Cliff Chapman, the deputy manager at the Kamloops Fire Centre, suggested Saturday was a day he'd never forget.
"I've been in this business for 17 years, from crew all the way up to where I am now, and I haven't experienced a day like we experienced yesterday," he said.
The blazes were scattered across hundreds of kilometres of the interior portion of the province, burning through bone-dry forests used for logging and rolling grasslands that are home to ranches.
High temperatures and winds complicated firefighting efforts.
"The weather situation is not favourable," said John Rustad, provincial minister in charge of firefighting operations.
"There is very aggressive fire behaviour that makes it very difficult to directly attack."
The spate of wildfires began on Friday, when 138 new fires were reported, most of them sparked by lightning in dry electrical storms.
No injuries or deaths were reported. Provincial officials said they did not know how much damage had been caused, though evacuees said they had left behind farm animals and witnessed destruction of homes and other buildings.
Some evacuees made their way to a make-shift emergency centre at a sporting facility in Kamloops, some 250 kilometres northeast of Vancouver.
Some people said they were not given adequate time to pack up their goods. Others, who had been away from their homes on vacation, feared they would lose cherished belongings in the fires.
Canada's federal government on Saturday offered to help British Columbia respond to the fast-spreading wildfires, though provincial authorities said they may have enough resources already.
Rustad said that he expected about 260 personnel from other jurisdictions in Canada to support a team of more than 1600 people helping respond to the fire.
"We are bringing a tremendous amount of resources to bear," he said, noting that their main priority was "to keep people safe".
British Columbia last declared a state of emergency in August 2003, which was also to deal with wildfires.
In Colorado, residents of nearly 500 homes outside the ski town of Breckenridge were allowed to return home Friday night.
On Saturday, authorities lifted an evacuation order in Landusky, Montana, in the Little Rocky Mountains south of the Fort Belknap Indian Reservation.
A grass fire in northwestern Colorado had burned 47km square and was spreading in several directions at once because of wind patterns from passing thunderstorms, fire spokesman Chris Barth said.
A wildfire in southern Wyoming grew to 7km square. An unknown number of cabins remained under evacuation orders.
A pair of wildfires egged on by record-breaking heat in Southern California quickly spread, threatening hundreds of homes and forcing evacuations at a popular lakeside campground and a summer camp.
The fire that started early Saturday afternoon in Santa Barbara County had spread to both sides of Highway 154 and was completely out of control, county fire Captain Dave Zaniboni said.
About 90 children and 50 counsellors were stuck at the Circle V Ranch and had to take shelter until they could be safely evacuated.
While the wildfires broke out across Southern California, where an excessive heat wave warning had been issued for several days, a blistering heat wave broke a long-standing record in Los Angeles on Saturday.
In downtown Los Angeles, temperatures reached 37 degrees, shattering the previous record high of 35 degrees after 131 years.
The National Weather Service issued an excessive heat warning along the Santa Barbara South Coast and interior sections of Southwest California starting Thursday.
The heat, which reportedly peaked on Friday and Saturday, was accompanied by elevated moisture moving up from Mexico that added to the humidity.
Along with Los Angeles, records were also set in Long Beach and Burbank, where the mercury rose to 35.5 degrees and 40.5 degrees respectively.
Both Palmdale and Woodland Hills recorded highs of 43 degrees.
Many Southern Californians flocked to beaches and searched for water, shade and air conditioning to escape the heat.
Temperatures are expected to dip by up to 5 degrees by Sunday, with the region cooling off over the course of the next few days, according to the Todd Hall of the NWS.