Jordan Westerberg and his fiancee thought they'd scored the best park on the block as they left their car for the gym on Thursday morning.
But as the US couple returned they realised something had gone horribly wrong.
Gathered around the exact spot the two had left their white Toyota Camry just 45 minutes earlier were a group of street workers pointing and looking down.
At first Westerberg, 25, thought his car had been towed but as he moved closer he realised the fate of his car was far worse - it was upside down in the middle of a flooded sinkhole.
"It's pretty crazy," Westerberg told St. Louis Post-Dispatch. "We could've been in the car. It's a compact car. It's not like it's heavy."
The large hole about 6 metres deep and 2.5 to 3 metres wide took up a whole lane of a street in downtown St. Louis.
Although it wasn't immediately clear what caused the collapse, footage of the void shows a broken underground water main gushing water.
St. Louis Water Distribution Superintendent Vincent Foggie said the hole was missing mounds of dirt that normally support the road's asphalt-topped concrete.
"We don't know what happened," he said. "It may not have been a break in the main. The street may have collapsed on the water main.... I have no idea where the dirt went."
The sinkhole wasn't the only area affected by the flooding. Workers later marked in orange spray paint an area of about 15 metres where soil had eroded due to the water.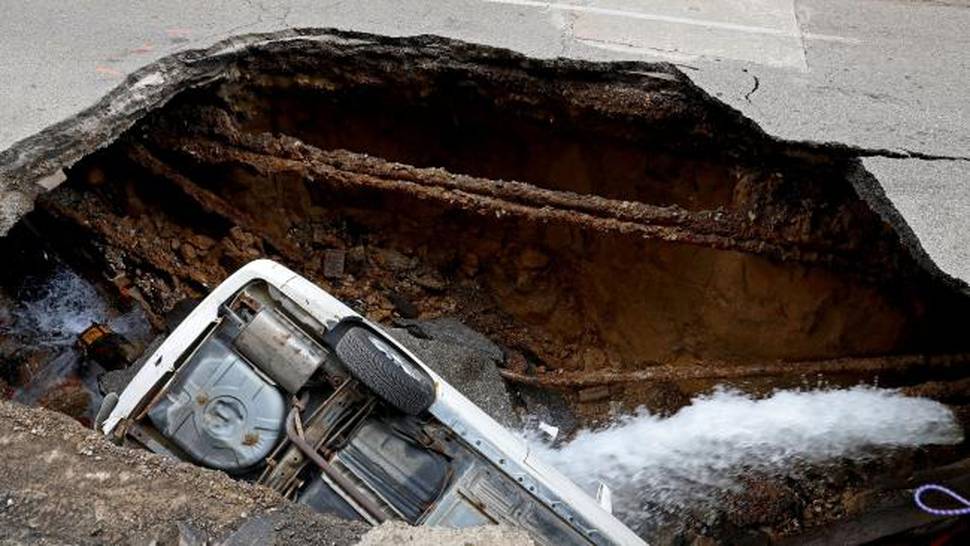 "There can be voids, caves anywhere," Foggie said, standing on the same street as the sinkhole. "Remember, soil is not stable."
The street wasn't the only area impacted by the broken water main. The developer of a nearby empty building said the complex's basement was almost a metre underwater a day earlier.
The same basement flooded in November last year after a contractor "nicked" a water main causing enough water to fill an Olympic-sized swimming pool to submerge the area.
"Whether they're related or not is an open question so far," developer Amos Harris said. "The volume of water from the first break was enormous, and that could have undercut the dirt."
No one was injured by the sinkhole and Westerberg remains optimistic he will be compensated, but locals weren't impressed by the close call.
"That could've been my car," DeAndrew Williams, who lives nearby, said. "I almost parked there last night but I found a better spot in front."