Warning: Graphic content
The shocking video that shows a Minnesota police officer firing seven rapid shots at Philando Castile is now public, days after the officer was acquitted in the case.
The video came from a camera in the squad car of St Anthony police officer Jeronimo Yanez who was found not guilty of manslaughter and other charges by a mostly white jury on Friday.
Castile, a 32-year-old elementary school cafeteria worker, was shot by the officer as he sat in his car pulled over at the side of the road in St Anthony, Minnesota, last July and later died, the Daily Mail reports.
His girlfriend live streamed the aftermath on Facebook and her footage, which showed Castile slumped over and bloodied, went viral.
Reynolds' footage, which was released on Tuesday, shows what happened in the crucial seconds before the shooting and lays bare how he fired his weapon within seconds of Castile announcing: "Officer, I do have to tell you that I've got a gun."
Immediately, Reynolds drew his own weapon and pointed it in the car. "Don't reach for it then!" he shouted, before firing his first round as Castile's 4-year-old daughter sat in the back seat.
The squad-car footage shows a wide view of the traffic stop and the shooting, with the camera pointed toward Castile's car.
It captures what was said between the two men and Yanez, who is Latino, firing into the vehicle. What happened inside the car can't be seen.
The video shows Yanez following Castile's car, then pulling it over before he can be seen approaching the car and asking for a driver's licence and proof of insurance.
Castile, who was black, gives the proof of insurance to Yanez through the driver's side window, and Castile puts it in his pocket. Castile is then heard saying, "Sir, I have to tell you, I do have a firearm on me."
Castile had a permit to carry the weapon.
Before Castile finishes that sentence, Yanez has his hand on his own gun and is pulling it out of the holster. Yanez says, "OK. Don't reach for it then."
There is shouting, and Yanez screams "Don't pull it out!" before he fires seven shots into the car.
Castile's body is thrown to the right after the first shot. Yanez's backup, Officer Joseph Kauser, can be seen standing on the passenger side of the vehicle, jumping back and retreating when the shots were fired.
After the shooting, Yanez can be seen standing at the car window, with his gun drawn for some time.
Castile's daughter starts to get out of the car and is grabbed by an officer. The video then shows help arriving at the scene.
Officers direct Reynolds out of the car. Yanez is led away while officers pull Castile from the vehicle and begin CPR.
Yanez is then off-camera, but can be heard talking through his body microphone.
Yanez, 29, is heard telling a supervisor that he didn't know where Castile's gun was, then saying that he told Castile to get his hand off it. Yanez testified, "What I meant by that was I didn't know where the gun was up until I saw it in his right thigh area."
The 12-member jury, 10 of whom were white, deliberated for five days before announcing their decision on Friday afternoon.
Last Wednesday they told the judge they were deadlocked, and he sent them back to continue deliberation.
A member of the jury called deliberations "very, very hard" and says he thinks the panel delivered the right verdict.
Dennis Ploussard said the jury was split 10-2 early last week in favour of acquittal for Yanez.
Ploussard said jurors spent a lot of time dissecting the "culpable negligence" requirement for conviction. He says the last two holdouts eventually agreed on acquittal.
Ploussard wouldn't identify the two holdouts, but said they were not the jury's only two black members.
Ploussard declined to say whether he thought Yanez acted appropriately. He said at the time that the jury sympathises with the Castile family.
Reynolds released a statement after the verdict was announced.
She said: "I am incredibly disappointed with the jury's verdict. My boyfriend, Philando Castile, was pulled over because, per Officer Yanez, he had a wide nose and looked like a suspect.
"He did nothing but comply with Officer YANEZ's (sic) instructions to get his driver's licence. He was seatbelted and doing as he was told, when he was shot by Officer YANEZ who fired 7 shots into the vehicle where my 4 y/o daughter and I also sat.
"It is a sad state of affairs when this type of criminal conduct is condoned simply because Yanez is a policeman. God help America."
Yanez's acquittal prompted days of protests, including one in St Paul last Friday that attracted thousands and shut down Interstate 94 for hours. Eighteen people were arrested.
Castile's furious mother Valerie Castile gave a rousing speech outside the Ramsey County Courthouse last week in response to the verdict, calling her son's death a murder while saying: "I hope [Yanez] dies tonight!"
She said: "I'm mad as hell right now. My son loved this city, and this city killed my son.
"The system continues to fail black people, and it will continue to fail you all.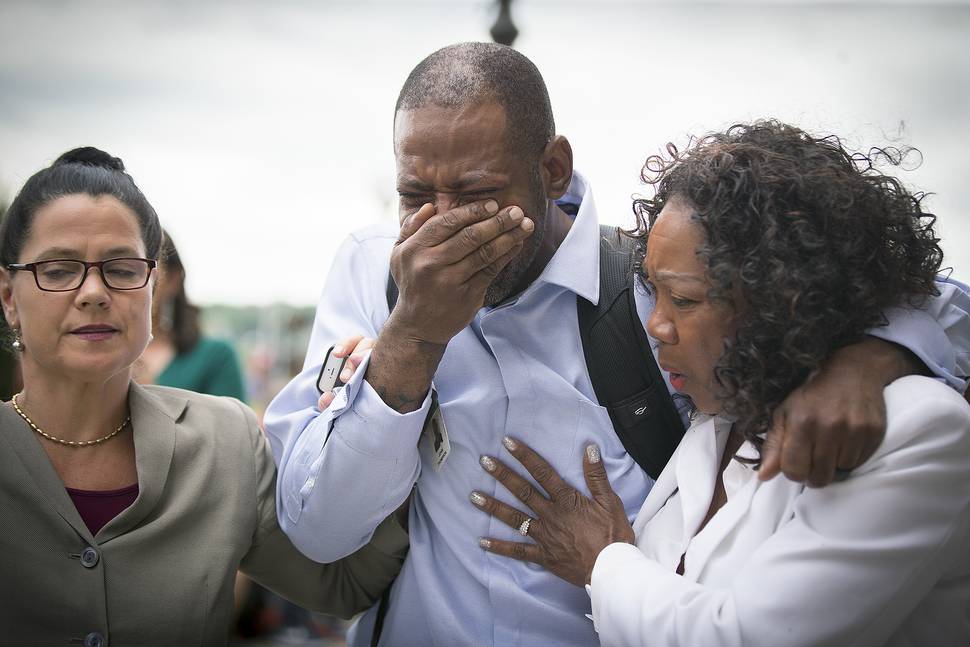 "The fact in this matter is that my son was murdered, and I'll continue to say murdered, because where in this planet [can you] tell the truth, and you be honest, and you still be murdered by the police of Minnesota," his mother said, referring to the fact that her son was shot after he volunteered to Yanez, 'Sir, I have to tell you, I do have a firearm on me'."
Thousands of people gathered Friday evening at the nearby state Capitol to protest the verdict, and began a march that organisers said was headed for the St Paul Cathedral.
The mixed-race crowd, including many people with children, carried signs that read "Unite for Philando" and "Corrupt systems only corrupt".
Minnesota Governor Mark Dayton also released a statement in which he expressed his condolences to the victim's family, and said: "I will continue to do all I can to help our state heal."
Sherrilyn Ifill, of the NAACP Legal Defense Fund, said: "This incident seemed so egregious and avoidable that we hoped that this time, it might be different - that this time, justice might be served.
"Because if the Government can take your life and no one is held responsible, you are a second-class citizen, if not fully dehumanised in the eyes of the law."
"That is the devastating message this verdict, along with all those similar acquittals before it, sends to communities of colour across the nation."
Had he been convicted, Yanez would have faced 10 years in prison, though sentencing guidelines suggest around four years would have been more likely.
He also faced two lesser counts of endangering Reynolds and her daughter for firing his gun into the car near them. He was acquitted on all counts.
Conviction on the manslaughter charge required the jury to find Yanez guilty of "culpable negligence", which the judge described in jury instructions as gross negligence with an element of recklessness.
Castile was one of 963 people fatally shot by police officers last year.