The United States is shoring up its missile defence system in the face of an increasingly belligerent and dangerous North Korea.
The US government awarded Boeing, the world's largest aerospace company, $1.48 billion for the development of a "Redesigned Kill Vehicle", the Pentagon said in a statement last week.
The extra money brings the total publicly known value of the US government contract with Boeing to a whopping $7.78 billion.
The White House wants to upgrade the system before Kim Jong-un develops the capabilities to strike the continental US.
So what is a kill vehicle? Simply put, kill vehicles intercept and destroy long-range ballistic missiles. Launched atop missiles of their own, they use sensors, lenses and rocket thrusters to pick out ballistic warheads and steer into their path.
When it comes to shooting down ballistic missiles "there is a fundamental difference in the technology - whether you want it to do that inside the atmosphere or in space," says Dr Stephan Fruehling from the ANU's Strategic and Defence Studies Centre.
In the case of medium and long range missiles coming from North Korea, an Exoatmospheric Kill Vehicle (EKV) which intercepts the missile in space would be the technology of choice.
If a threat is detected by a system of sensors based on land or on warships at sea, then a Ground-Based Interceptor (GBI) will be launched into space using a rocket booster. Once outside the Earth's atmosphere, operating at the edge of space at hypersonic speeds, the kill vehicle is deployed.
It seeks out the target using sensors, a sophisticated on-board computer and a rocket motor used for steering in space. It hones in on the missile and destroys it using nothing more than the force of a massive collision.
Simple, right?
MULTIPLE FAILURES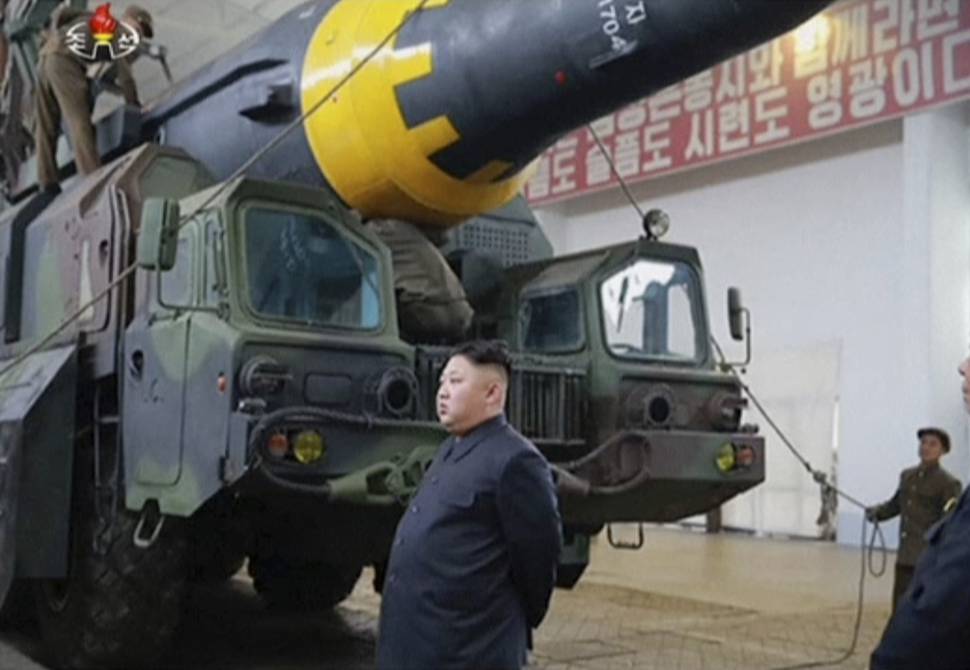 The technology has been around for more than two decades but it hasn't always worked as intended. In fact it's been hugely problematic.
In 2010 a meticulously controlled test of its missile defence technology at a site in Alaska ended in embarrassment for the US military. Despite knowing the exact speed and coordinates of the target, the intercepting kill vehicle completely missed the fake warhead.
Eleven months later, when the US Missile Defense Agency staged a repeat of the test, it again failed. During a test in July 2013 success once again proved elusive, raising serious questions over missile defence system the Pentagon had poured more than $US40 billion ($A53 billion) dollars into.
A test conducted last year was announced as a success but it was later revealed that one of the thrusters malfunctioned, causing the interceptor to fly offcourse.
Dr Stephan Fruehling is a Chief Investigator on the Australian Research Council's project on nuclear deterrence and was a member of the Australian Government's external panel of experts on the 2016 Defence White Paper. He says the latest contract awarded to Boeing by the US military is about reinventing a kill vehicle that isn't wedded to ageing technology.
The United States deployed an operational GBI system in California and Alaska which was rushed into the field after September 11 under the George W. Bush administration. Essentially the system is situated to intercept missiles from rogue states like North Korean or Iran during their trajectory to the continental United States.
But much of the system was based on technology from the previous decade, which has been plagued with issued since testing began in 1999.
"It has a lot of limitations," Dr Fruehling told news.com.au. "And essentially what the US is stuck with is evolutions of a kill vehicle that remains based on this technology from the 1990s ... and that's caused a lot of problems that they've had with that system."
WHY ARE THEY INVESTING IN NEW TECHNOLOGY NOW?
With North Korea continuing to test nuclear warheads at a feverish pace, the Pentagon is racing to improve its kill vehicle technology.
"What this is about now is taking a step back and developing a interceptor that addresses those issues," Dr Fruehling said.
CALLS FOR AUSTRALIA TO DEVELOP MISSILE SHIELD
Advances in missile technology made by North Korea - as well as China - in the past few years have taken some western analysts by surprise. And the situation has led to growing calls for Australia to develop its own missile shield.
Defence specialist Andrew Shearer who previously worked as a national security adviser to Prime Ministers John Howard and Tony Abbott is among those who believe Australia needs to invest in this area.
He wants the government to examine systems "to defend the continent against the new and growing threat posed by long-range ballistic missiles that could be used to strike or intimidate future Australian governments".
"The cumulative effective of these capabilities is to increase the missile threat to ADF forces deployed forward in the (Asia) region, whether independently or as part of an allied coalition," he told Fairfax Media last month.
He also warned that over time such weapons could be used to "reduce Australia's strategic depth and put Australian and allied forces operating from rear bases on the mainland at greater risk.
"The latter is a new threat but one that will become very real over the next decade," he said.
According to Dr Fruehling "there has been an ongoing debate about whether Australia should actually acquire interceptors. But so far that's not been done." Largely because it's not really a threat Australia could thwart on its own with current technology.
"If you look at the threat to Australia from intercontinental ballistic missile, there's little that Australia could do to address that on its own," he said. "If you look at North Korean missiles, for example, you'd have to have a ship with SM3 (a ship-based missile interception system) off the North Korean coast. Or you would have to base ground based interceptors in northern Australia but you would be looking at sensor infrastructure and an investment cost that runs into the dozens of billions, so it's not really feasible."
But that certainly doesn't mean Australia isn't engaged in aspects of missile defence systems on the research and development side of things.
"There's been some technology co-operation, even going back to the 1990s" with our US ally but these experiments have been "largely in the sensor space in terms of looking at the overall horizon radar and how that could be to detect missiles," Dr Fruehling said.
"There is some scope for integrating some Australian sensors into missile defence systems," he said.