Even before the result of this week's referendum, Turkey's autocratic President, Recep Tayyip Erdogan enjoyed the trappings and lifestyle of an aspiring dictator.
Take, for example, the lavish official residence he had built on the outskirts of Ankara, the capital, at the expense of his ever generous taxpayers, according to Daily Mail.
Perched atop a hill overlooking the city and completed three years ago, the Ak Saray - White Palace - extends to an astonishing 1,100 rooms, some 250 of which are for the sole use of the moustachioed 63-year-old and his immediate family.
Decked out in every despot's favourite style, with marble floors, gold fittings and acres of red carpet, it's 30 times the size of the White House and is believed to be the largest palace built, anywhere in the world, for more than 100 years.
A reported £7 million ($12.5 milion) went on those carpets and another £5 million ($8.9 million) on 400 pairs of 10 ft high double doors.
Huge quantities of silk wallpaper were sourced at £2,000 ($3,500) a roll, while each drinking glass is said to have cost £250 ($450).
And there are so many spas, swimming pools, bathrooms and Turkish steam rooms in Erdogan's quarters that the heating bill alone runs to £500,000 ($900,000) each winter.
And the cost of this vanity project? An estimated £500 million ($900 million) on construction alone.
That's not bad going in a country where, according to Istanbul's Bachesir University, two out of every three children live in abject poverty and more than two million people scrape by on less than £3 ($5.39) a day.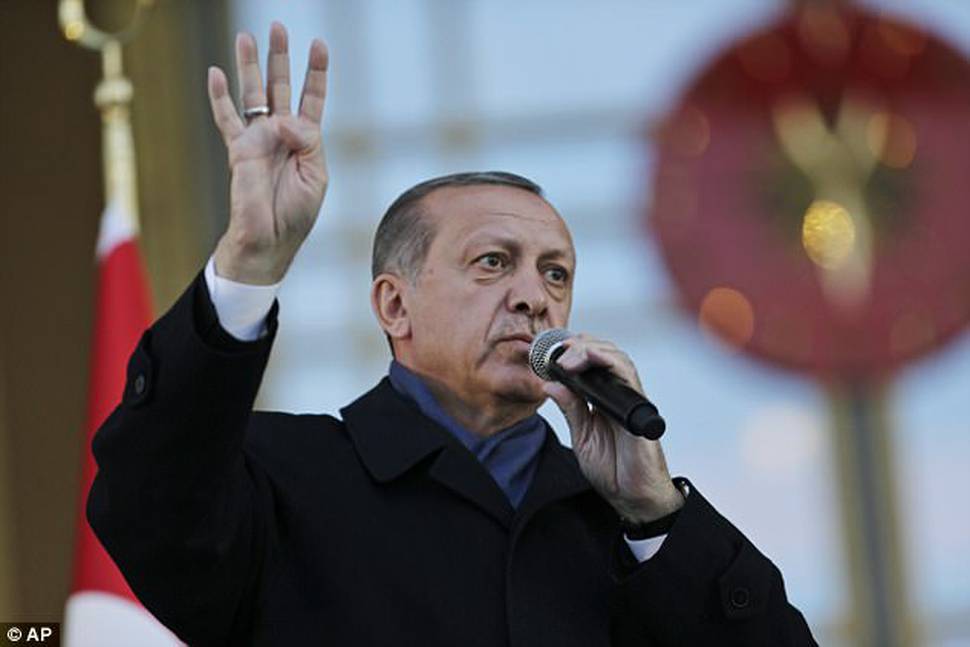 Set in ornamental gardens and floodlit at night, when it's visible to most of Ankara's 4.5 million residents, the White Palace sends a clear message: President Erdogan covets absolute, unquestioned power.
Indeed, when Turkey's Supreme Court ruled in 2015 that this vulgar monstrosity was actually illegal - built in flagrant violation of environmental laws on the site of a protected forest, and despite multiple injunctions against it - Erdogan opted to continue with the project.
Today, he can do a lot more. For thanks to a narrow win in the highly disputed referendum, Turkey's President can remain in office until 2029, and personally hire and fire both cabinet members and military commanders. He can also get rid of any judges who happen to upset him.
His victory is not just a catastrophe for the West, and for Turkish democracy, but also for the thousands of journalists, opposition politicians, academics and ordinary citizens critical of his regime who are increasingly vulnerable to interrogation and imprisonment.
Like all textbook tyrants, this former semi-professional footballer, who entered politics in the mid-Nineties, has an extraordinarily short temper and a tragically thin skin.
We saw this recently in Germany, when he demanded that Angela Merkel's government prosecute a satirical comedian called Jan Bohmermann, who, on an obscure TV show, called Erdogan a "goat-f****r with a small penis".
Shamefully, the German authorities - hoping to persuade Turkey not to turf out its 2.7 million Syrian refugees, who might then head to Europe - agreed to play ball, dragging Bohmermann to court under defamation laws, only for the case to be thrown out.
Here in the UK, we've seen evidence of Erdogan's intolerance of dissent when he hired a swanky London law firm in an attempt to silence newspapers that had published unflattering articles about his 61-year-old wife, Emine.
Among other things, the expensive lawyers took issue with widely reported suggestions that Turkey's First Lady - mother of Erdogan's four grown-up children - might have developed a shopping habit to rival that of another despot's wife, Grace Mugabe.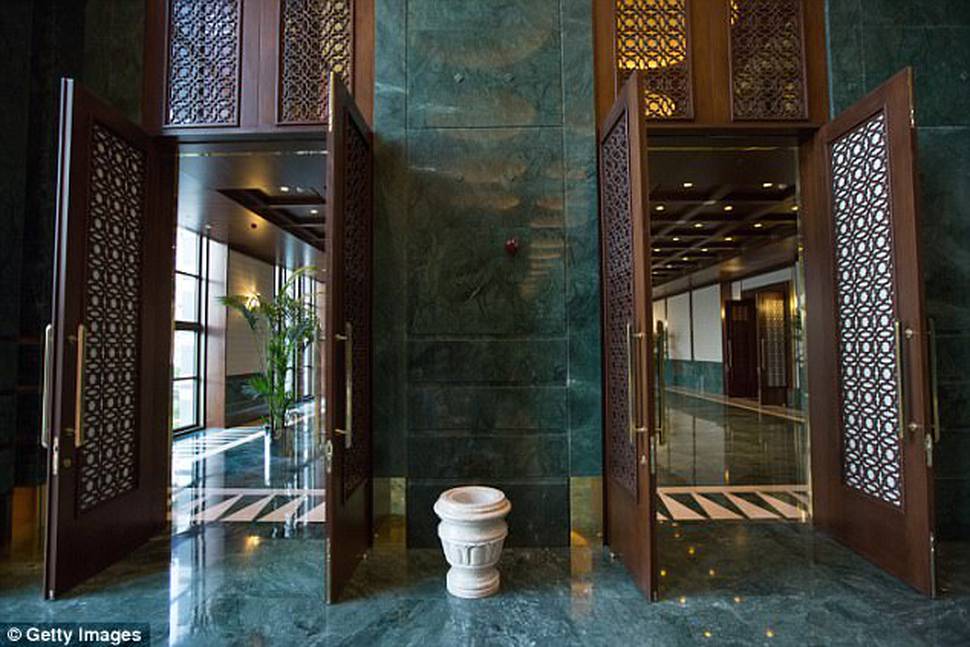 It was, they said, entirely untrue for newspapers to report that Emine - who publicly claims to have strict Muslim values and to live a humble existence - might be fond of white tea costing £1,500 ($2,600) a kilo. Or that she would ever drink it from gold leaf glasses.
Nor, the law firm wrote, is it remotely accurate to say that Mrs Erdogan, who, according to Turkish state media, whiles away her days in the Palace kitchens humbly fermenting apples to make vinegar, ever shut down entire European shopping malls so she could buy designer clothes without rubbing shoulders with the great unwashed.
It was also, they wrote, incorrect to say that the First Lady - who made headlines after being photographed in a diamond-studded choker worth roughly the same as her husband's annual salary (she said it was a freebie from a friendly jeweller) - once blew more than £37,000 ($66,000) while browsing in a Polish antiques bazaar.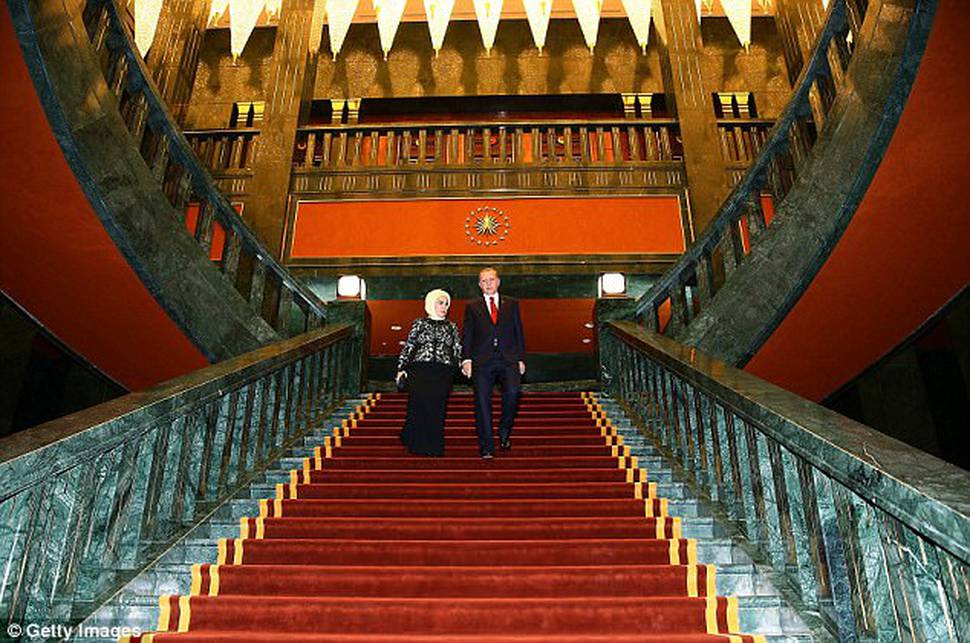 Perhaps the law firm's letter would have had more of an impact had they not also argued it was "defamatory" and "inaccurate" for British newspapers to report that criticism of Mr and Mrs Erdogan has led to people being imprisoned.
Try telling that to the 81 Turkish journalists who went to prison last year for displeasing the regime - a figure that accounts for almost one-third of the total number of reporters imprisoned worldwide.
Or the 2,000 Turkish citizens who, according to Germany's respected Spiegel newspaper, have defamation cases pending against them for the "crime" of insulting the President.
Today, 152 journalists are thought to be languishing in Erdogan's prisons, with 2,500 having lost their jobs.
They are the victims of the President's decision to shut down 180 independent media outlets - 28 TV channels, 66 newspapers, 19 magazines, 36 radio stations, 26 publishing houses and five news agencies - in the wake of a failed 2016 coup, which saw 71,000 people detained and 41,000 formally arrested.
Opposition reports claim that 6,000 academics have since lost their jobs, along with 4,000 judges and prosecutors, while 15 universities and 1,000 schools run by those who fail to toe the Erdogan party line have been closed.
Meanwhile, the moderate leader of a Left-leaning Kurdish party, Selahattin Demirtas, is in jail accused of inciting violence and, as of February, more than 5,000 of his supporters had been detained.
Recep Tayyip Erdogan began his journey to absolute power in modest circumstances.
The son of a tugboat captain, he spent his early childhood in Rize, on the Black Sea coast.
He moved as a young teenager to a working-class district of Istanbul, where he earned pocket money selling simit - sesame bread rings - on the streets.
Academically gifted, he thrived at school and university, where he studied business administration, and became active in student politics.
He spent his free time playing semi-professional football, though his strict Muslim parents persuaded him to turn down an approach from Fenerbahce, one of Turkey's biggest clubs.
After graduating, Erdogan worked as an accountant, but devoted his free time to local politics, becoming a prominent activist in the Left-wing but socially conservative Islamist Welfare Party.
In 1994, he was elected as the fundamentalist party's Mayor of Istanbul, the country's largest city, where he oversaw popular measures to sort out the city's chronic traffic congestion, and less popular ones to ban alcohol from cafes on religious grounds.
The pivotal event in his political career came in 1998, when his party, which adhered to fundamentalist principles, was declared unconstitutional under long-standing rules designed to preserve Turkey's reputation for religious tolerance.
Around the same time, Erdogan was handed a ten-month prison sentence for reading an Islamist poem at a party meeting.
The high-profile affair turned him from an obscure local politician into a hero of working-class Muslims, who, after his release, handed a landslide victory to his Justice and Development Party in the 2002 elections.
Cementing power with a mixture of hard-line policies that appeased his core voters - for example, overturning a ban on female civil servants wearing headscarves - and aggressive attacks on his opponents, who mostly hail from the urban, educated middle classes, Erdogan would go on to serve as prime minister until 2014, when he promptly became president.
This has not just turned him into one of the region's most influential leaders, it has also made his family one of Turkey's most wealthy dynasties, despite his official salary of just £50,000 ($89,000). Some reports, which he denies, put his net worth at more than £100 million ($180 million).
Intriguingly, leaked intelligence cables released by Wikileaks in 2010 revealed that the U.S. suspected Erdogan of enriching himself via the privatisation of a state-owned oil refinery.
They also claimed that he controlled eight Swiss bank accounts and spent tens of thousands of pounds a year sending his children to top universities overseas. His daughter, Sumeyye, attended the London School of Economics.
"Explanations that [the family's] wealth comes from wedding presents that guests gave his son, and that a Turkish businessman is paying the educational expenses of all four Erdogans in the U.S. purely altruistically, are lame," Eric Edelman, a former U.S. ambassador to Turkey, wrote in one of those leaked cables.
Erdogan denies all corruption allegations. As does his 35-year-old son Bilal, who was recently investigated for money laundering by authorities in Italy, where he lives (the investigation was shelved at Christmas), and whose transport and infrastructure companies have flourished in recent years, helping him acquire a fortune estimated at £50 million ($89 million).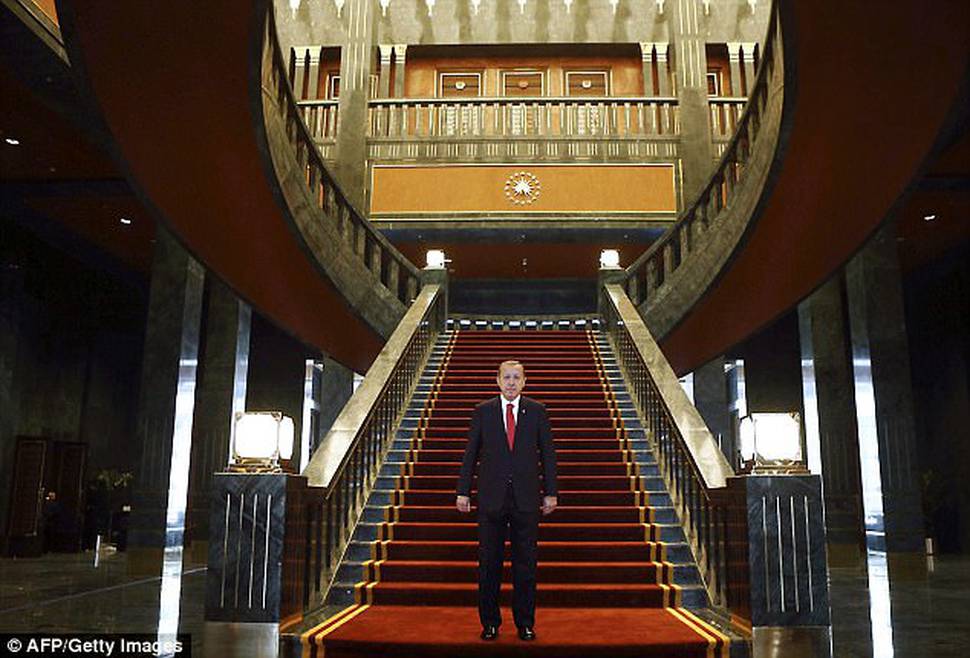 Bilal runs a shipping company, which in 2013 was accused of helping Islamic State smuggle oil from nearby Syria - he has robustly denied the allegation, saying: "ISIS is an enemy of my country. ISIS is a disgrace."
The affair blew up when independent-minded Turkish anti-corruption judges launched an inquiry into politicians and their families making fortunes from secret deals with the terror group.
During their investigation, tapes emerged of a phone call in which President Erdogan appeared to be ordering his son to "make vanish" or "zero" millions of dollars stashed at a family home.
The inquiry came to nothing. Erdogan, who claimed the tapes were part of a false smear campaign by political rivals, promptly ordered the sacking of 350 police involved in the corruption investigation. Several judges, lawyers and police were jailed.
At the time, his hard-line response caused a minor outcry.
Today, thanks to his disputed referendum victory, Recep Erdogan can rest easy in the world's largest modern palace, knowing that by locking up hostile judges and criminalising dissent, he is merely enacting the will of the people.