A teenage surfer who was mauled to death by a shark has been identified as 17-year-old Laeticia Brouwer.
Her uncle, Steve Evans, said the family was "terribly heartbroken and saddened" by her death, adding that the "ocean was her and her family's passion", according to Daily Mail.
"We can take comfort that Teesh died doing something that she loved," he added.
Laeticia, known affectionately as Teesh by her family, was out surfing with her father near Esperance, Western Australia, on Monday afternoon when she let out an ear-piercing scream.
Her father turned to see her being dragged underwater, but carried her body back to shore with another teenage surfer after she surfaced, the West Australian reported.
Laeticia's mother and two sisters also watched in horror from the beach near Kelps Bed, 3km east of Wylie Bay, as the shark's jaws clamped down on the girl's left leg just before 4pm.
By this point Laeticia was unconscious and had lost copious amounts of blood.
The girl's family treated her at the scene while they waited for paramedics to arrive, with a nurse who was on the beach performing CPR on the teenager for 30 minutes.
She was taken by ambulance to Esperance Hospital in a critical conditon and later died.
The church-going family, from Singleton, north of Mandurah, had been in the area on an Easter holiday.
Evans said: "Teesh will be greatly missed by her family, friends and everyone who knew her.
"We are thankful for the support from the police, SES, ambulance and bystanders at the scene.
"We are also thankful for the help and support from our community at home, especially our church.
"We can take comfort from the fact that she is now in heaven with the Lord in eternal peace."
Esperance Police acting senior sergeant Ben Jeffes said Laticia was a competent surfer.
Her broken surfboard has been recovered and will be analysed to determine what kind of shark attacked her.
"What we have now are the debris which make a complete board," he told ABC radio.
"There's a real sense of sadness and loss in the community here, it's just terrible," he added.
Wylie Bay Beach will remain closed today and surfers have been warned to stay away for at least the next 48 hours.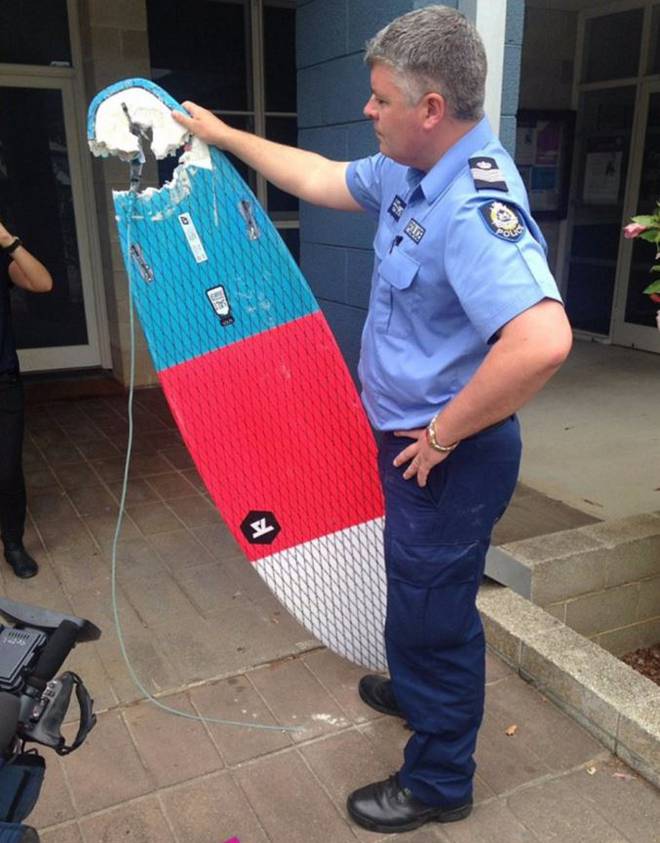 A great white shark had been spotted near the beach within the last week, it was reported.
Surfer Sean Pollard was attacked at Wylie Bay in 2014. He lost his right hand and left arm in the attack.
Fisherman and surfer Neville Manstead told the West Australian that he would never enter the water at the beach again.
"That's twice now in the same spot. It could have been my son," he said.
He added that great white sharks were "breeding like flies" near the beach.
Esperance shire president Victoria Brown said the teenager's death was "devastating news" for the community.
Laticia is the third person to die in a shark attack in Western Australia in a year.
Grandmother Doreen Collyer, 60, died after she was attacked by a great white shark while scuba diving on a reef near Perth on June 5, 2016.
Ben Gerring, 29, was killed by a shark just a day earlier after having his leg severed at Falcon Beach, in Mandurah.
The area where the 17-year-old girl was attacked is isolated and sits about 16kms outside of Esperance.
The remote beaches are surrounded by shrubbery and connected to area towns by lengthy roads.
Esperance is home to the Pink Lake, which is famous for its bright pink water.
Recent shark attacks in Western Australia:
June 5, 2016:
Doreen Collyer, 60, died while diving a kilometre out from Mindarie Marina between One and Three Mile reefs.
June 4, 2016: Ben Gerring, 29, was killed after having his leg severed by a great white shark at Falcon Beach, in Mandurah.
December 29, 2014: Jay Muscat, 17, is killed by a great white while spearfishing at Cheynes Beach near Albany, WA.
December 15, 2014: Daniel Smith, 18, of Mossman, Qld, is killed while fishing at Rudder Reef, off the coast of Port Douglas.
October 2, 2014: Sean Pollard, 23, loses both hands after a shark attack at Wylie Bay Beach, near Esperance.