Increasingly angry tourists have been urged not to drink the water in the Whitsundays, as Cyclone Debbie's aftermath causes flooding and evacuations and shuts down schools across two states.
Whitsunday Regional Council - which covers the cyclone-ravaged areas of Airlie Beach, Bowen, Proserpine, Hamilton Island and Daydream Island in Queensland - has urged residents "DO NOT drink water from tap" in an emergency alert overnight.
"In the aftermath of Tropical Cyclone Debbie, Whitsunday Regional Council advises all residents that when water is restored to their area it may be discoloured and contain bacteria levels above normal standards," the council wrote on its disaster and emergency Facebook page.
Residents who had no other option but to use the contaminated water were urged to boil it for three minutes first.
Tourists grow angry in evacuation limbo
Long lines of desperate tourists have formed on Hamilton and Hayman islands as people try to score a place on airlines flying out of the battered resorts.
Brisbane woman Mercedes Haynes told the Townsville Bulletin that she had spent 48 surviving on baked beans and bread after the unit block she was staying in on Hamilton Island lost part of its roof in 270km/h winds.
"The booking agents have been disgusting, demanding we still pay for our ruined accommodation and resort management has only just had staff come and check on us at 2am (yesterday)," she said.
"We've had no one tell us about food or water, we only know the store is selling stuff which we cannot buy as they're only accepting cash payment but there's no way to get money out."
James Bradford, a Texan staying at Hamilton Island Resort, told a more positive story on Facebook.
"They are feeding us twice per day so all good," he posted.
"We are safe and healthy! Don't worry! ... Positive vibes from Hamilton island!!!"
All people on Daydream Island have been evacuated and the resort will remain closed for a month.
Flooding emergency worsesn as rain heads south
An emergency evacuation order has been extended to the northern NSW town of Murwillumbah overnight as flooding rains cause havoc in Cyclone Debbie's wake.
"Please do not delay - leave now," the NSW State Emergency Service urged residents in the town's east and central business district at 1am AEDT.
The Tweed River at Murwillumbah was expected to peak at 5.6m.
These residents join a further 40,000 in northern NSW who were ordered to evacuate, including 6000 in Lismore affected by major flooding along the Wilsons River.
Streets, bridges and shops were inundated and about 60 people spent the night at an evacuation centre in the town's Southern Cross University campus.
Real estate agent Katrina Beohm spent yesterday sandbagging and mopping up rainwater from her shopfront in East Lismore.
"We're just preparing for another incident through the night," she told AAP.
Flood evacuation orders are also in place in the northern NSW towns of Tweed Heads, Kingscliff, Fingal Head and Bilambil.
The SES conducted 37 rescues yesterday, mostly in Lismore.
It's not over yet
But the deluge is not over.
A severe weather warning remains in place for Queensland's southeast, with the Bureau of Meteorology forecasting destructive wind gusts "in excess of 125km/h" for the Sunshine Coast, Brisbane, Gold Coast, Gold Coast Hinterland, and the Scenic Rim this morning.
The state is expected to be spared more heavy rain today.
Very heavy rain was expected to continue until early Friday in the NSW northern rivers and parts of the state's mid-north coast, Hunter, metropolitan and northern tablelands districts.
The bureau expects a further 100m of rain to fall in the northern rivers' far northeast this morning, after more than 280mm fell in the area yesterday.
The centre of the ex-tropical cyclone was over the Gold Coast about midnight and is expected to retreat south-eastwards and offshore this afternoon.
This will bring gale-force winds and rough surf about the northern NSW town of Yamba.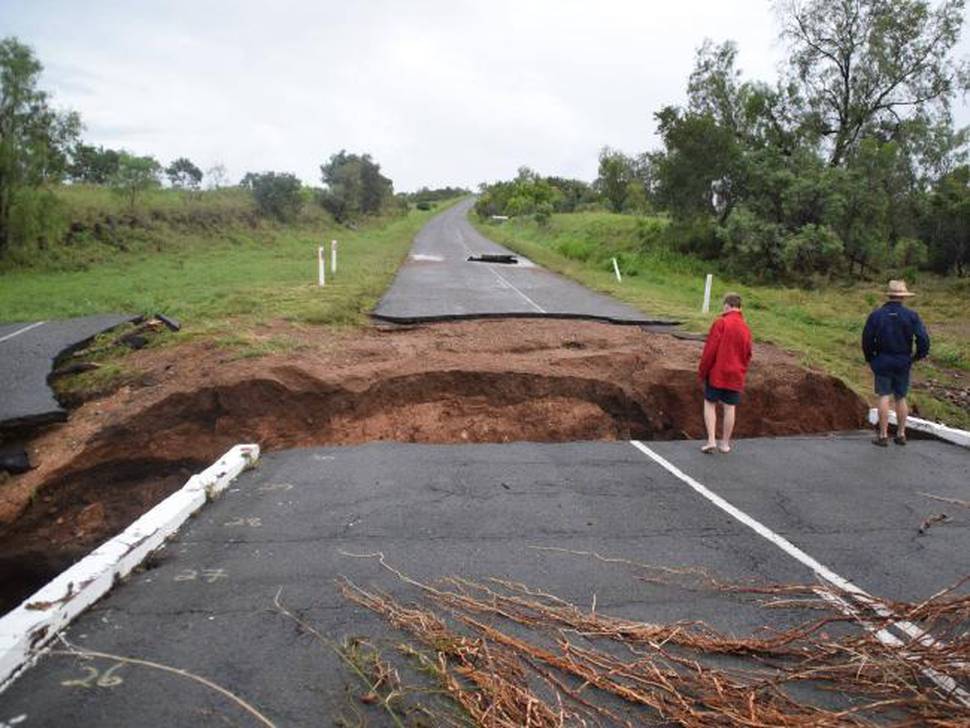 Schools to remain shut
Meanwhile, more than 1000 Queensland schools will remain shut today after Debbie's deluge caught authorities off guard yesterday.
The state government took the extraordinary step to close down all schools between Agnes Waters and the NSW border at 7.20am yesterday in what Queensland Police commissioner Ian Stewart admitted was "an unprecedented late call".
The decision - which affected about 300,000 students - caused mass confusion, as many parents and schools were unaware of the closure until well after classes had begun.
The Department of Education did send out text messages to all parents in southeast and central Queensland warning of the closure, but they were not sent until 10am, The Courier-Mail reported.
"We can't afford to have inexperienced young kids walking home from school at a time where there could be flash flooding," Stewart said.
There was chaos in the state's southwest when almost 500mm of rain fell in 24 hours yesterday about the Gold Coast, which was also buffeted by destructive 125kh/h wind gusts.
Parts of Brisbane received more than 200mm and wind gusts of 115km/h.
About 65,000 homes in the state's southwest went without power.
- with AAP