Thousands have been ordered to evacuate as Tropical Cyclone Debbie barrels towards the north Queensland coast, bringing 280km/h winds, flooding rain and a 4m tidal surge.
Residents in low-lying areas in Bowen, Proserpine and Airlie Beach were ordered to evacuate their homes with the monster storm due to intensify into a "very destructive" Category 4 system hitting a 300km stretch of coast tomorrow at 6am.
As of last night it remained a Category 2 system, located about 415km northeast of Townsville, but the Bureau of Meteorology expected it to intensify into a category 3 system early today.
The Whitsunday Islands are already being buffeted by gales, while abnormally high tides are expected to occur south of Proserpine later today.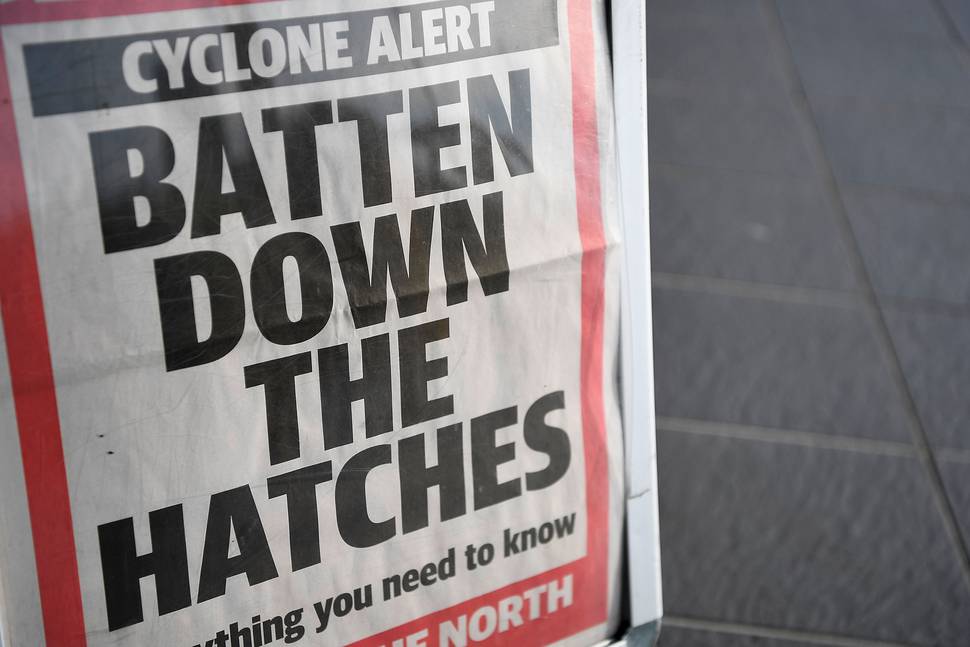 The cyclone is expected to cross the coast as a category 4 between Rollingstone and Proserpine tomorrow morning.
Queensland Emergency and Fire Services Commissioner Katarina Carroll said the likelihood of a storm surge and major flooding in low-lying areas was concerning authorities.
She said locals, who have been through cyclones before, should not be complacent.
"We know north Queenslanders are very, very resilient, but certainly we do have concerns about the storm surges in those low-lying areas," she told Nine today.
"We only have a small window of opportunity to act on these evacuations. Please, if you do get the text message to evacuate, do so."
Darrell Locke, 62, who lives in a red zone at Queen's Beach in Bowen, told the Courier Mail he had seen out six cyclones and had no plans to go anywhere.
"This'll be the biggest cyclone we've ever seen but we're all boarded up and will stick it out," he said.
Big 4 park managers Randy and Karlene Peebles told the paper they had evacuated two dozen caravan owners, many headed inland, but they themselves plan to stay in their waterfront home in the red zone.
It's going to be intense, but we've got nowhere else to go," Mrs Peebles said.
"I'm getting scared because of the ferocity of it. If we get a 4m tsunami that will be as high as our second-storey. It looks very eerie out to sea.
"It is dead calm, but you can see the clouds are getting darker and trouble is brewing."
Cyclone first-timer mother-of-three Venessa MacFarlane, of Bowen, was last night moving to an empty rental house in a safe zone as authorities warned her seaside house was likely to go underwater.
"Everything we own is in there. It is heartbreaking to think we could lose it all," she said.
Many residents, including Jan Bridges, are refusing to leave their homes despite being in the direct path of Cyclone Debbie.
Police and State Emergency Service officers doorknocked homes in the small town of Alva Beach, south of Townsville, yetserday, informing residents a forced evacuation of the low-lying area had been enacted.
"I'm staying," Ms Bridges told them.
Warnings are in place for residents from Lucinda to St Lawrence including Townsville, Ayr, Mackay, and the Whitsunday Islands, and inland of Bowen including Collinsville.
The bureau forecasts the "very destructive core" of Debbie will bring with it wind gusts up to 260km/h in the cyclone's centre.
Areas on the outer reaches of the storm will still receive winds with gusts over 100km/h, forecasters are warning.
Cyclone shelters in Bowen and Proserpine, with a capacity of 800, are due to open to their doors today.
Outraged Whitsunday MP Jason Costigan slammed authorities for shutting tourists out of cyclone shelters last night.
"We've got backpackers turned away from cyclone shelters that are locked up like Fort Knox," he said.
"Where are they supposed to go?"
English tourists Katie Gathercole, 22, and Becky Veater, 24, in Bowen were "praying for their lives".
"I'm genuinely scared," Ms Gathercole said.
"We've never had to brace for a natural disaster like this and now some backpackers can't get into these cyclone shelters. It is very unsettling."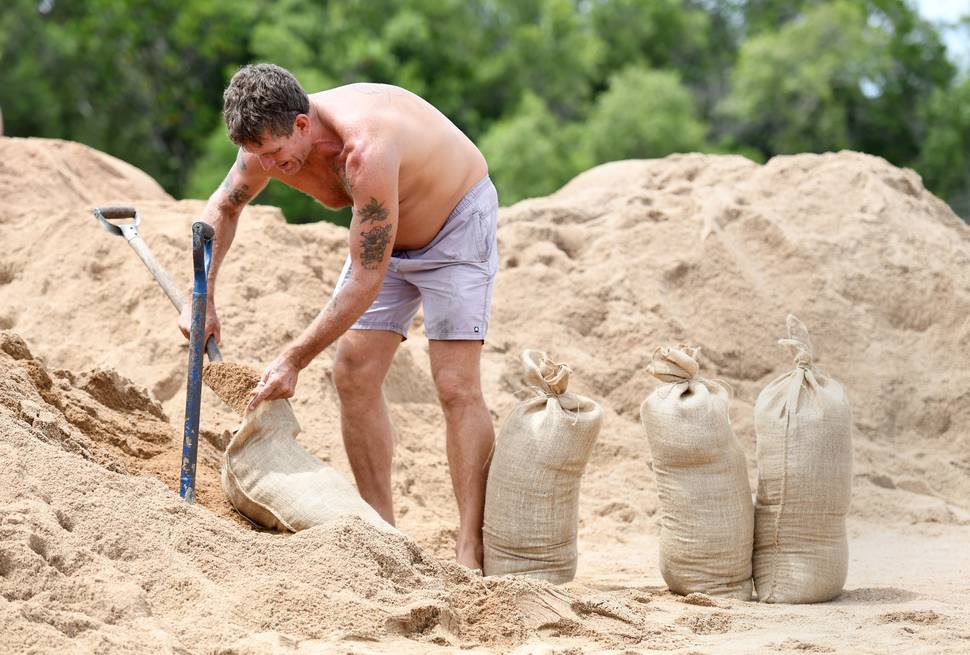 Evacuations began yesterday, with the Whitsunday Regional Council ordering people in several low-lying coastal areas of the region ahead of a forecast significant tidal storm surge to seek higher ground.
Schools in coastal areas near Ayr to Proserpine will be closed today, with parents advised to check the Education Department's school closures website or with school directly.
James Cook University has closed its campuses in Cairns, Townsville Ayr and Mackay for today, with Cairns expected to re-open tomorrow.
Jetstar, Virgin and Qantas have cancelled many flights in and out of Townsville, Hamilton Island and Mackay.
Authorities say once the weather sets in, people need to stay off the roads and not try to cross flooded areas.
More than 1000 emergency services staff as well as Australian Defence Force personnel are being deployed to the region in anticipation of the storm's arrival.
- AAP