A rookie freediver is lucky to be alive after he blacked out and rapidly sank towards the bottom of the ocean floor during a spearfishing expedition.
He had speared a fish in the deep Bahamas water and was quickly making his ascent before his head broke the surface of the water and he was pulled back in, the Daily Mail reported.
The young diver blacked out as soon as he reached air and rapidly sank back down as his brother watched on.
In a video posted to Instagram, the beginner freediver can be seen swimming towards the surface in the vast, blue water with a fish hooked on the end of his spear.
As soon as his head breaks the surface, the boy falls unconscious and eerily falls backward into the deep ocean.
The instructor Alexandro Mullings, who is an advanced freedriver, said his brother experienced a loss of motor control (LMC).
This happens when a diver has taken a full lung of air at the surface of the water after being submerged in deep sea and the drastic change in pressure causes the diver to black out and lose all motor control.
"Things could have went really badly due to his LMC, what hurt even more is the feelings of guilt that later ensued after watching the clip, you can clearly see where his body starts to shutdown but I wasn't able to pick up on it," Mullings said.
"I knew he'd compromised his dive that's why I started my ascent very rapidly as he left the bottom, to my surprise he shoved me off when I tried to grab his fish.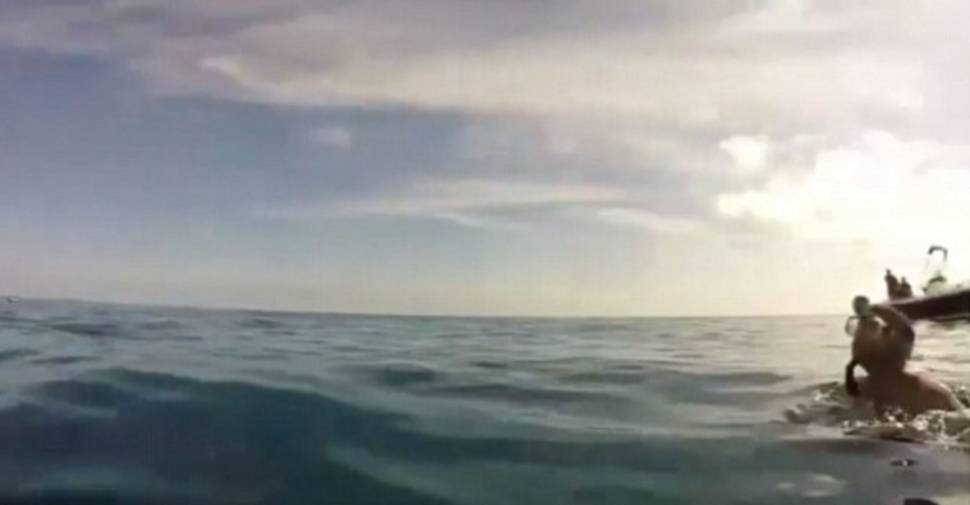 "So this made me feel like he was really okay up until I saw his funny body motion and I signaled to him to slow down with his kicks and told him to calm down as he surfaced," he added.
The professional diver said it was the first time he had experienced a rookie black out after breathing in fresh air, and wrote on Instagram that he learned a tough lesson.
"After this whole incident my whole life has changed... the way in which I look at life and the way that I dive. Take a course don't let it catch you off guard like it did me," Mullings said.
The video was reposted by a spearfishing Instagram account which also said the young diver is "lucky to be alive today".

\