A murder mystery probe has gripped France after a family of four, including a "psychologically disturbed" son, vanished leaving behind a home "frozen in time".
Bloodstains found in the house in a suburb of the western city of Nantes so far match the DNA of three of the four missing persons, prosecutors say, the Daily Mail reported.
The Troadec family - Pascal and Brigitte, both aged around 50, their son Sebastien, 21, and his sister Charlotte, 18 - have not been seen since February 16.
Prosecutor Pierre Sennes said a probe has been opened into murder, abduction and illegal confinement in a case that has prompted lurid headlines.
Several reports recalled a murder in 2011 of five members of the same family, also in the Nantes area, noting that Sebastien attended the same high school as one of the victims.
The father, Xavier Dupont de Ligonnes, remains at large and is the suspect of an international arrest warrant.
Frozen in time
Both Sebastien and Charlotte had been at the family home during the just-ended school holidays.
Sennes said investigators had been unable to find Sebastien's car. The parents' car was parked outside the house.
The prosecutor said bloodstains were found throughout the two-storey house, including on Sebastien's cellphone and on Brigitte's watch, as well as efforts to wipe some of them away.
No toothbrushes or hairbrushes were found in the house, and the beds had been stripped, with some sheets drying on an indoor rack.


Food was going off in the refrigerator and there were dishes in the sink, Sennes said, adding that there had been no activity in any of the four family members' bank accounts, and their cellphones had not been activated since February 17.
Sebastien's cellphone was the last to be switched off, he said.
"It's as if the life of the house was frozen in time," Sennes said.
'A macabre plan'
In the latest development, a jogger found a pair of trousers with the national health card of a missing French family member, a source close to the probe said.
The items belonging to Charlotte Troadec, 18, were found early Wednesday (France time) in a town some 280km northwest of the family home in Orvault, a suburb of the western city of Nantes, the source said.
Investigators were sealing off the area in Dirinon where the discovery was made, 13 days after Charlotte, her brother Sebastien, 21, and their 49-year-old parents Pascal and Brigitte disappeared from their home.
Police launched a vast search effort, saying in a bulletin dated February 24 that Sebastien was suspected of "putting in place a macabre plan aimed at snuffing out the members of his family and maybe himself."
Investigators returned to the house on Wednesday with "very sophisticated" scientific and technical equipment to search for further clues, Nantes prosecutor Pierre Sennes said.
Wearing white forensic suits, they were seen entering and leaving the family home in Orvault where a police security zone was set up early Wednesday.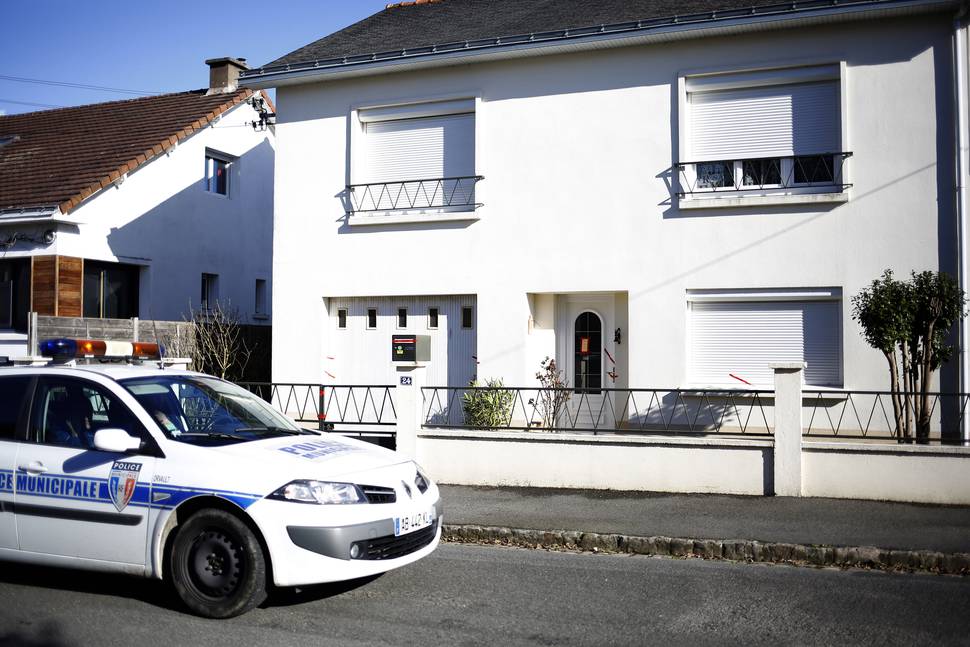 Traces of blood from the father, mother and the son have been identified but so far there are no signs of the daughter's blood, Sennes said.
Neighbours and a source close to the probe said Sebastien had had psychological problems and father Pascal had suffered from depression in the past.
Sennes noted that Sebastien had been sentenced to carry out community service after being convicted in 2013, when he was a minor, for making death threats on his blog.
But classmates of Sebastien's interviewed by French media described a quiet, friendly youth, with one saying he was 'always ready to help out'.