A vehicle slammed into a high school marching band at a Mardi Gras parade in Gulf Shores, injuring 12 children - four critically.
According to Daily Mail, The SUV had a Military Officer's Association of America (MOAA) flag draped over it when it struck the youths, aged 12-17. The vehicle was on top of them when it stopped, witnesses said.
Police confirmed that a 73-year-old male from Fairhope was behind the wheel of the car when the accident happened, according to WKRG.com.
He is now in custody, although cops haven't yet decided whether to file charges.
The vehicle that struck the students had been following the high-schoolers when the crash happened.
Video footage released by the Gulf Shores Fire Rescue shows the car around six feet behind the band. The video was recorded just before the crash, the department said.
"A teenage band has just started to march down the parade route when they were struck from behind. The vehicle was a part of the parade," said Grant Brown, a spokesperson for the city of Gulf Shores, just after the crash.
Photos of the car show a large grey Ford SUV with an MOAA banner on it.
Colonel Jonathan Withington at the MOAA national headquarters confirmed to WKRG the vehicle in the crash was representing its Baldwin County chapter.
Nine of the youths were taken to South Baldwin Medical Center in Foley, two went to Sacred Heart Hospital in Pensacola and one victim was transported to Baptist Hospital in northwest Florida.
Angie Swiger, a member of the Baldwin County Board of Education, told CNN that all of the students in the parade had been accounted for.
All of the uninjured students that had not been taken home by parents were taken back to the high school by officials, where a crisis counselor was available to comfort students and parents who saw the crash.
"It's going to be a very difficult day," she said. "It is a tight-knit community. We just ask for everyone's thoughts and prayers."
It's not known yet whether drugs or alcohol were involved in the collision.
However, authorities say they turned down an offer from the FBI to investigate the collision as they do not believe there was criminal intent.
Police confirmed the accident involved an SUV but did not provide any other details.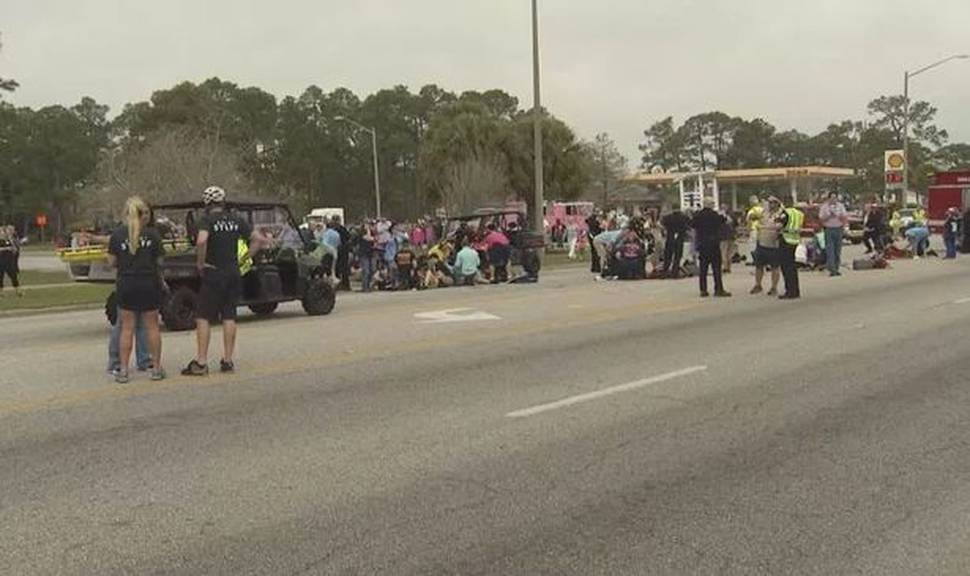 The extent of the victims' injuries is not yet known. Video shows emergency services tending to the wounded.
Sections of Highway 59 and their corresponding roads have been shut down.
The MOAA describes itself on its website as 'the nation's largest and most influential association of military officers.'
"We are a powerful force speaking for a strong national defence and representing the interests of military officers and their families at every stage of their careers," it claims.