Opposing sides in the Syrian war came face-to-face in United Nations peace talks for the first time in three years yesterday, to hear mediator Staffan de Mistura implore them to co-operate to find a way out of almost six years of war.
"I ask you to work together. I know it's not going to be easy to end this horrible conflict and lay the foundation for a country at peace with itself, sovereign and unified," Mistura told the delegates sitting opposite one another on the stage of the UN assembly hall in Geneva.
Mistura was to hold meetings with the delegations overnight and today to establish a procedure for the talks, he told reporters after the opening session, adding it would be his "dream" to bring them back together for direct talks, but there was work to be done before that could happen.
At the last Geneva talks, 10 months ago, de Mistura had to shuttle between the parties, who never met in the same room.
De Mistura told the representatives of President Bashar al-Assad's Government and his opponents that they had a joint responsibility to end a conflict that had killed hundreds of thousands and displaced millions.
"The Syrian people desperately all want an end to this conflict and you all know it," he said.
"You are the first ones to tell us it. They are waiting for a relief from their own suffering and dream of a new road out of this nightmare to a new and normal future in dignity."
Describing the negotiations as an uphill task, he said they would centre on UN Security Council resolution 2254, which calls for a new constitution, UN-supervised elections and transparent and accountable governance.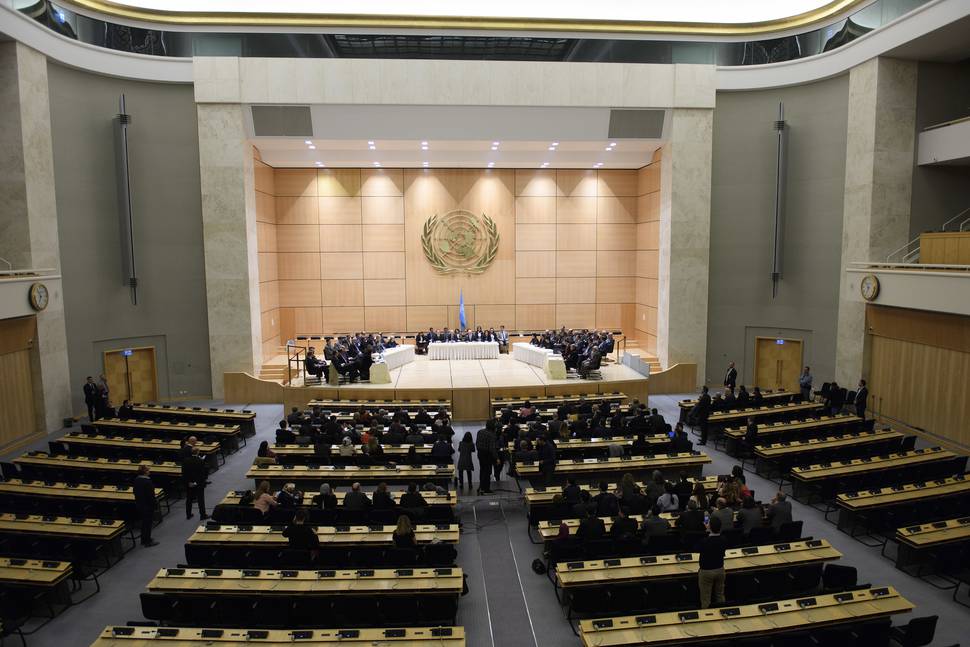 He said a shaky ceasefire brokered by Russia, Turkey and Iran had opened a window of opportunity.
"The effort has jump-started the process ... to see if there is a political road forward and we don't want to miss this opportunity."
Neither delegation clapped the speech by de Mistura, who went to shake hands with both sides after his opening remarks.
Even as he warmly embraced the opposition delegates, the government group were walking out of the room and did not turn back.
"We need direct talks to create empathy and trust in both sides. We still don't know if it will be direct or proximity talks, but the Government has given no indication it wants to talk directly which inevitably shows how little they are committed to this process," a Western diplomat said.
Read more: Russia's ambassador to United Nations dies in New York aged 64
The ceasefire - which excludes hardline jihadists such as Isis (Islamic State) - was implemented after separate talks in Kazakhstan's capital, Astana, brokered by Russia, Turkey and Iran.
But fighting continued even as the peace talks resumed, with Syrian jets bombing rebel-held areas of Aleppo, Deraa and Hama provinces and insurgents firing rockets at government targets.
The lead negotiator for the opposition - which is still fractured and does not have a completely unified delegation - said the Geneva talks should prioritise finding a political transition, something he said Assad's side did not want.
"If Staffan is serious, he has to stick to the first subject in the agenda, which is a political transition that is acceptable to the Syrian people," Nasr al-Hariri told reporters.
But Russia's envoy to the UN in Geneva, Alexei Borodavkin, said demands from rebels and their Western and Arab backers for Assad to step down were "absurd".
Hariri criticised the role played by Iran and Iranian-backed militias, which - with Russia - are vital Assad allies.
"Iran is the main obstacle to any kind of political deal," Hariri said, accusing Tehran of being responsible for violations of the ceasefire.
De Mistura said: "We do know what will happen if we fail once again - more deaths more suffering, more terrorism, more refugees." Reuters