An off-duty cop was caught on camera firing his gun as he scuffled with a 13-year-old outside his home in Anaheim, California.
Protests were sparked after a video emerged showing the confrontation between the off-duty LAPD cop and a large gang of teens, the Daily Mail reports.
During the clip, which lasts about nine minutes, teenager Christian is heard saying that the cop was upset at a girl for walking on his lawn. The video alleges the cop called the young girl a "c**t".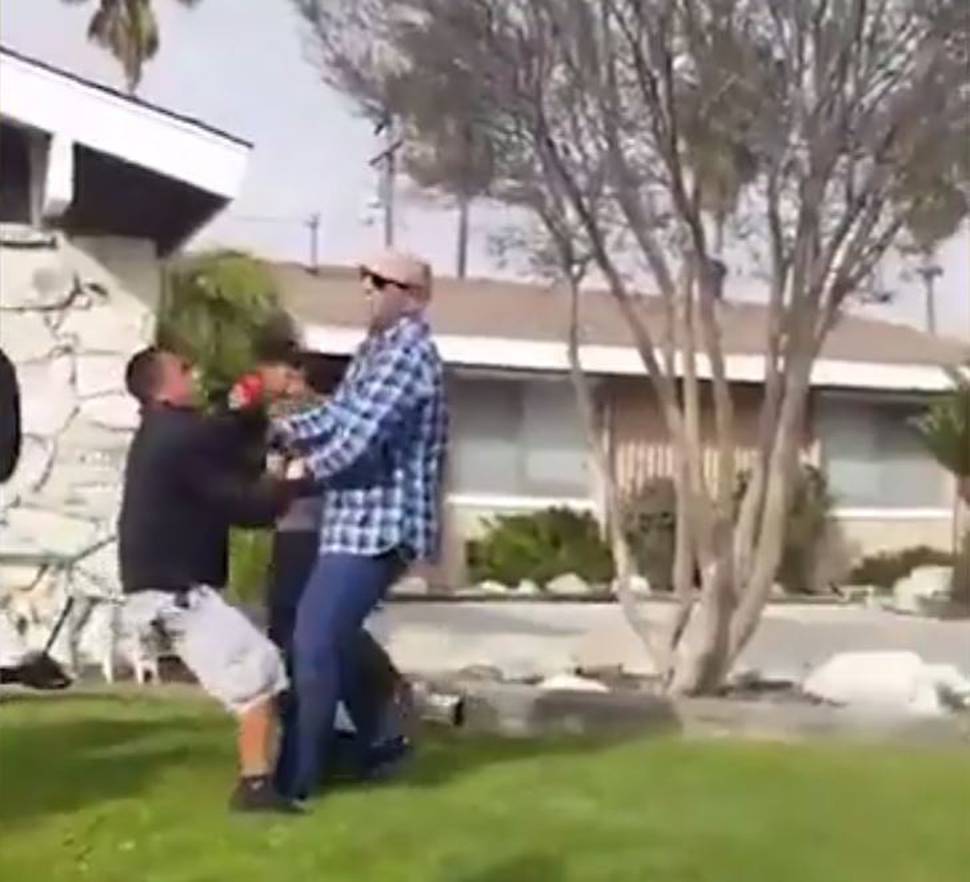 When Christian then confronted the cop, the altercation began, according to the video.
The officer is seen holding the boy around the neck and shoulders in what appeared to be an attempt to restrain him.
"I'm only 13," Christian says at one point, as several people in the group of teens are heard saying: "Let him go".
At one point, an elderly man with a beard and a crutch says: "Hey Kevin." Later in the video he identifies himself as the cop's father as he calls 911.
Later in the video, the off-duty cop begins dragging the boy towards his property - at one point attempting to pull him across the top of a hedge.
Christian is then heard saying: "He tried to hit me in my nuts. That's like a little p***y move, punch a kid in the nuts."
The cop then replies: "Because you've been resisting this whole time."
But the boy fires back, saying he wasn't resisting and tries to offer up an explanation.
"No, I wasn't. You tackled me first. I didn't do anything to hurt you," he said.
"All I said was, 'Respect the girl,' because you said, 'Get out of my property'."
The cop then is heard claiming the 13-year-old said he was going to shoot him, however the teen quickly responds: "I didn't say that. Why you lying? I said, 'I'm going to sue you'."
Moments later, another boy charges the off-duty cop and knocks him over in an attempt to free his friend.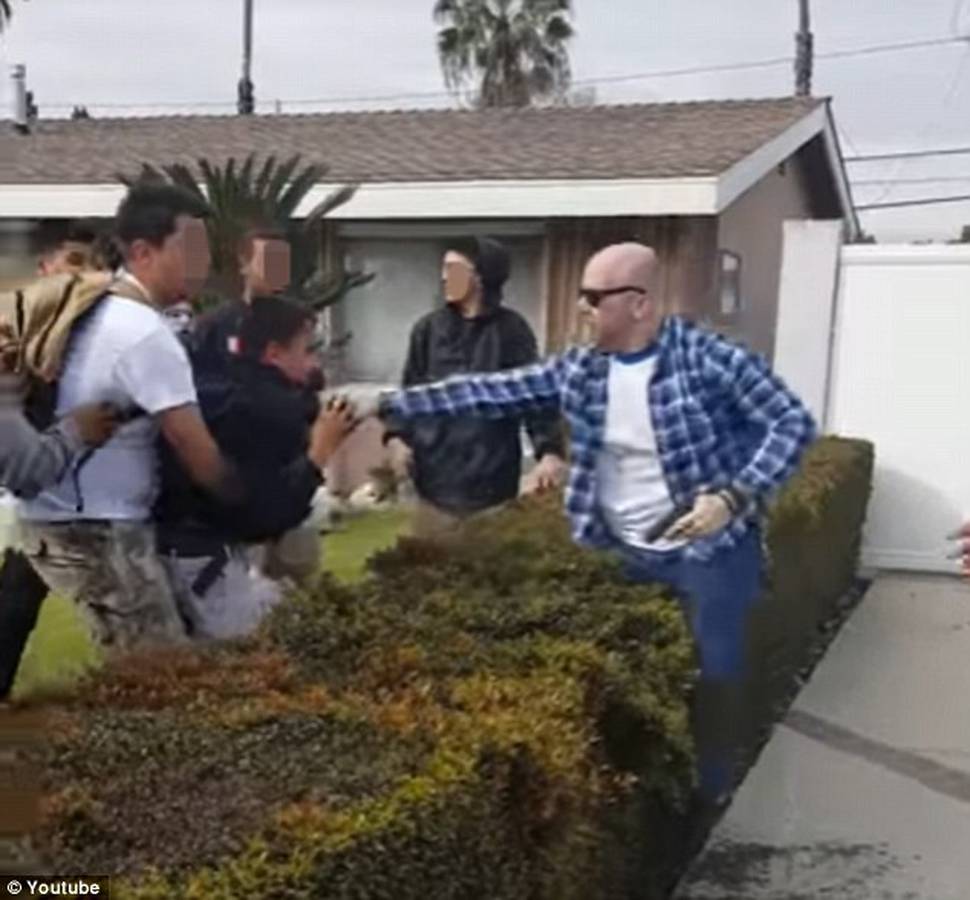 But the cop does not let go, and instead reaches into his waistband and pulls out his weapon.
Seconds later, a shot rings out and the teens quickly run away from the house.
They then watch on from a safe distance as the off-duty cop continues to hold down Christian he pulls him across the hedge.
The 13-year-old can then be heard saying, "You shot me, you put a gun to my face, as the off-duty cop tells the elderly man to call the police.
Later in the video police arrived and arrested Christian, as well as a 15-year-old.
No one was hurt during the shooting, the Washington Post reports.
The officer involved has been placed on leave, and the two arrested teenagers have since been released.
Anaheim Police said the altercation was being investigated.
"Two juveniles have been arrested following a physical confrontation during which an off-duty LAPD officer discharged his firearm," police said.
"Nobody was struck by the gunfire and the Anaheim Police Department Homicide Detail is investigating.
"Officers were called regarding a physical altercation between a male adult and several male juveniles. While officers were responding, additional information was received the adult was an off-duty LAPD officer, he had discharged his firearm, and was detaining at least one of the juveniles."
Police are expected to provide an update today.
The boy's father, Johnny Dorscht, said the family planned to sue.
He also identified the 13-year-old boy in the video who was restrained and almost shot by the off-duty LAPD cop, as Christian Dorscht.
"I'm pretty p***ed off about what happened," he told the Orange County Weekly.
"You could talk to anybody, my son has very good manners. He does good in school and isn't disrespectful or anything like that.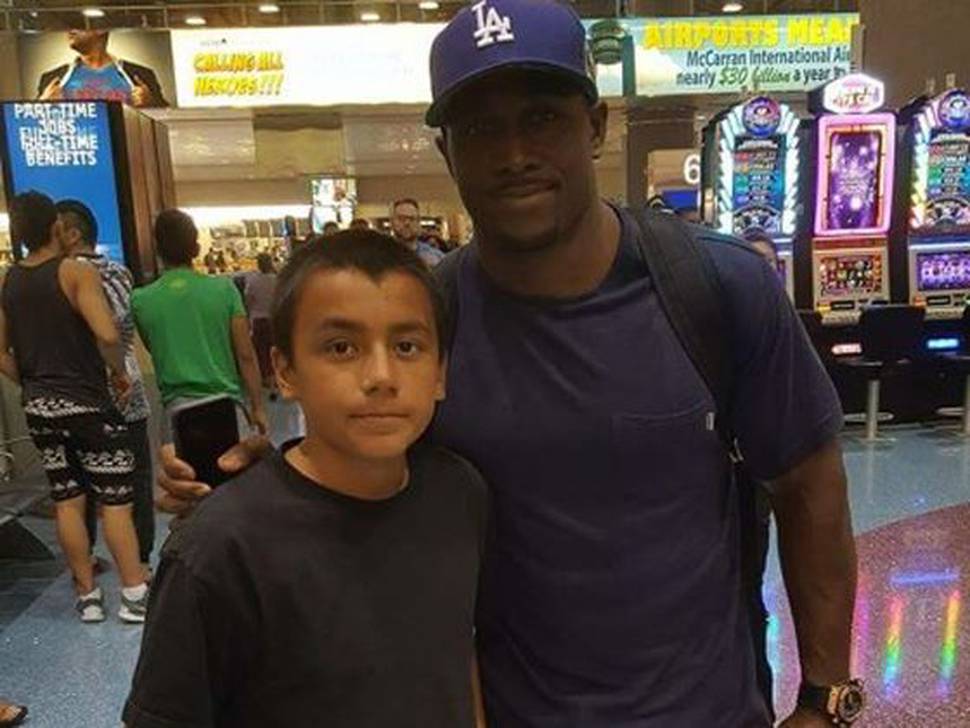 "We're going to find legal representation and be suing. This is BS. Even the cops, when they got there, they had all the kids down. They didn't even go after the guy."
Dorscht also shared pictures with DailyMail.com showing the bruises his son suffered.
They showed a mark above his eyebrow, as well as a series of small bruises along his shoulder and neck.
Christian's mother, Alma Jimenez spoke to protesters in Anaheim.
"I just want to say how disgusted I am by that individual for the negligence he committed with my son,' she was heard saying in a video posted to her Facebook page.
"My son is alive today, but if he would have not fought for his life along with those other children, he would be in a morgue right now.
"You almost killed my child. Stop shooting our kids. This is my son. He is 13 years old. He was not armed.
"He [the officer] was, he pulled out, he reached for his weapon, he intended to use it."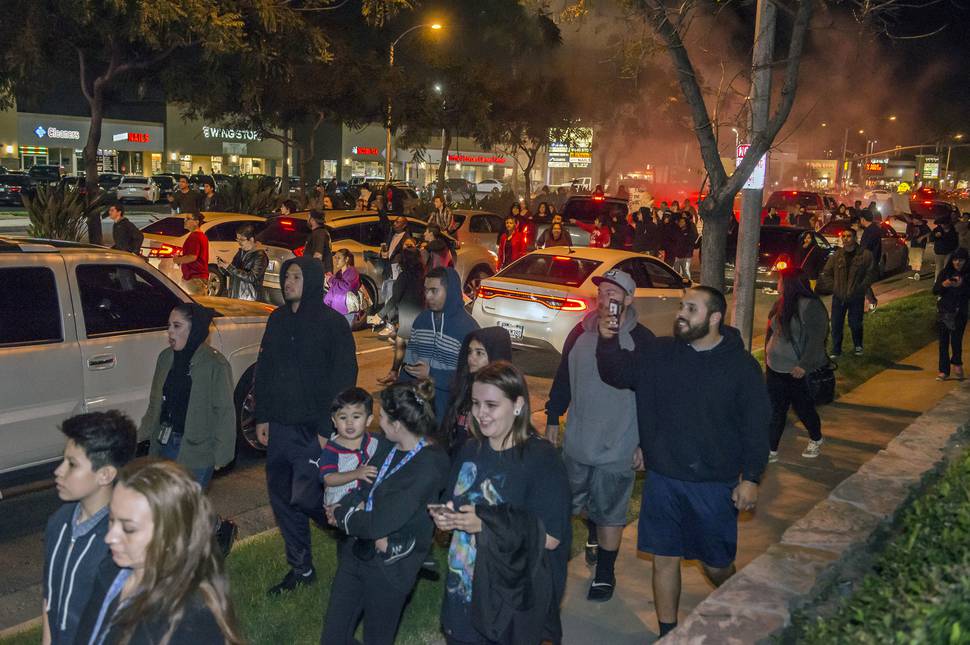 Protesters were seen in videos posted on social media shouting, "Whose streets, our streets," "don't shoot our kids, "shame on you," and "no justice, no peace, f*** the police".
What began as peaceful protests eventually gave way to violence, as protesters threw rocks and bottles at officers.
One picture posted on social media showed the words, "f*** pigs," spray-painted across a garage door it was claimed belonged to the officer.
However, the house is not that of the cop in question.
Aerial footage of the scene from KTLA showed a crowd of people, as well as a swarm of police cruisers in the area.
Anaheim police report about 24 arrests for misdemeanour charges including failure to disperse and resisting arrest. This included 10 men, eight women, three boys and three girls.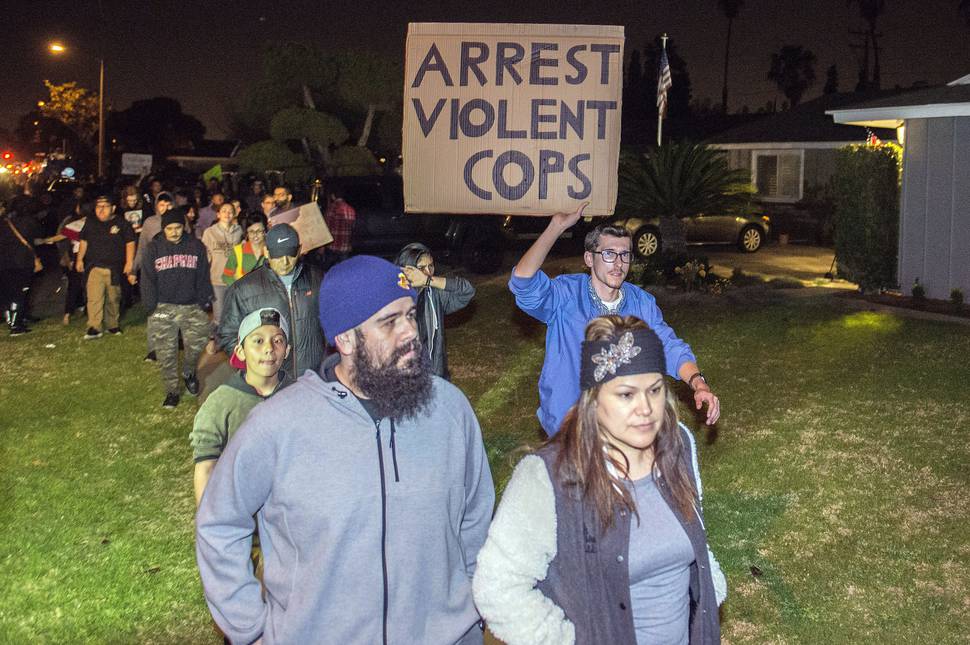 Amid the protest, which took place about two blocks from Disneyland, Anaheim Mayor Tom Tait said there will be a "thorough, impartial" investigation.
"Like many in the community, I've seen the video and I'm very concerned about what it shows," he said, according to ABC7.
"Anaheim is committed to a full and impartial investigation. Our city will move forward without delay."
- Additional reporting by the Washington Post