Warning graphic content:
Shocking footage has emerged of an Australian motorist who appears to swerve deliberately into oncoming traffic several times before colliding head-on with a car, killing a woman.
The footage obtained by 9News shows the driver of a green Toyota Landcruiser driving erratically on the Bussell Highway in Capel on Saturday.
"He's going to kill someone," the man filming says, before calling West Australian police.
The Landcruiser is seen crossing into the wrong lane several times, forcing at least four cars off the road.
"The guy's face was unbelievable, like I've never seen before. He was jumping around in this car and going nuts like he was happy about what he had actually done," Jake Mangini told 9News.
The Landcruiser then crashes into a Toyota, whose driver - believed to be a 61-year-old woman - died at the scene.
The aftermath shows the Landcruiser in flames after the fatal collision.
The 45-year-old driver from Usher managed to survive the crash and was airlifted to Royal Perth Hospital. Another woman was taken to Bunbury Regional Hospital, Perth Now reports.
Police major crash squad are investigating the crash which occurred at 4.47pm, at the intersection of Capel Drive and Bussell Highway.
The green coloured Toyota Landcruiser was travelling north in the south bound lanes of Bussell Highway when it collided with a white coloured Toyota Rav4 that was travelling south on Bussell Highway, approximately 100m south of the Capel Drive intersection.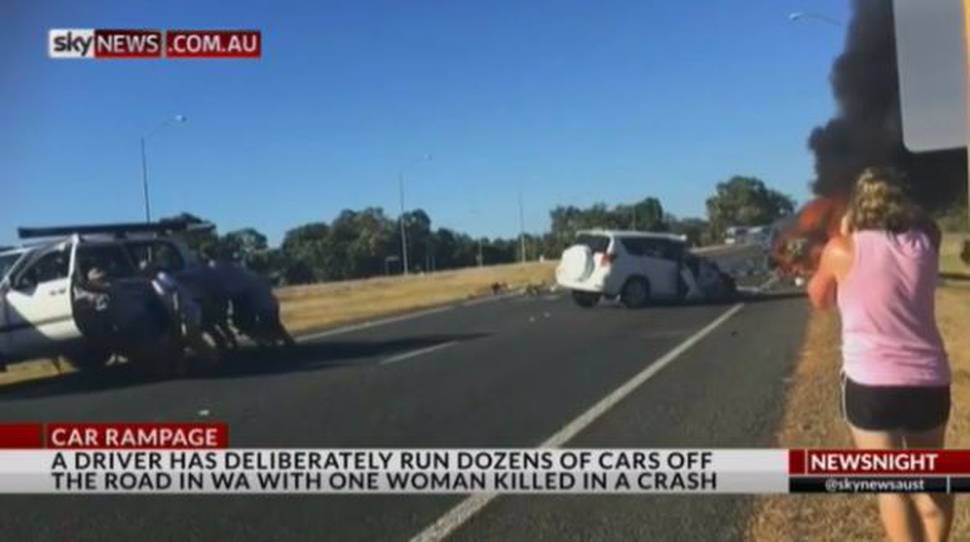 The Landcruiser rolled over and the driver was thrown from the vehicle before it came to rest right side up and caught on fire.
A passenger in the vehicle, a 54-year-old woman from Busselton, suffered life-threatening injuries in the crash and was taken by ambulance to the Bunbury Regional Hospital.
Major Crash investigators would like to speak to anyone who may have seen the crash or the Toyota Landcruiser prior to the crash travelling on: Wonnerup Beach, Busselton; Layman Road, Busselton or Bussell Highway from Busselton to the Capel Drive intersection.