THIS is the extraordinary footage that allegedly shows North Korean leader Kim Jong-un's half-brother being attacked by two women in a busy airport.
The leaked CCTV footage appears to show a woman spray a liquid on Kim Jong-nam's face as he stands in a crowded concourse at Kuala Lumpur Airport.
The blurry footage shows Kim Jong-nam, dressed in a grey jacket and dark blue top, being circled by at least two women just moments before the attack was carried out.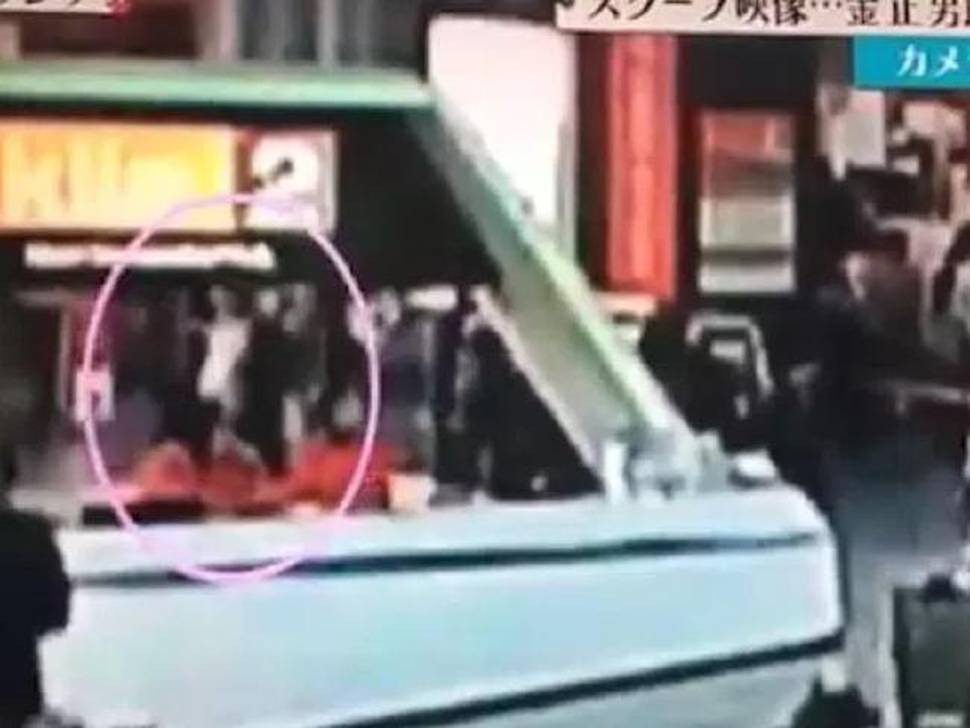 A woman in a white top reaches her arm around Jong-nam's face before spraying him with a liquid, Malaysia Kini reported.
The woman then calmly but quickly walks away.
Kim Jong-nam can then be seen alerting airport staff and police, appearing to gesture and explain what took place.
The eldest brother of Kim Jong-un can then be seen walking with staff to the airport health clinic.
The chilling footage emerged after Indonesian female masseuse Siti Aisyah and Vietnamese entertainment worker Doan Thi Huong were arrested over the death of Kim Jong-nam, The Sun reported.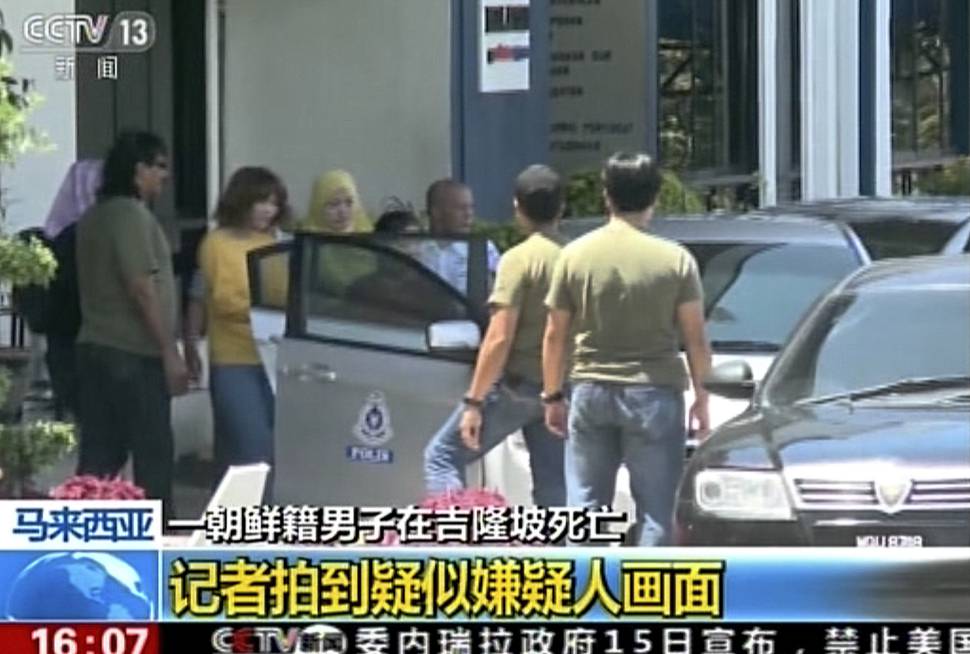 The women were arrested along with Muhammad Farid Bin Jalaluddin, who is Malaysian, and North Korean man Ri Jong Chol.
Kim Jong-nam died on February 13 just moments after seeking help from an information desk and was treated at an airport clinic but died soon after.
HUNT STEPS UP
The results of the autopsy could take up to a week to be released and will prove beyond doubt whether Kim Jong-nam was poisoned.
Kim Jong-nam's body will remain under police protection until then.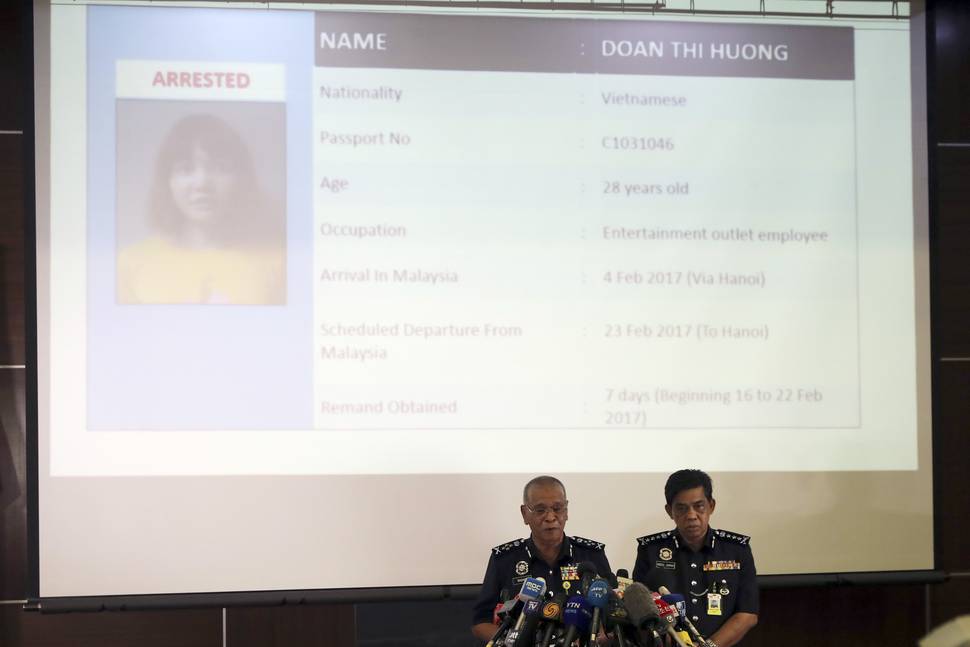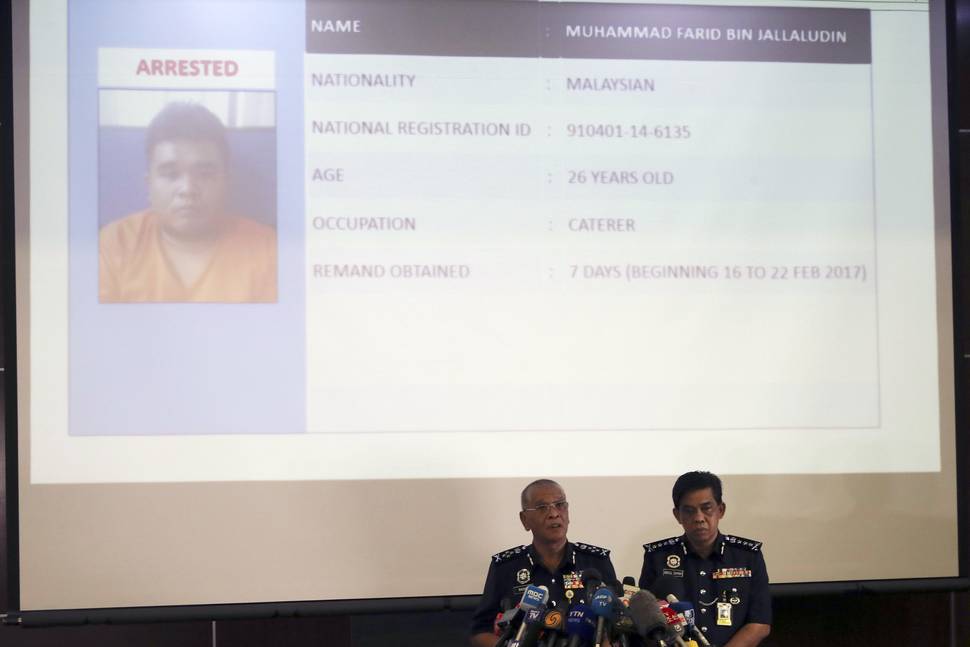 Meanwhile, Malaysian police have stepped up the hunt for those responsible for Kim Jong-nam's death.
Police revealed they were looking for four North Korean men who flew out of Malaysia the same day that Kim Jong-nam was apparently poisoned.
Since Kim Jong-nam's death last week, authorities have been trying to piece together details of what appeared to be an assassination.
Malaysian police have so far arrested four people carrying IDs from North Korea, Malaysia, Indonesia and Vietnam.
Malaysia's deputy national police chief, Noor Rashid Ibrahim, confirmed four other North Korean suspects were on the run.
He also confirmed the men arrived in Malaysia on different days beginning January 31 and flew out of the country last Monday, the day Kim died.
However he refused to give further details about the men.
"I am not going disclose where they are," he told a room packed with journalists, adding that Interpol was helping with the investigation.
Noor Rashid showed photographs of the four men, who were travelling on regular - not diplomatic - passports and are aged 33, 34, 55 and 57.
FALLEN SON
Kim Jong-nam was once considered the likely successor to take over from his father, Kim Jong-il.
The former leader had at least three sons with two women, as well as a daughter, Kim Yo-jong by a third.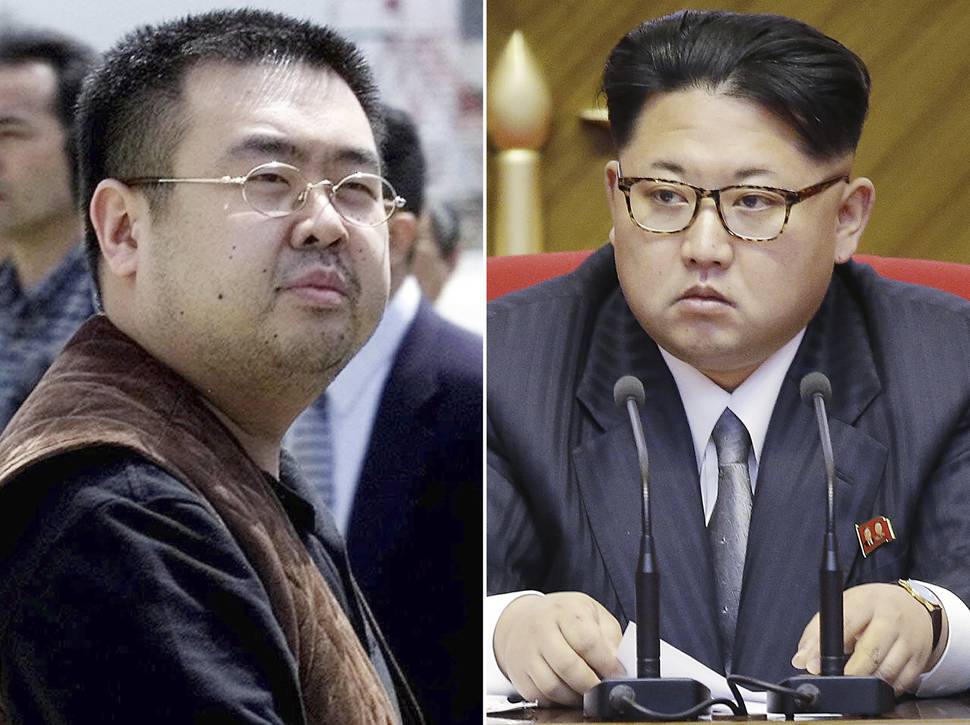 Kim Jong-nam was the eldest, followed by Kim Jong-chul, who is a few years older than Kim Jong-un.
In 2001, Kim Jong-nam fell severely out of favour after attempting to visit Japan on a fake passport, revealing he wanted to head to Disneyland.
The move was said to have brought enormous shame on the Kim family who saw it as a major embarrassment.