Christopher Scott looked at the man who turned his life upside down. He didn't blink. He sat there and stared him the eye.
The figure opposite him returned the favour, unblinking.
"I'm not mad. I forgive you, but I can never forget," Scott told the man in front of him.
It was February 2014. Scott was staring down the man whose crime had put him in prison for 13 years.
Five years after being exonerated for the murder of Alfonzo Aguilar and the sexual assault of his wife, Celia Escobedo, Scott was meeting the man who, by a stroke of extraordinary luck, confessed to the crime: Alonzo Hardy.
"You just put yourself in my shoes in a situation like that," Hardy told Scott.
"I mean, I can understand how hurt you is, and I can understand the part of your life that you lost because I had went through the same thing."
Through tears, Scott lamented about all the years he'd lost; the years away from his kids and his wife, who was now married to another man.
He remembered surviving America's largest prison population and escaping its most active death chamber - just.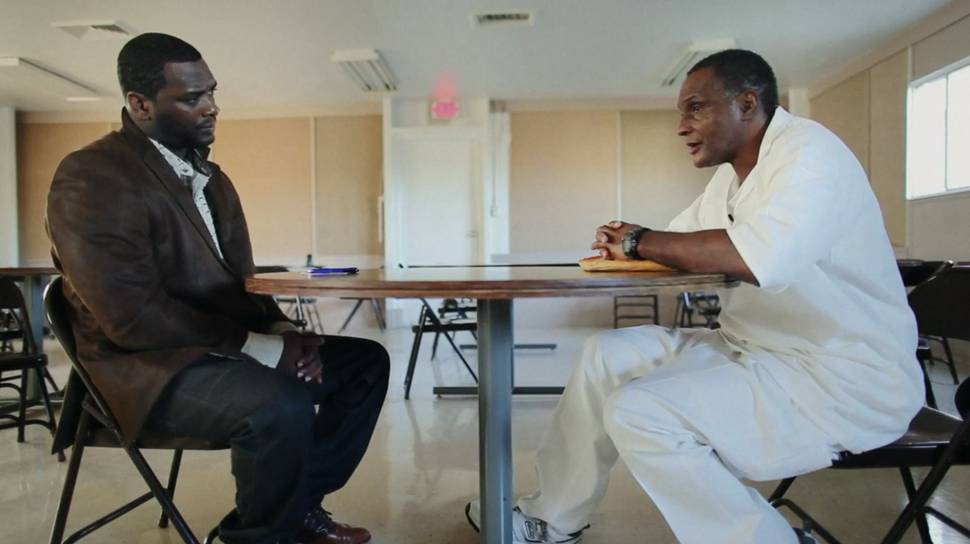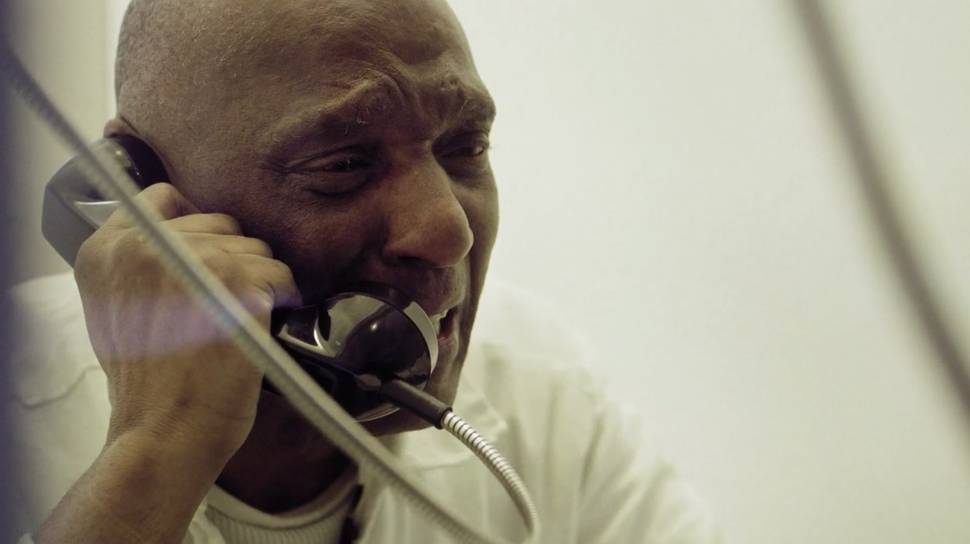 Hardy told him he would never recover. That he wished he had received the life sentence that Scott had, instead of signing a deal that only added five years to his sentence.
Hardy never apologised. He just said, "I understand".
Scott spent 13 years in a Texas prison as an innocent man. His capital murder trial lasted just eight hours. He never confessed.
"It's horrible, it's a horrible feeling being in prison and it's even more horrible being in prison for something you didn't do," Scott told news.com.au.
Backtrack to April 6, 1997, Alonzo Hardy and another man robbed and murdered a crack dealer in a drug deal gone wrong.
They took off with $180. While Scott was being charged for the crime, Hardy and his accomplice - Don Michael Anderson - skipped town.
In a strange series of events, Scott had driven past the scene on the night of the murder. Police followed him home, where they escorted him to the police station, cuffed him to a bench, and brought in the murdered man's widow. She identified Scott as the killer.
At trial, the widow's identification was the only evidence brought against Scott. Despite no DNA evidence, he was sentenced to life in prison, escaping the death penalty.
"They would have given me death row, I might have been dead before I was even exonerated."
His lawyer, who saw him only once prior to trial, told him after the trial: "You have a million in one chance to make it because you have no DNA in your case. There's no way in the world that a guy is going to come back and confess to this crime."
It was the first time Scott had cried.
SOMEONE GOT TOO COCKY
It wasn't until Hardy was in prison, serving a 30-year sentence for a robbery he committed after Aguilar was murdered and Ms Escobedo was assaulted, when he got a little too cocky and began to brag about the crime he'd gotten away with at the prison barber shop.
But in an ironic twist, the barber was Scott's brother. To save his skin in prison, Hardy confessed to the crime and after passing a polygraph test, retrial and two-day jury deliberation, Scott was found not guilty. He was exonerated, along with his co-defendant, Claude Simmons, on October 21, 2009.
"He told my brother about the case and didn't even know he was my brother. My brother was like, 'That sounds kind of familiar, what's the guys name?'
"He told him my name."
Scott received compensation the form of a lump sum of US$886,666, along with a monthly check of US$4915.
Ms Escobedo, who appeared at the wrongful conviction hearing, looked at Scott and cried.
"I didn't know if she felt like I did it," he said.
THIS ISN'T AN ISOLATED INCIDENT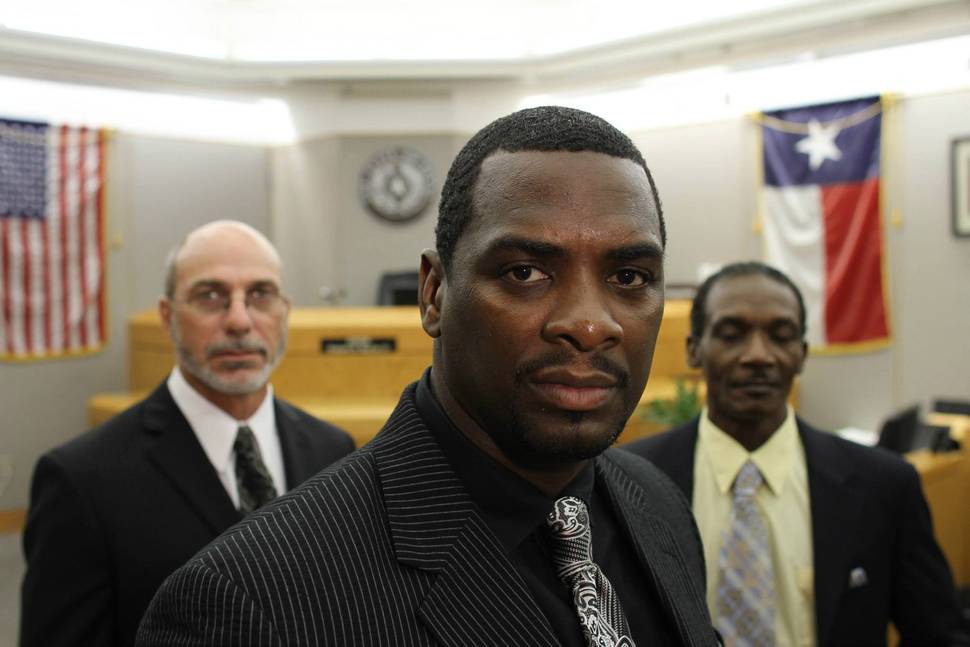 But Scott's story of wrongful conviction echoes hundreds of others coming out of the United States in particular, where shady investigations and corrupt authorities sent innocent men to prison for decades, sometimes life.
But for more than a decade, Scott sat in a confined cell, fighting to survive.
"Being young, going to prison is just about learning the rules and the regulations that goes with being an inmate," Scott told news.com.au.
"First thing you learn is to stay out of other people's business, number one. Number two, don't be a snitch. Number three, be able to protect yourself because you can fall victim to gang members who try to recruit you.
"You want to try to stay away from them as much as you can."
For Scott, the moment came three weeks into prison; he was challenged by an inmate almost double his size. Weighing in at just 59 kilograms, Scott had an uphill battle ahead of him as he fought his almost 100kg opponent.
"I grew up in a rough neighbourhood," Scott told news.com.au.
"We grew up fighting, the best thing to surprise a person is don't let them know what you can do. He got surprised when I hit the hell out of him. From that point on people know you know how to fight and protect yourself, they kind of leave you alone."
Scott quickly learned how to survive prison after the incident.
He got a job in the kitchen, which allowed him to eat the necessary protein he needed to bulk up. He'd put peanut butter in everything - and soon, he was gaining the weight.
But others weren't so lucky.
"When they [inmates] see you can fight, they pretty much leave you alone, but if not you're open to be getting raped, you never know, it all depends on the type of individual who wants to have something to do with you.
"I've seen it happen. I witnessed it, it was something I'll never forget. I never think I'd see it in prison but it happens. Times get hard and guys get desperate, they feel like, they wanna do that to another man and that's exactly what happens.
"You open game, open prey for those guys to come at ya, and when they coming at ya they're not gonna be coming at ya nice, there may be two or three of them, there may be one, but you can't show yourself, you can't show any weakness in prison. They take full advantage of that."
Scott said he was in the shower with more than 100 other men when the incident occurred.
"I was like, 'man, I can't believe they're being this wide open, doing what they're doing', but you gotta mind your own business. If it's not concerning you don't worry about it. You don't want to have nothing to do with it. You don't want people to say you snitched."
Scott said there were two or three guards in the shower at the time, but with "100 men in the shower and 50 more waiting to have one, it's like mad chaos".
So, the weak paid for protection.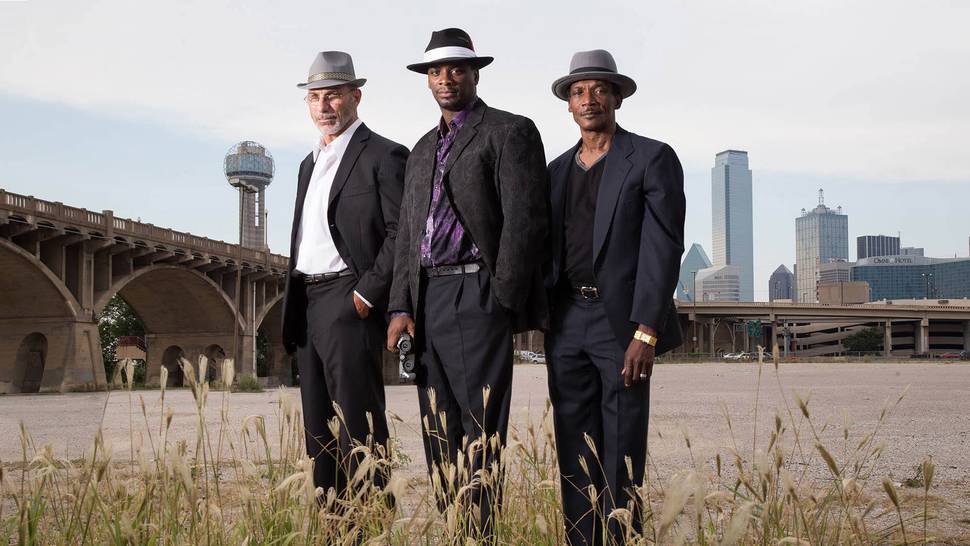 "They probably got with a gang member so they wouldn't be terrorised. Payment included money or food. I was one of the fortunate ones who knew how to protect themselves."
In 2014, The Los Angeles Times reported the state of Texas had paid more than $65 million to 96 exonerees. More than a third of those were in Dallas, the same city Scott spent his time in prison.
But there's a bittersweet, silver lining to this story.
When Scott approached Hardy, he said he was "looking for some kind of closure, that's why I went to see him. But he was too cowardly. I didn't get an apology. I just wanted to let him know how I felt about the situation".
"I had to thank him in a way. Because one time, he took my freedom, but then years later, he gave it back to me, because he confessed and gave me my life back. I was very appreciative when he did that for me."
The twist?
"He had cancer, so he made a confession and did the right thing. As soon as he wrote the affidavit and got me freed, he went into full remission. He's cured of cancer. I think God put it on his heart."
- Christopher Scott runs an amateur detective agency that helps innocent prisoners get out of jail. For more information, visit houseofrenewedhope.org or follow Christopher on Twitter @HRenewedHope