Royal Air Force fighter jets escorted a Pakistani civilian airliner to Stansted Airport near London on Tuesday following a "security threat", police and the British military said.
The air force said two RAF Typhoon jets were launched from an eastern England air base Tuesday afternoon, and that the plane "was intercepted and safely escorted to Stansted Airport," north of the British capital.
Stansted said the plane was a Pakistan International Airlines flight PK757 from Lahore bound for London's Heathrow Airport.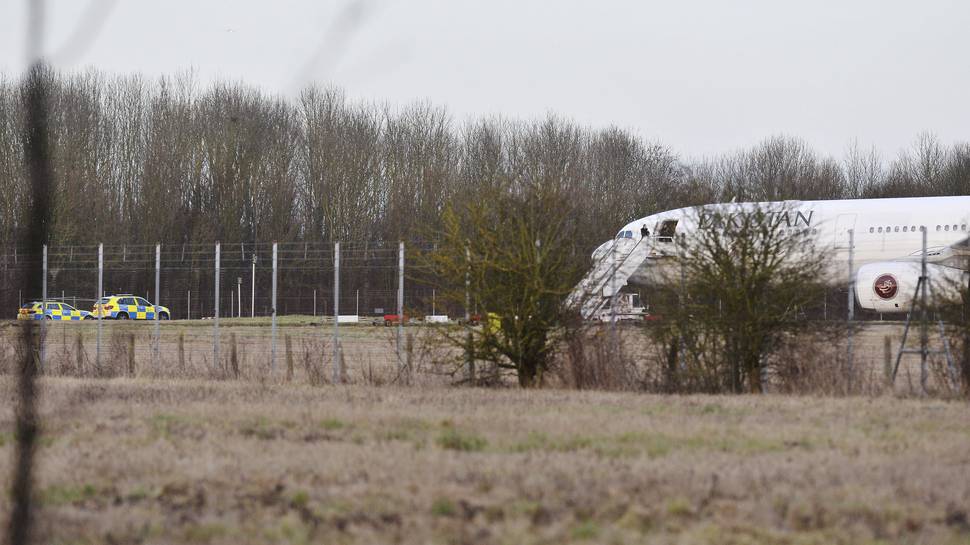 The flight was diverted from Heathrow following an anonymous phone call, the airline confirmed.
A passenger was also detained once the plane landed, police confirmed, in a separate incident over a disturbance. The passenger was due to be arrested upon landing at Heathrow but was instead detained at Stansted.
Essex Police said officers were speaking to people on the plane and the airport remained open.
The Metropolitan Police confirmed there were two separate incidents but would not reveal what offence the passenger was suspected of committing.
A PIA spokesman said: "The authorities received an anonymous phone call and then followed standard operating procedure by diverting the plane.
"Security clearance is underway and the aircraft will be cleared soon afterwards. All passengers on board are safe."
Stansted is the default airport for any security threat. Such incidents are dealt with in a remote part of the airfield to the north-west of the terminal building.
The RAF confirmed that the incident has since been handed over to the police, now the plane has landed.
The airport said the plane was likely to continue its journey to Heathrow once police had finished their inquiries.
An RAF Typhoon jet was scrambled in May 2013 in response to reports of disruption on board a Pakistan International Airlines flight from Pakistan to Manchester.
The Boeing 777 was escorted to Stansted.
Two men were arrested and went on trial accused of threatening to blow up the plane, but were cleared when the judge ruled they had no case to answer.
Typhoon pilots are on standby 24 hours a day to defend UK airspace.
- with AP