US President Donald Trump has lashed out at mainstream polls that showed his controversial travel ban was unpopular.
His Monday morning tweetstorm comes after a US federal appeals court turned down the White House's emergency request to resume Trump's executive order on immigration.
"Any negative polls are fake news, just like the CNN, ABC, NBC polls in the election. Sorry, people want border security and extreme vetting," the Republican tweeted.
He also said that "everyone knows" he calls his own shots.
"I call my own shots, largely based on an accumulation of data, and everyone knows it. Some FAKE NEWS media, in order to marginalize, lies!" he tweeted.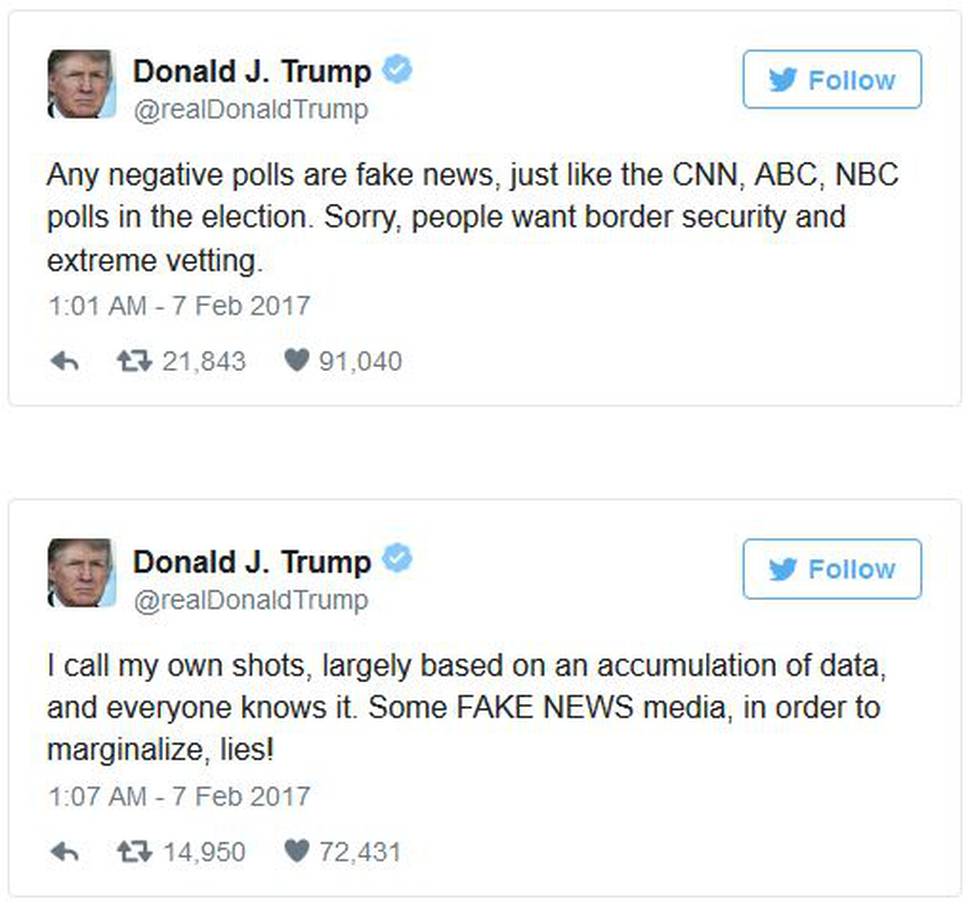 A CNN/ORC poll released on Sunday found that 53 per cent of American respondents opposed Trump's Muslim travel ban.
On January 27, Trump issued a blanket ban on all travellers from Iran, Iraq, Libya, Somalia, Sudan, Syria and Yemen for 90 days.
CNN's Brian Stelter pointed out that Trump tweeted about "fake" polls about 30 minutes after the network revealed the poll results.
It comes as The New York Times released an unflattering portrait of Trump's nights at the White House.
It suggested he spends much of his time watching cable news and wasn't fully briefed before signing an executive order elevating Stephen Bannon to the National Security Council.
The comedian has brilliantly lampooned President Trump's embattled press secretary on Saturday Night Live
A trio of Republican senators reacted sharply today to US President Donald Trump's latest apparent defence of Russian President Vladimir Putin, rejecting Trump's suggestion in an interview that America cannot claim moral superiority to Putin's Russia. Trump's remarks came in an interview with Fox News Channel's Bill O'Reilly that was previewed yesterday and is set to be broadcast in full today before the Super Bowl.
Trump, when commenting on the allegations against Putin in the same interview, questioned how "innocent" the United States itself was, saying it had made a lot of its own mistakes. That irritated some Congressional Republicans who said there was no comparison between how Russian and US politicians behaved.
Putin, in his 17th year of dominating the Russian political landscape, is accused by some Kremlin critics of ordering the killing of opponents. Putin and the Kremlin have repeatedly rejected those allegations as politically-motivated and false.
TRUMP 'BLAMES OBAMA PEOPLE FOR LEAK'
President Trump has blamed "Obama people" for the embarrassing leaks of contentious private phone calls he's had with the leaders of Australia and Mexico.
"It's a disgrace that they leaked because it's very much against our country," Trump told Fox News, blaming civil servants loyal to the former president for the leaks. "It's a very dangerous thing for this country."
Trump vowed to replace the White House and National Security Council staff that were holdovers from the Obama administration with his own people.
He disputed the characterisations of the phone calls, insisting in the interview that his conversations with Mexico and Australian Prime Minister Malcolm Turnbull were "positive."