Philippine President Rodrigo Duterte took time out from his mission to slaughter drug-dealers to pose with Miss Universe contestants.
Addressing the pageant contestants he gushed how he had never been in a "roomful of beautiful women", adding "I hope this day will never end".
Eighty-six women will vie for the Miss Universe crown on January 30 in Manila, the capital of the Philippines.
The president, known for his expletive-laden speeches, said he read prepared remarks "because they told me that I must behave in my language, in the adjectives that I would be using to characterise or define your beauty, all of you".
The controversial 71-year-old has been criticised for a number of derogatory comments about women, including in November when he joked about looking at his Vice President Leni Robredo's skirt and knees in a Cabinet meeting.
During the presidential campaign last year, he also made a tasteless rape joke about an Australian murder victim.
His speech also departed from routine by not mentioning his deadly crackdown on illegal drugs.
Police figures show more than 7000 people have been killed during Duterte's bloody campaign.
Duterte instead heaped praise on the Miss Universe contestants and later smiled as they had several pictures taken with him.
Speaking at the Malacanang presidential palace, he said: "I must say that God is really good. Aside from the worries of governance, with all the troubles in the world, when we look at you, we forget the universe but only you."
He thanked Miss Universe officials for allowing the Philippines to host the international pageant, which he said had brought enormous pride and joy for countries of winning candidates, including the Philippines, which has produced three winners.
He said: "More than presenting beauty and brains, the Miss Universe competition or any beauty contestant for that matter is an opportunity for you to represent your country, to promote your advocacies, and to advance women empowerment to a greater audience."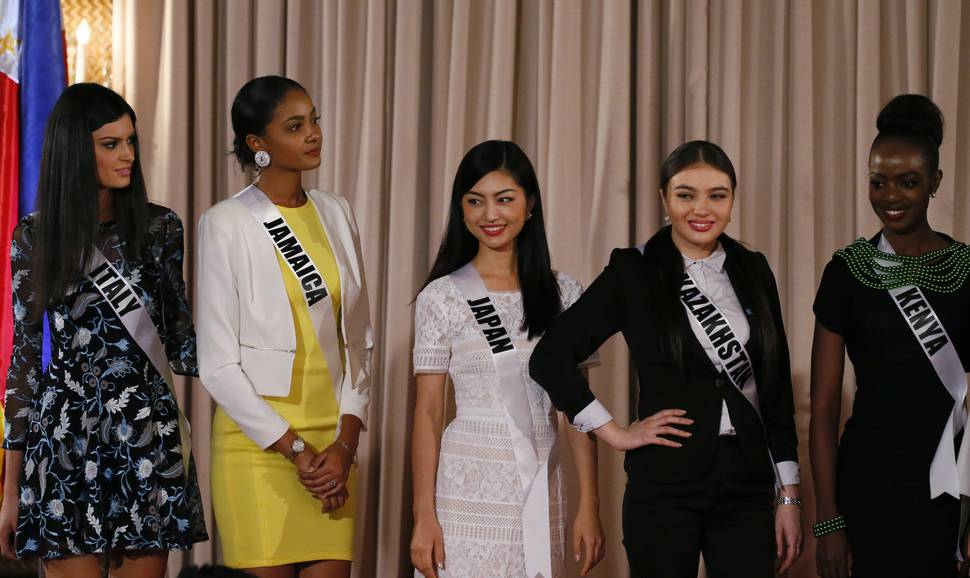 However activists said the pageant couldn't be used to gloss over exploitation of women.
Emmi De Jesus, of the Gabriela party-list group, said: "Despite the pomp and supposed celebration of women power surrounding the 65th Miss Universe pageant, women here and abroad remain in their unglamorous and exploited state.
"In the Philippines, 22 women and children are raped every day. Women workers remain concentrated in low-paying, contractual jobs.
"And mothers face rising budget pressure amid looming price hikes in basic commodities, power and water."
Duterte won presidential elections in May after pledging to slaughter tens of thousands of drug suspects.
Since assuming office, he has called on police and even civilians to kill drug users.
Duterte also said he would be "happy to slaughter'' three million drug addicts, and likened his campaign to Nazi leader Adolf Hitler's efforts to exterminate Jews in Europe.
He later apologised for his Hitler reference, but said he was ''emphatic'' about wanting to kill drug users.
Last month he boasted about shooting dead three criminal suspects while he was mayor of Davao and he has also threatened to throw corrupt officials from helicopters mid-air, claiming he had done it before.