Donald Trump has been mercilessly mocked for claiming his inauguration was seen by a record number of people - but there's a chance his claim could be true.
"I made a speech. I looked out, the field was, it looked like a million, million and a half people," he told CIA staff over the weekend.
White House press secretary Sean Spicer backed up the new president, while also accusing the media of deliberately downplaying the turnout.
"This was the largest audience to ever witness an inauguration, period!" said Mr Spicer.
A side-by-side comparison of photos from his swearing-in and that of Barack Obama eight years ago showed the crowd this weekend was far thinner, but Mr Spicer insisted it was just white floor coverings that made the crowd appear sparse.
He said Mr Trump's inauguration was "unquestionably" the most viewed in history when the number of people who viewed the inauguration online was factored in.
Counsellor to the President Kellyanne Conway then also became a figure of fun when she explained the new administration felt "compelled to go out and clear the air and put alternative facts out there".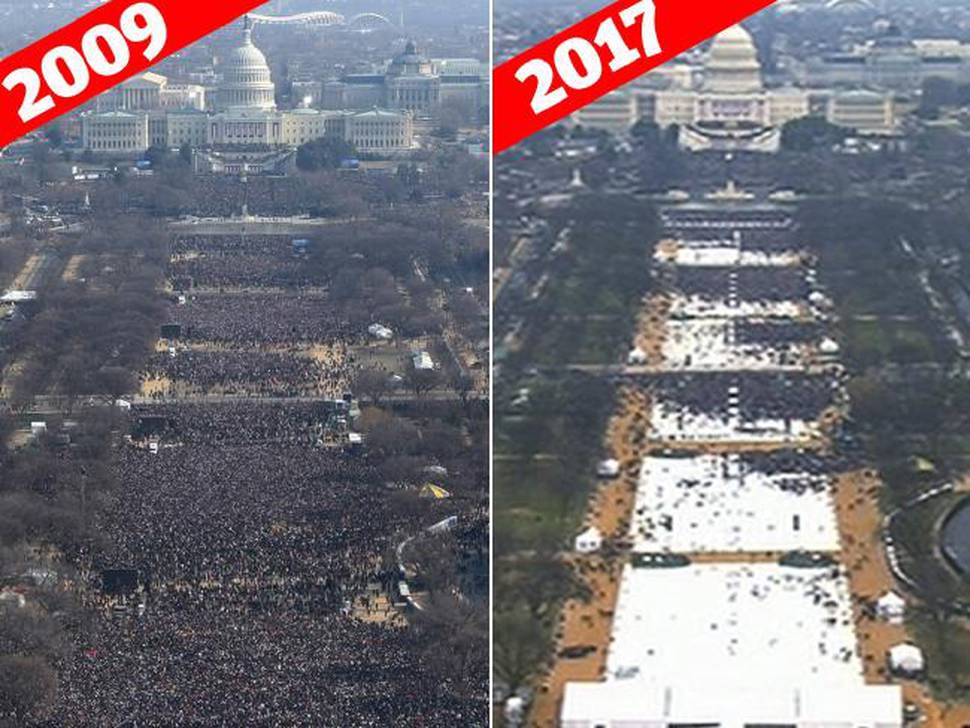 BUT THERE IS AN 'ALTERNATIVE' STORY
We can't overlook the massive growth of viewers on digital platforms.
Mr Spicer said that if you added CNN's 17 million online streams of the inauguration to Nielsen's 31 million on 12 TV networks, Mr Trump's inauguration was the most viewed in history.
It isn't actually an accurate comparison to count 17 million online streams from CNN. Nielsen only counts average viewers per minute from 10am to 6pm. According to numbers provided to Variety by CNN, from 11am to 2pm the network's digital platforms averaged just 1.54 million concurrent streams.
However, Twitter has revealed that its live stream coverage of inauguration day presented by PBS NewsHour, reached 6.8 million unique viewers.
A view on Twitter is only three seconds and the social network declined to provide that key average viewers per minute figure, so 6.8 million (which would give Mr Trump an Obama-beating 39.3 million viewship) is probably an overestimate.
But there were other live streams too, shown on news outlets' websites and social networking sites like Facebook.
The inauguration broke live streaming records, TechCrunch reported.
One of the world's largest content delivery networks, Akamai, said it was the biggest single live news event it has ever hosted, following an analysis of its live video data. Akamai's customers include more than 15 of the world's largest broadcasters.
While the impressive numbers are more to do with the easy access to live video online than Mr Trump's popularity, we need more measured analysis when it comes to the new president - his record viewer claim certainly isn't the most ridiculous thing he's ever said.
White House Spokesman Sean Spicer doubled down on his claim that President Trump's inauguration was the most watched in history. He also said his intention is to "always tell the truth," but said there may be disagreement over the facts.