Apparently, it was the floor coverings.
Donald Trump and his chief spokesman launched an unprecedented assault on the media today on the US president's first full day in office, accusing reporters of downplaying the turnout at his inauguration.
In the process, they failed to acknowledge post-inauguration protests which drew millions around the world.
Trump, visiting the Central Intelligence Agency headquarters in nearby Langley, Virginia, insisted against all evidence that he drew 1.5 million people to his Friday swearing-in ceremony.
"I made a speech. I looked out, the field was, it looked like a million, million and a half people," he told CIA staff.
"They showed a field where there were practically nobody standing there. And they said, Donald Trump did not draw well," he added.
Trump said one network estimated turnout at 250,000.
"Now, that's not bad. But it's a lie," Trump said. He falsely claimed there were people stretching from the steps of the Capitol, where he spoke, along 20 blocks back to the Washington Monument.
"So we caught them and we caught them in a beauty and I think they're going to pay a big price," said Trump.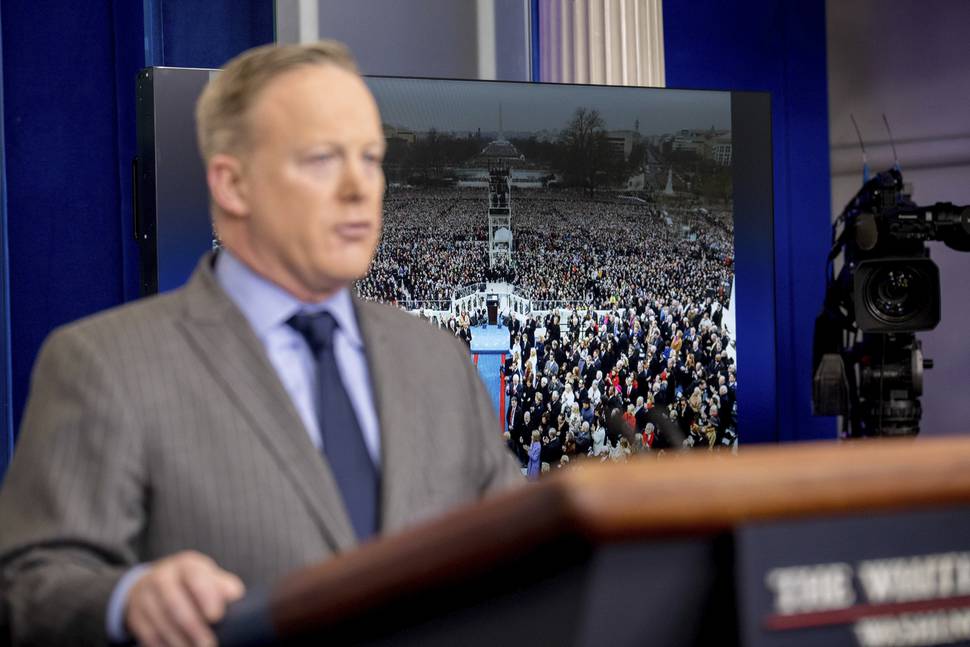 "IT WAS PACKED": TRUMP
Trump's latest attack on news organisations came during a rambling aside as he visited CIA headquarters on a fence-mending mission after his public rejection of the assessment by US intelligence agencies that Russia meddled to try to help him win the November election.
Trump proclaimed he was fully behind the spy agency, saying "I am so behind you".
But his speech at the CIA's Virginia headquarters, which moved to reignite this war with the media over reporting of the size of the crowd at his inauguration, left a former boss of the intelligence agency fuming.
"Former CIA Director Brennan is deeply saddened and angered at Donald Trump's despicable display of self-aggrandisement in front of CIA's Memorial Wall of Agency heroes," former CIA director John Brennan's former deputy chief of staff Nick Shapiro said in a statement.
"Brennan says that Trump should be ashamed of himself."
Predictably, Twitter lit up after President Trump's and Spicer's attacks.
Actor and outspoken Trump critic Olivia Wilde led the charge, tweeting: "Trump's attempt to spin his pathetic inaugural turnout numbers is some straight up Kim Jong Un sh#t".
Australian comedian Wil Anderson observed: "The President also has the biggest hands of any President ever. Period."
Veteran British journalist Richard Hall was scathing with a series of tweets.
"Donald Trump's @PressSec is using his first White House briefing to literally shout at the press. This is some Gaddafi-level stuff," Hall began.
"This is an angry, disjointed rant. He left without taking questions," he continued.
"This administration will be in bunker mode every day for as long as it lasts," he concluded.
For others, the irony of the pair disputing inauguration crowd figures but not commenting on millions protesting at Women's Marches worldwide was not lost: "I just love that #trump chose to focus press attention on #crowdestimate numbers when the worlds streets are literally full of #women's march", posted one user.
The main "Women's March on Washington," protest drew an estimated half million people and is also thought to have exceeded the inauguration's turnout.