Former President Barack Obama thanked his staff and supporters as he left office following the inauguration of Donald Trump.
"This has been the privilege of my life, and I know I speak for Michelle as well," Obama said with former first lady Michelle Obama at his side on the tarmac at Joint Base Andrews, just outside Washington, DC.
"We look forward to continuing this journey with all of you - and I can't wait to see what you do next, and I promise you I'll be right there with you."
He said he continued to have "abiding faith in the American people".
"We have been the face and the voice out front on the TV screen or on the microphone. But this has never been about us. It's been about you," he told supporters, praising them for proving "the power of hope".
Now headed to Palm Springs, California, for a vacation, the Obamas plan to continue living in Washington while their younger daughter completes secondary school.
"This is just a little pit stop. This is a - this is not a period, this is a comma in the continuing story of building America," Obama said, before concluding: "Yes we did. Yes we can."
Earlier, the Obamas hosted the Trumps at a traditional morning tea before they accompanied them to the Capitol building for the swearing in at 6am NZT.
Before the Trumps' arrival, Obama took a final stroll from the Oval Office through the Rose Garden as a sitting president.
He told reporters he was feeling nostalgic on his final day as president. Obama also left a letter for his successor in the Oval Office before departing the White House - as is the tradition from one president to the next.
However, the White House provided no details about what Obama conveyed to Trump in the note.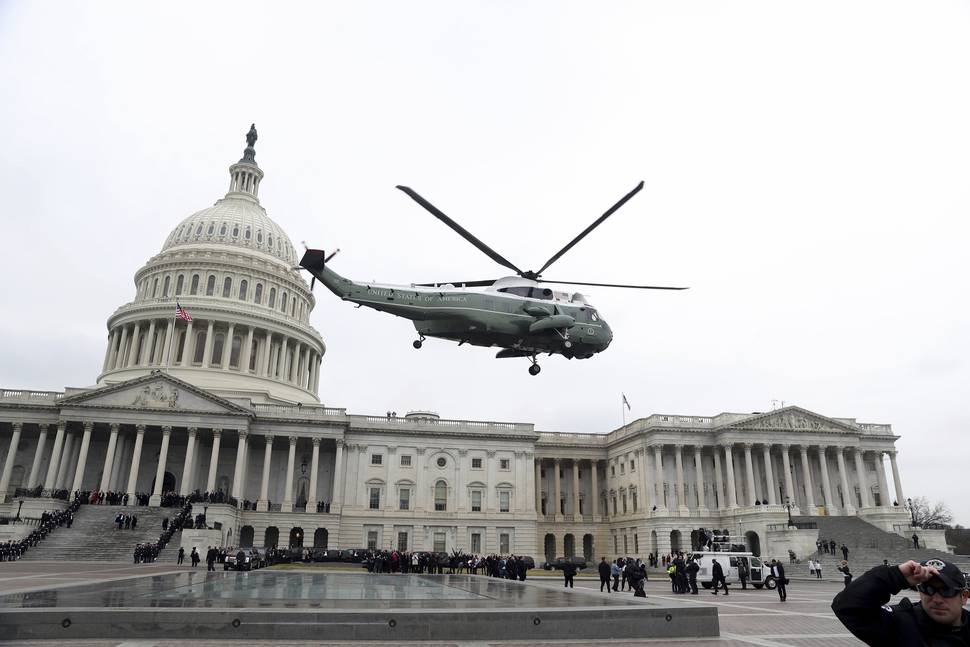 The Obamas are asking the public to help them develop projects for his new presidential centre on Chicago's South Side.
The Obamas are starting up a foundation website - Obama.org.
The White House said members of the residence staff had presented the Obamas with two American flags that were flown atop the building. One of the flags was flown on the first day of Obama's presidency. The other was flown on his final morning as president.
Obama also bid farewell from the official presidential Twitter account, which now belongs to Trump. "It's been the honor of my life to serve you." He told followers he was "still asking you to believe - not in my ability to bring about change, but in yours".
- AAP