'We are stronger than this evil criminal act." That was the message delivered to shocked Victorians after an inner-city rampage that left four people dead in Melbourne yesterday.
Witnesses described frantic screaming and horrific injuries as four people - including a 10-year-old - were killed and more than 20 others injured after they were deliberately run down in a busy inner-city mall.
Last night six people were fighting for their lives, including a 3-month-old baby who was taken to hospital in a police car with injuries too severe to wait for an ambulance to arrive.
There were chaotic scenes at the city's four hospitals as emergency services were stretched to breaking point and Melbourne put in lockdown.
The injured ranged in age from the infant to a man in his forties. They include three children aged two, nine and 13 years old.
As the horror of what unfolded during a bustling Friday lunchtime set in, there were also tales emerging of everyday heroes who raced to help the injured.
At an emotional press conference last night, Victorian premier Daniel Andrews said Melbourne would pull through together.
"Our hearts are breaking this afternoon that a number of people have died," he said. "Others remain in a critical condition -- very, very seriously ill, gravely ill -- in hospitals around our city.
"But we are stronger than this. Through our response, through the work of our emergency services [and] the instinctive way in which Victorians have reached out to support each other, we can be confident that we are stronger than this evil criminal act.
"Any support that is needed will be provided, any resources that are needed will be provided as we come to terms with this act."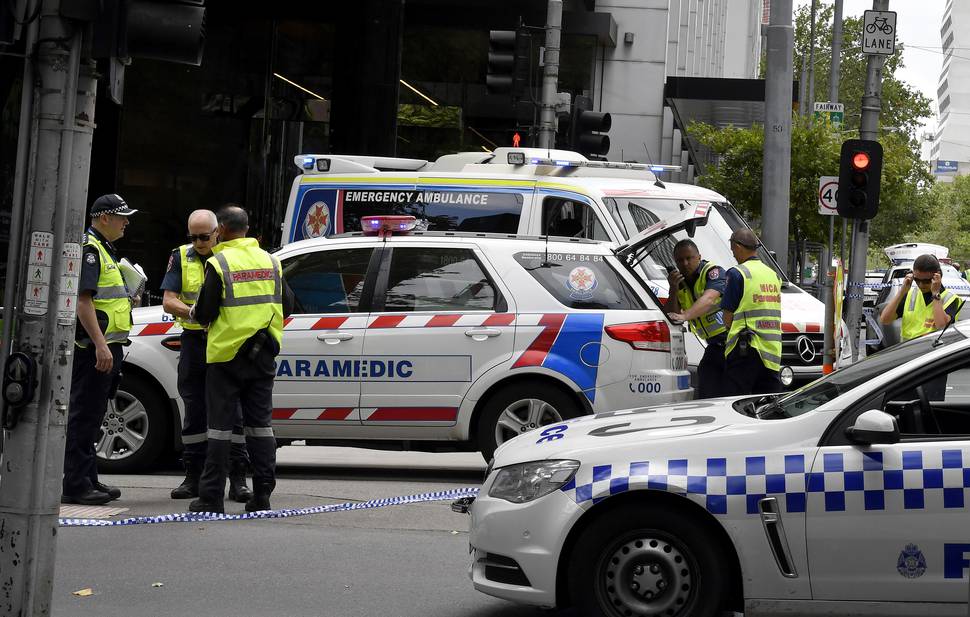 The carnage began when the car - driven by a 26-year-old-man, who had been involved in a stabbing with his brother and the kidnapping of a woman in the Melbourne suburb of Windsor earlier in the day - drove round in circles in the city centre. Many watched on, some filming, as others tried to dart across the road. Two men attempted to stop the vehicle by hitting it with batons.
When police arrived, the driver veered away and moments later ploughed through the crowd in Bourke St mall about 1.30pm (3.30pm NZT). Police were at pains yesterday to point out the attack was not terror-related.
Bodies were tossed around like skittles, said witnesses. The dead included a 10-year-old and a man and woman, both in their 30s.
Witnesses say a pram was hit by the dark red Holden Commodore and dragged at least 100 metres. An infant was thrown from the pram.
The baby's frantic mother was heard screaming: "Where's my baby? Where's my baby?"
The driver - named last night as James 'Jimmy' Gargasoulas, who was charged in relation to a family violence assault last weekend - was shot in the arm by police and suffered non-life-threatening injuries.
He was pulled from his car by police and seen shirtless and lying only in his underwear, surrounded by officers. Last night he remained under police guard in a ward - sharing a hospital with some of his victims.
A witness, Chris, told Sky News there was a "hell of a lot of blood".
"I feel pretty moved and quite sick. It's a horrible thing to have had happened. I was standing by the pram for a while and when police got here they screamed for everybody to get back and move."
Another witness, Sian Bayliss, spoke of seeing a young boy, aged about 9, with a bad abrasion to his head.
"There was just constant, high-pitched, panicked screaming, the terror in his eyes -- he just looked straight at me while I was talking to his father and just ... screaming. Out of control."
Others had terrible injuries.
"You know, there was one lady who looked like she had had a fairly serious spinal injury. They were just holding her very, very still, and it felt like a long time."
Anna Hellberg of Finland saw the aftermath of the carnage.
"There was all this noise and then we saw a dark red car coming towards us. It was really mashed up at the front as though it had hit a lot of things.
"We were right next to it when police were shooting at it. We could see the guy driving. He had a cigarette hanging out of his mouth." She also saw a man lying on the footpath with blood coming from his head.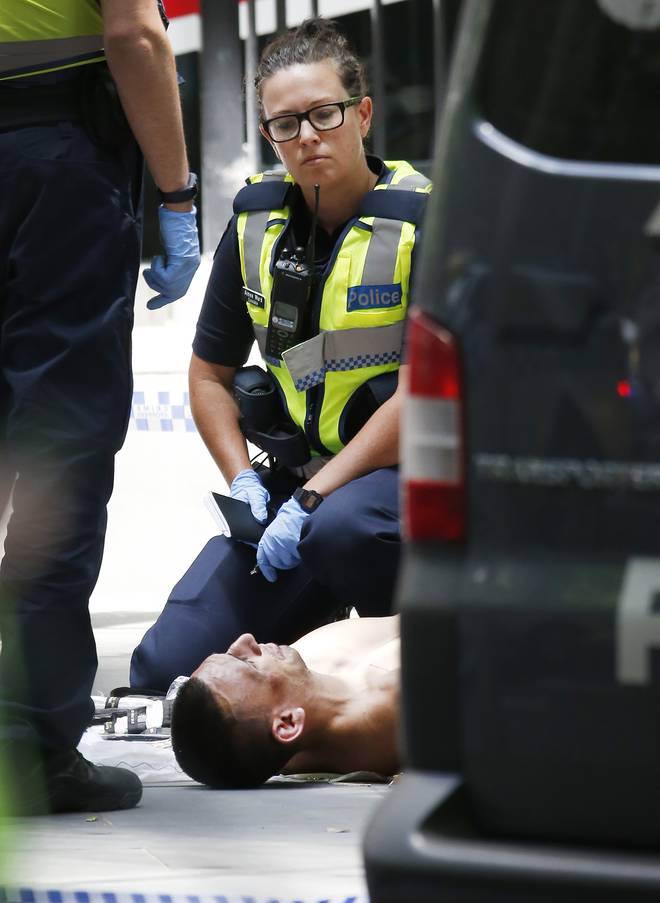 A Kiwi living in Melbourne, Erik Liang, saw the car careening down the road with police cars following.
"Everyone was just crying; it was a really sombre tone." Before the carnage, the driver took a woman hostage who police believe is not connected to him.
She escaped from the car before he began his deadly rampage.
Homicide detectives and other police officers were expected to stay at the scene late into the night.
Melbourne is currently the focus of the sporting world, with the globe's best tennis players in town - along with thousands of fans - for the Australian Open. Victoria Police said the Open was running as normal.
Prime Minister Malcolm Turnbull offered his condolences. "Our prayers and deepest sympathy are with the victims and their families, of this vicious criminal attack in Bourke St, Melbourne today," he said on Twitter.