WARNING: GRAPHIC IMAGES
An Israeli satirist in Germany has launched a website to publicly shame visitors to Berlin's Holocaust memorial who post light-hearted photos online.
Artist and activist Shahak Shapira, 28, has called his page Yolocaust, combining the words Holocaust and the hashtag shorthand for "you only live once" to highlight the inappropriateness of some people's posed pictures.
The tasteless snaps from the site to remember six million slaughtered Jews are being posted on Facebook, Instagram and Twitter and are even appearing on dating apps such as Tinder and Grindr.
People are dancing, juggling and even doing yoga at the sprawling maze-like memorial with sick captions including "jumping on dead Jews".
The website superimposes the pictures onto authentic historical images of concentration camp victims, to give an idea of the context of their brash poses.
Shapira says the provocative project is intended as a wake-up call for social media enthusiasts who may be unaware that they are on what many see as sacred ground.
It is also timed to mark International Holocaust Remembrance Day on January 27.
Answering a list of "frequently asked questions", Shapira addresses issues such as what kind of behaviour is 'allowed' at the Berlin site, whose full title is the Memorial to the Murdered Jews of Europe and which he says draws an average 10,000 visitors per day.
"No historical event compares to the Holocaust" he writes.
"It's up to you how to behave at a memorial site that marks the death of six million people."
A photo altered by Shapira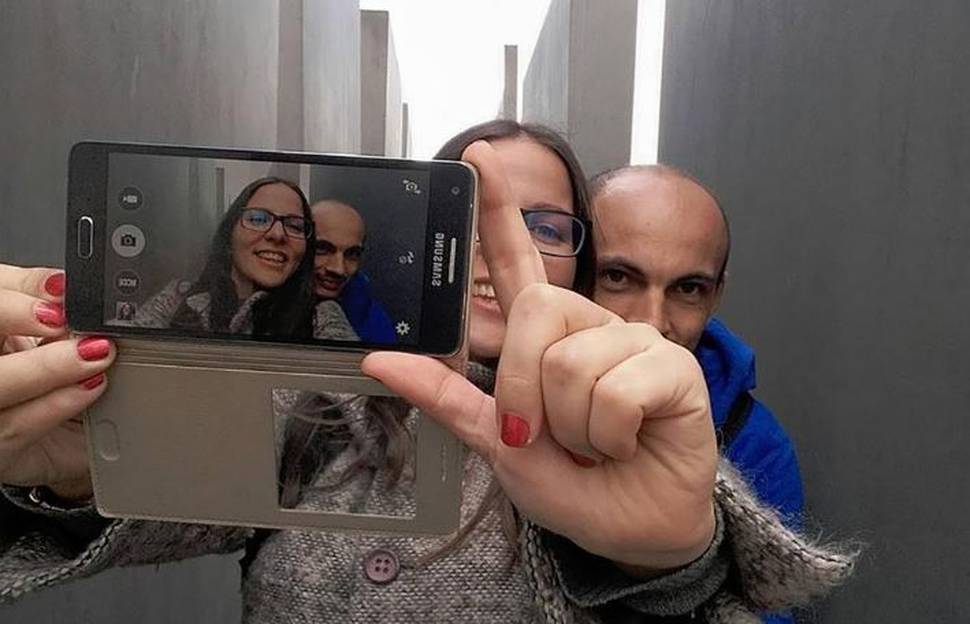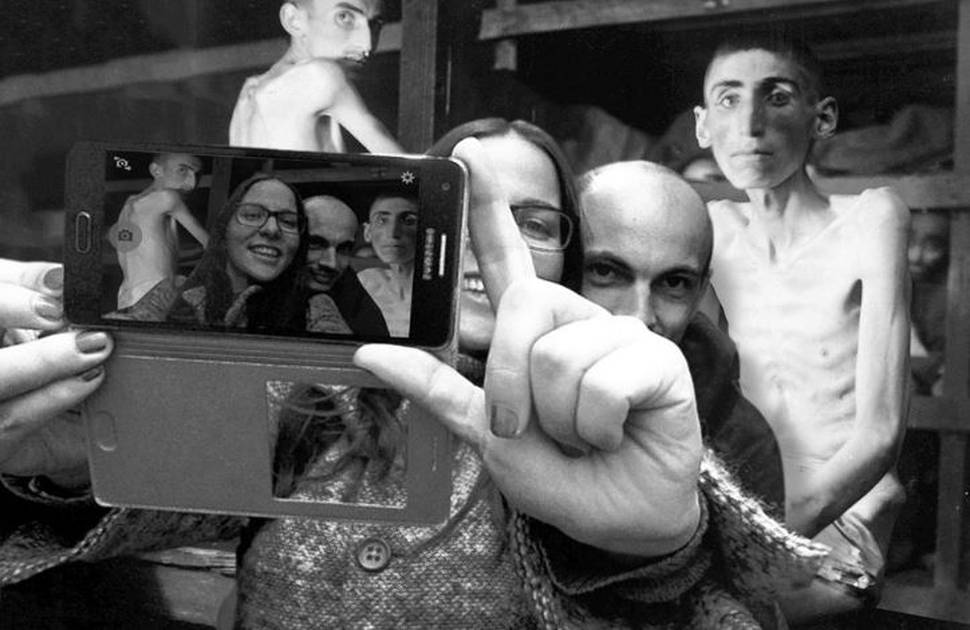 Reaction on social media to the website has been largely positive, and it crashed during its first hours online as it drew half a million clicks, according to his representatives.
However a few critics on Facebook noted that the memorial's American architect Peter Eisenman has said that he wanted visitors to treat it not as a cemetery but as a public space for people to engage.
The monument, which opened in 2005, includes more than 2700 grey concrete blocks spread over an area equivalent to three football fields, as well as a subterranean museum dedicated to the testimony of Holocaust victims and survivors.
Sunbathers and children playing hide-and-seek are not uncommon sights at the memorial, which is one of Berlin's top tourist draws.
The German website of Vice magazine noticed the selfie trend there as early as 2013 and a series of glib photos taken at the Auschwitz memorial site in today's Poland have repeatedly caused outrage.
Shapira could not immediately be reached for comment but his publisher, Rowohlt, said that one of his grandfathers had 'narrowly survived the Holocaust' while the other was murdered during the attack by Palestinian militants at the Munich Olympics in 1972.
He moved to Germany from Israel at the age of 14 and made headlines in 2015 when he was beaten up for filming a group of Arab youths chanting anti-Semitic slurs on the Berlin underground.
Shapira spoke out about the hate crime and subsequently met with Foreign Minister Frank-Walter Steinmeier and wrote a book about life as a Jew in today's Germany.
He said that he was dedicating his new website to the right-wing populist politician Bjoern Hoecke of the Alternative for Germany (AfD) party, who sparked an outcry Tuesday by attacking the Holocaust memorial as "a monument of shame in the heart of the capital".
"Of course Bjoern Hoecke sees nothing to like about a memorial that was built as a warning to Germany about people like him," Shapira told ZDF public television.