Five people are dead and at least eight people injured after a shooting at the Fort Lauderdale-Hollywood Airport in Florida.
Gunman Esteban Santiago - an Iraq war veteran - was taken into custody after he opened fire in the lower level baggage claim area in Terminal 2 on Friday about 1pm local time.
Santiago flew into the airport from Anchorage, Alaska (with a stopover in Minneapolis, St. Paul) on Delta flight 2182 - a firearm was his only piece of checked luggage, the Daily Mail reports.
Read more:
Airport shooter was discharged from army
Airport shooting: Kiwi passenger 'paralysed with fear'
NZ pilot in Fort Lauderdale: Airport security the 'biggest problem'
The 26-year-old, who was dressed in a Star Wars T-shirt, claimed his bag, went to the bathroom to load his handgun and then started shooting people dead.
Santiago had a history of mental problems, according to NBC News.
Sources have told CBS News that Santiago walked into an FBI office in Anchorage in November last year claiming he was being forced to fight for Isis. After that incident, Santiago started getting treatment for his mental health issues.
He was also contacted by the FBI after an employer back in Alaska raised concerns about certain things he had said, according to ABC News.
Santiago served from 2007 to 2016 in the Puerto Rico National Guard and Alaska National Guard including a deployment to Iraq from 2010 to 2011.
A private first class and combat engineer, he received half a dozen medals before receiving a general discharge for unsatisfactory performance in August last year.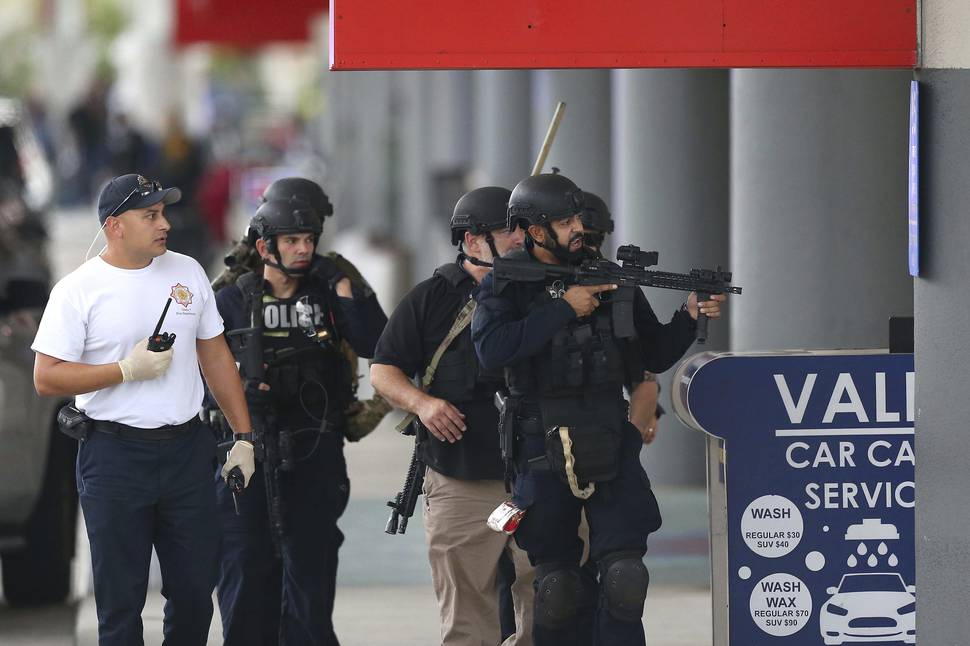 His aunt Maria Ruiz told NorthJersey.com that Santiago had returned from Iraq acting strangely but had seemed happy after the birth of his child in September last year.
But she said something happened to him about a month ago and he was hospitalised for two weeks. She did not have details of his condition.
"Like a month ago, it was like he lost his mind. He said he saw things," she said.
Santiago's brother Bryan Santiago said he could have suffered a "flashback" from his time in Iraq, despite never being diagnosed with PTSD, NBC reports.

The motive for the shooting is still not known, but Florida Senator Marco Rubio told CNN that Santiago may have got into an altercation on his flight earlier that morning.
"I know that was mentioned as a potential cause and they wanted to kind of look into that a little further and get to that point," Rubio said.
Santiago's brother said he had been fighting with people back in Alaska, including his girlfriend who he was having relationship issues with.
He said Santiago, who "was pro-America", had not spoken to his family for several weeks, which was unusual.
The gunman was born in New Jersey but moved to Puerto Rico where his mother and brother still live. He came back to Puerto Rico after serving in Iraq, before moving to Alaska.
He lived there from 2014 to 2016 and his girlfriend and child are still there. His most recent address was in Naples, Florida.
Other details about the shooter are now being released.
Court records in that state show he had a minor criminal record for traffic violations. He was also evicted by his landlord for failing to pay rent in February 2015.
Santiago was charged with fourth-degree assault and damage of property in January 2016, stemming from a domestic violence incident.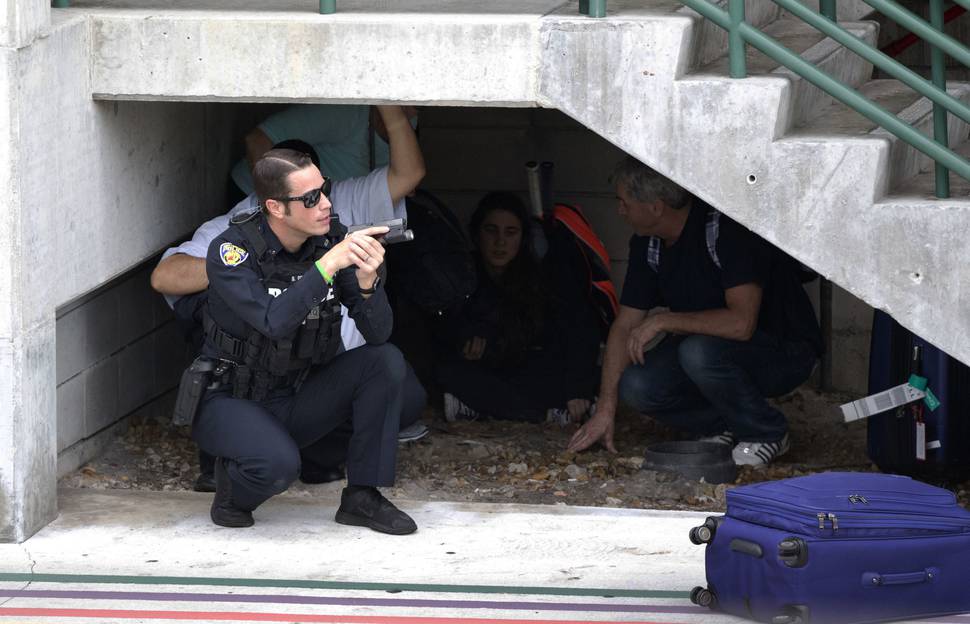 In March, Santiago settled the charges by agreeing to complete unknown requirements demanded by prosecutors in exchange for dismissing the case.
About 90 minutes after the shooting, chaos broke out again when police officers were seen rushing into the parking garage with their guns drawn while bystanders sought shelter behind vehicles.
But the Broward County Sheriff said the only shooting that happened was in Terminal 2 and that he believes only one gunman was involved.
A witness told NBC Miami that the shooter was silent and didn't appear to be targeting anyone in particular - "popping off bullets at random".
John Schlicher, who told MSNBC he saw the attack, described the shooter as a "slender man" who was "directly firing at us" while passengers waited for their bags to come off the carousel.
In another interview with Fox News, Schlicher said that the shooter was aiming at people's heads.
"All the people seemed to be shot in the head," Schlicher said. "He was shooting people who were down on the ground too."
The shooter reloaded once for a second burst of shooting, Schlicher said, but he could not say how many bullets were fired.
Mark Lea, a 53-year-old financial adviser from Minneapolis, says he was in baggage claim when the shooting started.
"I was dodging bullets and trying to help people get out of the way," Lea said.
"At first we thought it was firecrackers," he said. "Everyone started screaming and running. The shooter made his way down through baggage claim. He had what looked like a 9mm and emptied his entire clip. People were trying to run."
Ari Fleischer, a former White House spokesman who was at the scene, tweeted: "I'm at the Ft. Lauderdale Airport. Shots have been fired. Everyone is running."
Cellphone video footage broadcast by local Fox television affiliate Channel 7 showed one person lying bloodied on the floor, and several others on their knees.
A passenger named as Peter Cruise said he believed that travellers on his plane were among the victims.
He said he and his family "were walking up the ramp and just passed the checking gate when all a sudden everybody started running."
"I grabbed the kids and took off running down the ramp. Told the flight attendant to let us off the tarmac, we ran to hide behind some luggage carts."
Video from the airport showed hundreds of passengers corralled together on the tarmac with emergency vehicles parked outside the terminal with lights flashing.
Governor Rick Scott rushed to the airport to be briefed on the shooting, as dozens of police and emergency vehicles converged on the scene.
President-elect Donald Trump said he had spoken with Scott, and was "monitoring the terrible situation in Florida."
"Thoughts and prayers for all. Stay safe!" he tweeted.
President Barack Obama has also been briefed on the developing situation.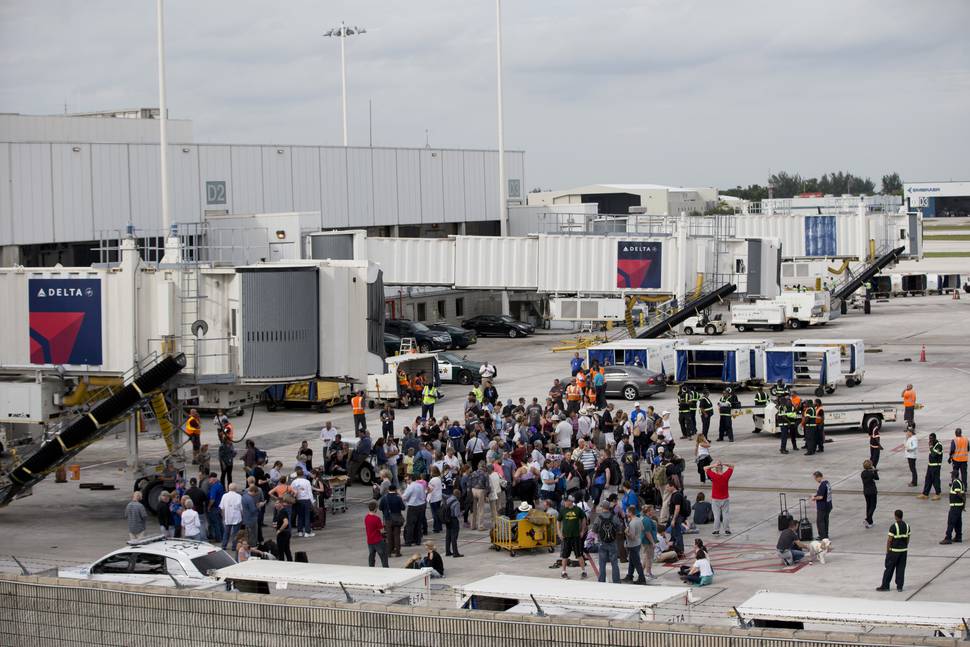 Jesse Davis, chief of police at Ted Stevens Anchorage International Airport, said Santiago didn't call attention to himself and "as far as we can tell" travelled alone from Alaska to Florida.
He said that a firearm was his only piece of checked luggage.
Authorities are trying to track Santiago's movements through Alaska's largest commercial airport using video footage.
Davis noted that it's not usual for travellers at the Alaska airport to check firearms because many people hunt.


Timeline of the shooting
Local time
12:57pm
- Reports of the shooting emerged. Former White House Press Secretary Ari Fleischer said: 'everyone is running'
1:16pm - Fort Lauderdale-Hollywood International Airport released a statement confirming there was an 'ongoing incident' at the baggage claim in Terminal 2
1:37pm - Pictures and videos emerged of passengers being evacuated out onto the tarmac
1:50pm - Officials said all services at the airport had been temporarily suspended
2:33pm - TSA issued a second warning. 'Update: Active shooter. Shelter in place.' There were reports of an incident in Terminal 1, where a pilot said they smelled gun powder
2:37pm - Broward County Commissioner Chip LaMarca said the shooter had landed at the airport on an international flight and collected the gun - which he had checked into his luggage. He then, according to LaMarca, walked into the bathroom, loaded his weapon, then walked back out into the baggage claim and opened fire.
3:33pm - Broward Sheriff Scott Israel said only one person had been arrested in the shooting.
How can you carry a gun in luggage?
It is legal in the US for unloaded firearms to be transported, according to rules set out by the Transportation Security Administration.
Unloaded firearms must be locked in a hard-sided container in checked baggage only.
The firearm and ammunition must be declared to the airline at the baggage counter.
Locked cases that can be easily opened are not permitted.
Source: Transportation Security Administration