Glamorous and accomplished, it is hoped Melania Trump can shine a positive light on Donald Trump.
She is effusively praised by her husband as an excellent mother to their 10-year-old son, Barron, and portrayed as an elegant businesswoman destined to be the perfect first lady.
But the Slovenian model, 46, is known to be happier on the sidelines. She shies from the spotlight, preferring to remain behind the scenes - especially since her previous foray into politics, introducing her husband at the Republican National Convention, was ridiculed when it turned out her speech was plagiarised from Michelle Obama.
When her brash husband recently announced in a joint interview on Good Morning America that she would do "two or three speeches" before the election, she appeared to gasp, before recovering her composure, saying her priority was her son, but of course she would do whatever was necessary to help him.
Reluctant to be in the spotlight - but devoted to her husband. What does this tell us about how she will view her role as First Lady?
She would certainly break the mold, being the first third wife to occupy the White House, the first non-native speaker of English, and the first fluent in five languages - Slovenian, German, French, Serbian and English.
Contrary to popular belief she would not be the first foreign born - that was Louisa Adams, the English wife of sixth president John Quincy, who served from 1825 to 1829.
Nor would she be the first model - Betty Ford and Pat Nixon worked as models. Nixon used those skills to become the first First Lady to appear publicly in trousers, and model them for a national magazine.
Melania Trump would, however, certainly be the first First Lady to have posed naked - the now famous 2000 GQ photo shoot has been widely reproduced, showing the then-girlfriend of Donald Trump reclining naked on a fur blanket inside his private jet, and posing in a bra and thong with a gun.
"We have incredible sex at least once a day," she told "shock jock" Howard Stern that year. "Sometimes even more."
Donald Trump boasted about how "hot" she looked in "a very small thong".
Yet despite having a past that would make Barbara Bush blush, Melania Trump vows to be a traditional First Lady.
"She'd be great at picking out the china patterns; she'd be a classic First Lady," said stylist Phillip Bloch, who has worked with both of the Trumps and attended fashion shows with her.
One of the roles of the First Lady is to turn the White House into their home, with the help of a team of interior designers and the Committee for the Preservation of the White House, on which the First Lady automatically sits.
The current issue of Architectural Digest heaps praise on Michelle Obama's choice of striking modern art for the private presidential quarters - given Donald Trump's fondness for opulent gold, marble and chandeliers, it would certainly be interesting to see how his wife approaches the project.
Perhaps surprisingly, given her beauty and low profile, Melania Trump has the worst favourability ratings of any prospective First Lady Gallup has measured since 1992. Her -4 net favourability score is significantly lower than the next-lowest one: Teresa Heinz Kerry's +12.
Melania Trump has said she will steer clear of policy decisions - unlike such figures as Eleanor Roosevelt, Rosalynn Carter and Ellen Wilson.
She is also unlikely to play the rottweiler role of Nancy Reagan, who was famous for turning on White House staff she felt were not acting in her husband's best interests.
Unlike Michelle Obama and Hillary Clinton, however, Melania Trump is not expected to chafe at the constraints of being First Lady.
But she will have to take up causes close to her heart.
In October, in an interview with CNN's Anderson Cooper, she gave the first sense of what that could be.
Highlights. Melania Trump interviewed by CNN's Anderson Cooper.
"I see now in 21st century, the social media, it's very damaging for the children," she said. "We need to guide them and teach them about social media because I see a lot of negativity on it and we need to help them."
Trump, who said she had opted to refrain from engaging in social media herself, identified bullying as a persistent issue for children.
Some noted the irony of Trump's commitment to protecting children from abuse on social media, when her husband was so adept at hurling insults at his own adult foes online.
Asked what she would change about her husband, she replied: "His tweeting."
Yet Melania Trump knows what to expect from her spouse of 11 years.
"Don't feel sorry for me," she told Cooper, with a flash of her inner steel.
Asked about accusations that her husband groped numerous women and the recording of him boasting about sexual assault, she replied: "People talk about me like, 'Oh, Melania, oh poor Melania'.
"People don't really know me. I'm very strong. I can handle everything. Don't feel sorry for me."
Trump was born Melania Knavs in the town of Sevnica, around an hour outside the Slovenian capital, to Amalija, who worked developing patterns at a children's clothing factory, and Viktor, the chauffeur for a nearby town's mayor.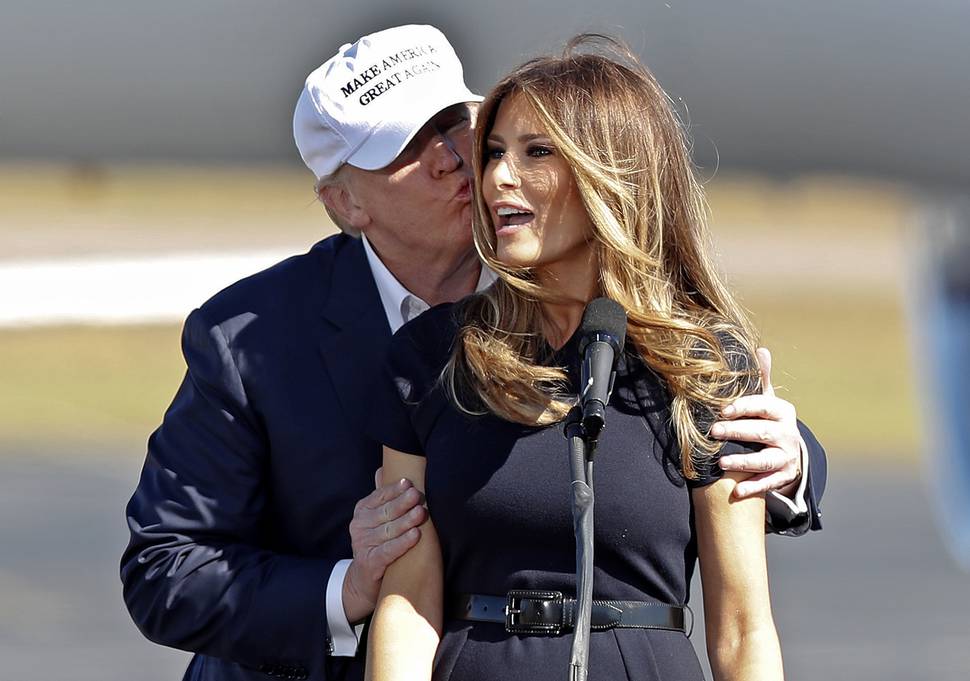 "I love my childhood," she told GQ. "It was a beautiful childhood."
The family grew up in Communist Yugoslavia, but were more worldly than most - holidaying in France, Italy and Germany, and devouring European fashion magazines.
A studious, quiet girl she got her break as a model in Slovenia, before moving to New York to follow her dream in 1996. But she was not a party girl.
"She was reserved," said Edit Molnar, a former model who was the then-Knauss' friend. She had Germanicised her name from Knavs for modelling work.
"The first party she ever came to with me was the one she met Donald at."
That was a party hosted by Paolo Zampolli, a model agent, at the Kit Kat Club during New York Fashion Week in 1998. She was 28; he was 52, and separated from his second wife, Marla Maples.
It was love at first sight for Donald Trump, but when he tried to get her number she refused, asking that he give her his instead.
"I am not a girl who will just give away the number to anybody," she later told the New York Times.
"I'm not starstruck," she said in another interview. "We had a great connection, we had great chemistry, but I was not starstruck. And maybe he noticed that."
He soon won her over, though.
She became a permanent US resident in 2001, and a citizen in 2006 - she married Trump in 2005, at a wedding attended by Bill and Hillary Clinton and Simon Cowell.
Melania Trump's parents now live in Trump Tower, and her son reportedly speaks Slovenian fluently. Her father Viktor is just five years younger than Donald Trump and frequently likened to the billionaire - a comparison that does not disturb Melania.
"They're both hardworking," she told GQ. "They're both very smart and very capable. They grew up in totally different environments, but they have the same values, they have the same tradition."
Melania Trump, now 46, would not be the youngest First Lady - Jackie Kennedy was 15 years younger.
But despite her professed admiration for Kennedy and Michelle Obama, Kate Andersen Brower, who has written a book about first ladies, believes Trump would be more like Laura Bush - focusing on her husband's happiness and domestic tranquillity - than either Kennedy, Ford, or Obama, who all had "more complex feelings about the role of First Lady".
Melania Trump seems ambivalent.
"I chose not to go into politics and policy," she said. "Those policies are my husband's job."