Two males have been arrested following a bush fire in Sydney's west that led to several homes burning to the ground and a group of students to become trapped in a school.
More than 300 firefighters have spent the afternoon battling the large bushfire that threatened homes in Londonderry, Llandilo and Cranebrook close to Penrith on the city's urban fringe.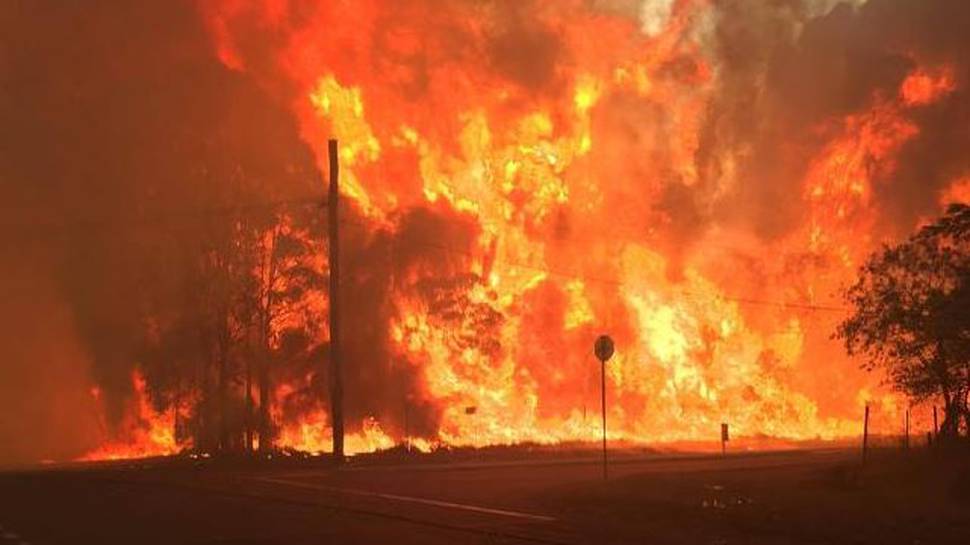 Detective Superintendent Brett McFadden, Penrith Local Area Commander, said they arrested a 17-year-old male youth and a 19-year-old man about 4.40pm (Aust time) on the corner of Cranebook and Londonderry roads, Cranebrook.
They had not been charged at 6pm.
"It was a direct result of the community working with us, contacting us and alerting us to a number of pieces of information which our detectives pulled together as a result of that information from the community that has made the difference in securing this early arrest," he said.
"These arrests could not have been possible without the support of the community reporting what they considered to be suspicious activity in the behaviour of these individuals and that information has resulted in the very timelyand prompt breakthrough of the arrests.
"I do encourage anybody, coming into the warmer months, who sees any suspicious activities, to contact CrimeStoppers."
The blaze began near Vincent Road, Llandilo at 2pm on Friday.
Emergency services attended and several streets, two schools and a nursing home in the nearby area were evacuated although no injuries have been reported.
At least three homes are said to have been lost and students and teachers were reported to be holed up in the library of Xavier College in Llandilo while the fire spread.
At one point the smoke was so thick the Bureau of Meteorology's radar picked it up as rain.
The NSW Rural Fire Service (RFS) have now downgraded the situation to that of "watch and act" but said crews on the ground and in the air were still hard at work trying to put out the flames.
A large air tanker was sent to fight the fire.
Residents have been advised to leave the area or seek shelter while motorists should avoid the suburbs.
There are reports at least three homes have been lost near Cranebrook, a Fire and Rescue NSW spokeswoman said.
The organisation has issued an emergency warning confirming a fire is burning in bushland at Llandilo and Londonderry.
She said "numerous properties" are affected, and the FRNSW has "at least half a dozen crews en Throute".
Multiple calls about the blaze had been received about 1.55pm (Aus time).
The Rural Fire Service is reporting the bushfire is about 500 metres long.
RFS personnel are also assisting with the firefighting efforts, but could not confirm if one home has been lost.
Yesterday, more than 100 firefighters fought a blaze at an Emu Plains caravan manufacturing factory.