As the world counts down to the US presidential election, Herald journalist Chris Reed takes a road trip from Miami to New York to feel the pulse of a nation split in its support for two controversial candidate.
It's about 15 minutes' drive from Donald Trump's super-exclusive Mar-a-Lago Club to the backstreets of West Palm Beach.
The former is described by Trump himself as one of the most highly regarded private clubs in the world, the crown jewel of Palm Beach.
In the latter, you don't need to be a local to recognise that money's tight. Around the intersection of Division Ave and 3rd St, almost all the windows have bars, grilles or metal shutters. There are vacant lots, derelict and boarded-up houses, precursors, signs say, to some kind of redevelopment. There are no details.
This is a Hillary heartland, a predominantly African-American neighbourhood, one of the oldest and poorest parts of town.
She has strong support throughout Palm Beach County and much of Florida's southern east coast. Despite the oceanfront opulence of retreats like Mar-a-Lago, and there are plenty of them, this is as safe as it gets for the Democrats in the most unpredictable of states.
Barack Obama won Florida four years ago by a margin of 0.88 per cent (74,309 votes). Everything suggests things will be just as tight this time round. At time of writing (late Monday night local time) the respected RealClearPolitics poll average for the Sunshine State puts Trump 0.5 per cent ahead.
Both major parties are focusing their firepower on Florida. Hillary and Bill Clinton, Trump and Barack Obama are all due here for rallies this week. Jon Bon Jovi and Cher will deliver performances exhorting Floridians to vote Democrat.
Whoever wins the popular vote, whatever the margin, will get all 29 of Florida's spots in the Electoral College. The winner in Florida has taken the White House in nine of the last 10 elections. No wonder Hillary needs Cher. Believe indeed.
If the polls continue to tighten, by Saturday, when Bon Jovi struts his stuff, she could be Livin' on a Prayer.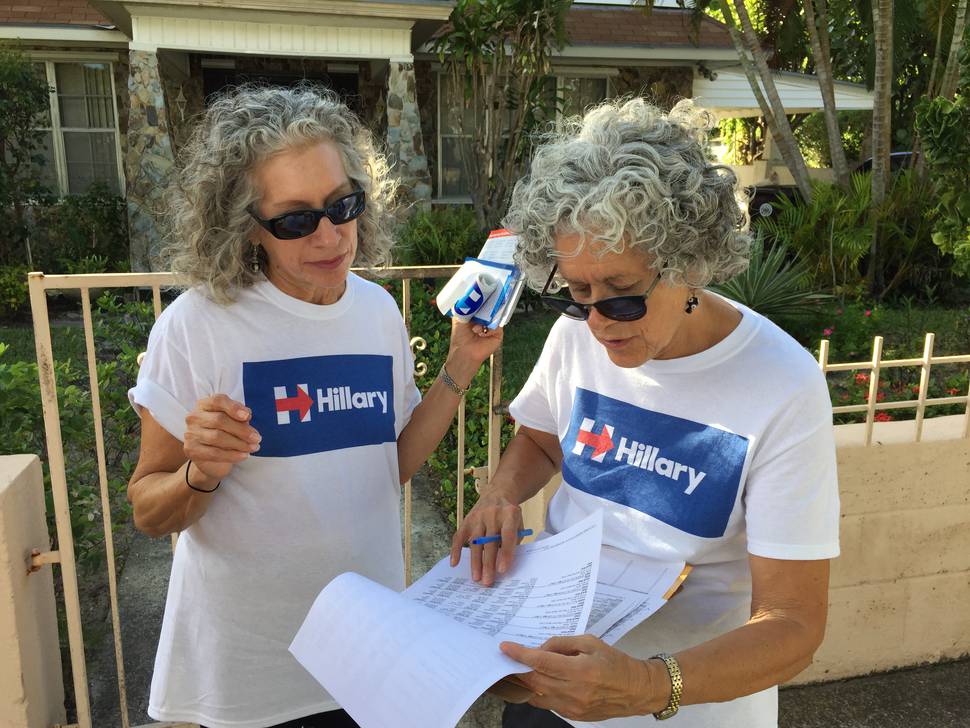 That's why, away from the network news coverage of such headline events, there's a commitment to campaigning the old-fashioned way.
Sisters Susan Lemkin and Amy Arlein wear trainers and suncscreen as they criss-cross the streets around District Ave, part of the Clinton campaign's army of volunteers.
Lemkin lives in Washington DC but came to Florida for her third consecutive presidential election campaign. "I'm a political animal," she says.
Arlein, who lives at Palm Beach, is making her debut, determined to do her bit to stop Trump.
"I had to do something in Florida because I know how important Florida is. He's completely crazy."
It's Halloween in the kind of area where some are reluctant to open their doors to strangers. Not ideal trick-or-treating territory.
Few houses are obviously on board with this most American of traditions. One, though, is bedecked with all manner of supernatural paraphernalia. A death-size Grim Reaper guards the doorway; beside it a, presumably, creepy clown.
The door is opened by a young woman wearing a costume involving a can crushed into her bloodied forehead. She's a bride who's been attacked at the reception, apparently.
This is, she says, a Hillary house.
Next door the sisters ask a man leaning against a car whether he too is in the Clinton corner. There's a headshake and a categorical no.
It's a rare strike. Everyone else they talk to has already voted for Clinton - there's a huge emphasis on early voting here - or intends to.
But nothing will be left to chance. When they visit a house where no one answers, the sisters make a note. Someone will be back to try again. Every vote really could count.
Broadly speaking, the north of Florida votes Republican, the south Democrat. The southern east coast is crucial. Palm Beach County's population is approaching 1.5 million, more than several states.
As Mike Coleman, precinct development director for the Palm Beach County Democratic Party puts it, the Clinton campaign has to "run up the score" wherever possible, securing big numbers in its strongholds to offset losses in other counties.
Coleman is a willing interviewee when I bowl into the party's county HQ, an unprepossessing room on the ground floor of a nondescript office block on the edge of the urban sprawl.
He reels off numbers related to early voting and the support for both major parties across the state. He explains why some parts of Florida's large Hispanic population favour Trump.
(This was a surprise given international coverage of the campaign and Trump's call for a wall along the US border with Mexico. The Hispanic Customs officer who took my declaration form at Houston airport asked me why I was in America.
"Covering the election."
"Corrupt Hillary."
"I'm covering both sides."
"She should be locked up. Put that in your paper."
He was a mix of defiance and doleful. Convinced she should be, sad she wasn't.)
Coleman appeared as even-handed as one could be after serving the same party for a decade.
He knows the importance of grassroots campaigning. In Florida's last three elections - two gubernatorial, one presidential - the total difference in votes between major candidates was 200,004.
So a focus for the Democrats in Palm Beach County has been Vote by Mail - a system allowing those unable or unwilling to vote at a polling booth to do so by post.
Coleman believes they've made up significant ground in this area and is predictably pleased. His biggest fear is a Trump win that gives the Republicans control of the White House, as well as the Senate, House of Representatives and Supreme Court.
In that case, he says, "you would see a lot of things not necessarily good for the greater good of all Americans".
"I don't like presidents who say 'I want to be unpredictable'. This is not the time for unpredictability."
It may not be the time, but Florida is the place. Unpredictable as ever.
• Chris Reed travelled to the US with the assistance of the US embassy in New Zealand.