The father of the little girl who was pulled alive from the rubble in Syria has spoken out and revealed his older daughter was killed in the air strike.
In video footage that broke hearts around the world, four-month-old Wahida made the rescue worker who carried her out of the rubble in the Syrian city of Idlib break down in tears.
"I was in the shop when the airplane began carrying out air strikes," said 32-year-old father Yehya Maatouq.
He was speaking from the destroyed rooftop of his home in the northwest city of Idlib, clearing away cement and debris from Thursday's raid.
He added: "Right after the strike, I ran home and found our whole neighbourhood had been turned upside-down. I went into our house and didn't find anyone there."
Suddenly, Maatouq heard his wife's muffled voice from beneath the ruins of their second-storey home.
"I looked everywhere until I lifted up a rock and I found her face underneath. I began to dig around her - thank God, she was awake and talking to me."
Along with the White Helmets rescue force, Maatouq then frantically went in search of his two daughters, four-month-old Wahida and three-year-old Sinar.
He said: "I began digging in the bedroom and I found my daughter (Wahida)'s hand. When I reached her, she just grabbed my finger."
As the White Helmets pulled back the large pieces of cement that had buried Wahida, her father lifted her tiny body out.
"They took her to the hospital and thank God she was alive," Maatouq said.
Footage of the rescue posted by the White Helmets showed a volunteer Abu Kifah holding up the tiny baby, her bright yellow outfit caked in dust, as he marches out of her destroyed home.
The volunteer cradles Wahida in his arms as he sits through a rocky ambulance ride, weeping over her as she coughs and grasps at his collar.
"We've been working for two hours to get her out from under the rubble and thank God, it turns out she is alive," he says through his tears.
But back at Wahida's home, her father was left grieving over her older sister, Sinar, and his own mother - both killed in the raid.
"My second daughter, the wall had fallen on top of her. She was dead. I wish I had lost everything else but not lost her," he said.
Maatouq, his wife, and Wahida moved in with relatives on the edge of Idlib while they try to repair their home.
Wahida has scratches and bruises across her forehead, but she sits calmly in her father's arms, her dark eyes looking up towards the sky.
Asked what he hopes for his future, Maatouq sighs.
"It's up to God. We can't even handle what we've been through already," he says.
The tragic footage of the rescue proved too much for BBC newsreader Kate Silverton, who cried live on air after watching the clip.
She continued reporting the next story but tears could be seen running down her cheeks.
Speaking about the display of emotion, Silverton later tweeted: "To all of you sending thoughts - thank you - no words really - my job to be inscrutable & impartial but I am also human."
At least 11 civilians, including seven children, died during attacks on Idlib, nearby Jarjanaz and central Hama province on Thursday, the Syrian Observatory for Human Rights said.
Last month another video was released showing a young girl being rescued from a pile of rubble in Aleppo.
More than 365 days have now passed since Russia began its "barbarous" and relentless bombing campaign on Syria in support of President Bashar al-Assad.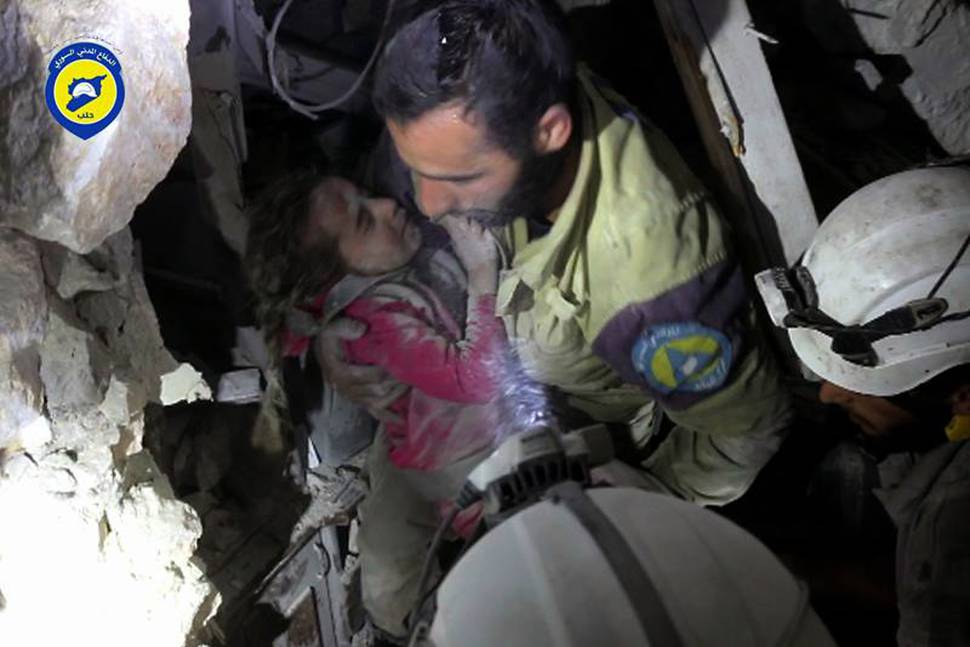 Putin's bombs have killed more than 3,800 civilians in this time, a monitoring group said on Friday as international outcry mounted.
The United Nations has warned that a humanitarian catastrophe is unfolding in Aleppo unlike any witnessed so far in Syria's brutal five-year war, which has claimed more than 300,000 lives.
The European Union on Sunday announced an aid plan for the tens of thousands of civilians trapped in the city
In a statement, the EU said it was unlocking 25 million euros of funding to help its humanitarian partners in Syria cover "urgent medical, water and sanitation, and food assistance in Aleppo and in other priority areas".
The bloc will work with the UN to deliver "basic life-saving assistance to civilians in East Aleppo," EU foreign affairs chief Federica Mogherini and humanitarian commissioner Christos Stylianides said in the statement.
Aleppo, once Syria's vibrant commercial powerhouse, is now at the heart of a major military campaign by President Bashar al-Assad's fighters and his steadfast ally Moscow.
The offensive, announced on September 22, has seen dozens of civilians killed and residential buildings flattened in the east, where an estimated 250,000 people live under government siege.
The UN has said that water and food supplies in eastern Aleppo are running low, while efforts to bring in aid convoys through the Turkish border have been stalled by the fighting.
Citing a "humanitarian tragedy in Aleppo," the EU called on all sides in the fighting "to urgently provide the necessary authoritisations for aid delivery and for medical evacuations to proceed".