A humanitarian catastrophe is looming in Aleppo after two days of relentless Russian and Syrian government airstrikes left two million people without running water, the United Nations warned.
Hundreds of thousands of children in both the government-held western and opposition-controlled eastern parts of the city are facing a "catastrophic" outbreak of disease after bombs damaged one pumping station and another was switched off, Unicef said.
"It is critical for children's survival that all parties to the conflict stop attacks on water infrastructure, provide access to assess and repair damage to Bab al-Nayrab station, and switch the water back on at the Suleiman al-Halabi station," said Hanaa Singer, the Unicef representative in Syria, said.
The warning came as Syrian Government forces pushed into opposition held parts of the city under cover of a ferocious Russian and regime aerial bombardment that killed more than 150 people in 48 hours.
"We don't have water now because we think the pipes have been targeted by new rockets," said Abdulkafi al-Hamdo, an English teacher in the city. "Believe me, people don't think they will live another day. "The destruction we are seeing now was brought by the cursed ceasefire. The US must use its might, not just its words, to stop our suffering," he said.
At least 60 people were killed by Russian and regime bombing yesterday, with the toll expected to rise as many victims were trapped, according to medics.
Saturday saw 91 people killed in more than 100 air strikes. A large proportion of the victims were women and children. Residents reported neighbourhoods being hit by so-called bunker-buster bombs so powerful they levelled buildings to the basement and left deep craters. If confirmed, it would be the first use in the five-year war.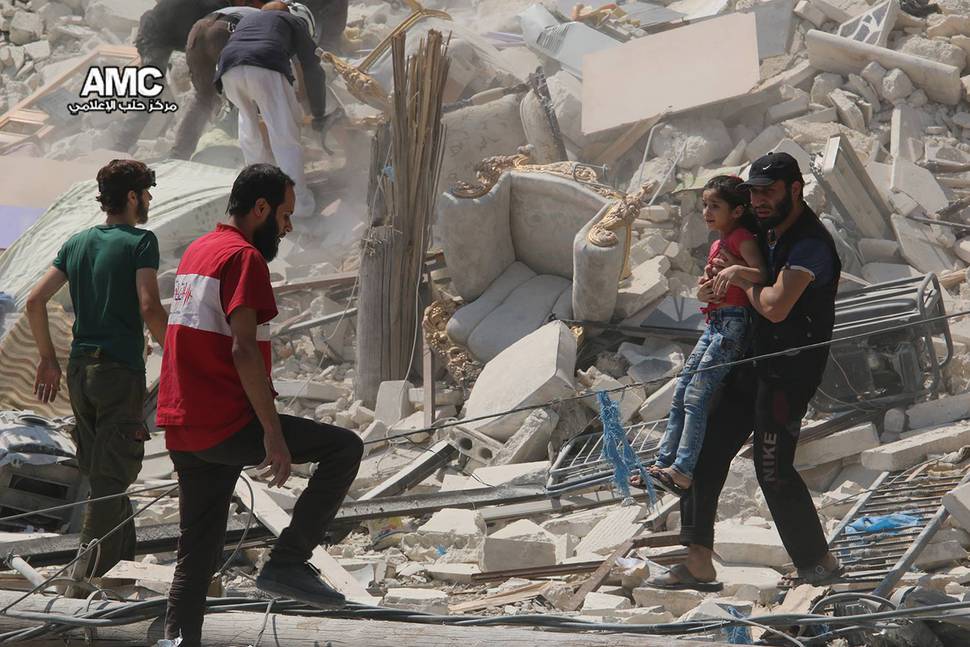 One such attack destroyed two buildings in the al-Sukkari neighbourhood yesterday afternoon, leaving an unknown number of people trapped under the rubble, civilians said. Attacks also appear to have targeted the civil defence volunteers known as the White Helmets, with three of the group's four shelters being hit by strikes.
The group said it has just two fire engines left for all of east Aleppo which, like its ambulances, are struggling to move around streets strewn with rubble.
Residents of eastern Aleppo enjoyed seven days of relative calm while the ceasefire brokered by John Kerry, the US Secretary of State, and Sergei Lavrov, the Russian Foreign Minister, came into force. The truce quickly unravelled after the US errantly bombed Syria army positions last weekend and Russian aircraft bombed a UN aid convoy, in what Western diplomats believe was a revenge attack.